All Original Documentation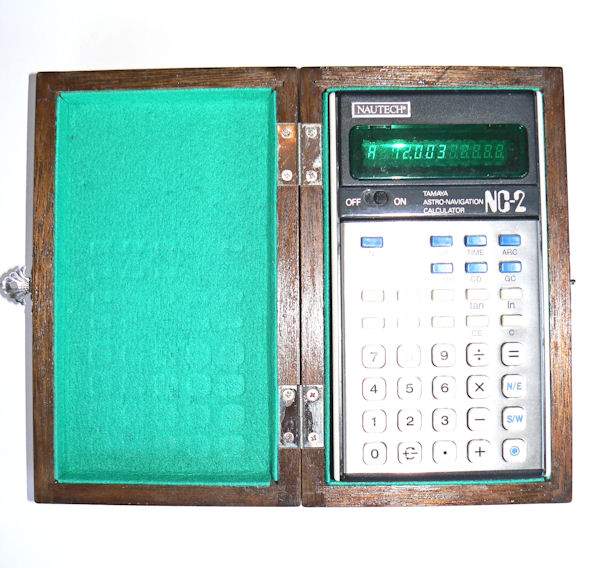 PRICE $650.00 plus shipping to 48 contiguous States $15.00
CALCULATOR
DIMENSIONS 3 1/8″ W x 5 1/2″ L x 7/8" D Shipping Weight 2 lb
WOOD CASE
4″ W x 6 1/2″ L x 1 3/8" D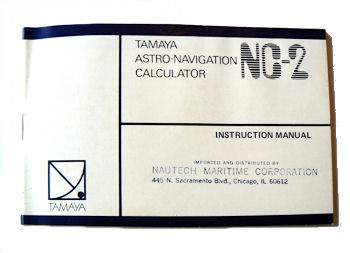 Top of Form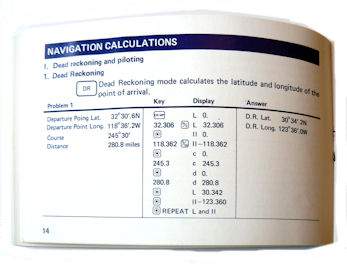 Bottom of Form
Presented is a brand new Tamaya NC 2 Astro Navigation calculator which was introduced in the United States by Nautech Maritime Corporation, the direct importer, in 1976. It was sold by Nautech Maritime Corporation to an aspiring boat builder for the 42 foot sailboat he was building in 1977. In 2004, the boat was still not finished so he sold the hull and the rest
if the gear that was to be installed in it. Recently his son, while going through the estate came across it unused in his closet where it had been for the last 35 years. Of interest to collectors is that it has all the original documentation, instructions and worksheets that were prepared by Nautech and the original Tamaya instruction booklet are included and are in never used condition.
We have tested all its functions and it is operating as it was designed to do, and fully functional.
At the time of its introduction, it was the only instrument that was internally programmed,
i.e. "hard wired", to solve all major navigation solutions. Other than the nautical almanac, no other tables or books are required. In 1978, it was followed by the Tamaya NC 77 which had a built in Nautical Almanac, and in 1984 by the NC 88 which added a tape print out. The NC 99 was the last of this line of celestial navigation computers developed. by Tamaya, all of which have been discontinued.
Use for:
Celestial lines of position
Most probable position – MPP
Great Circle Sailings
Dead Reckoning
Mercator Sailings
Mid Latitude Sailings
Arc to time conversion
Trig calculations
If you are interested in celestial navigation, it is as usable today, as it was 34 years ago. It simplifies the whole sight reduction process, reduces errors, eliminates tables, and makes
working with Time, a sexagesimal (base 60) numbering system, easy.`
INCLUDED ARE:
the original instruction booklet, four batteries, a Nautech sight reduction worksheet, Nautech simplified user instructions, a hardwood case, and the original warranty card. A DC accessory can be used in lieu of batteries.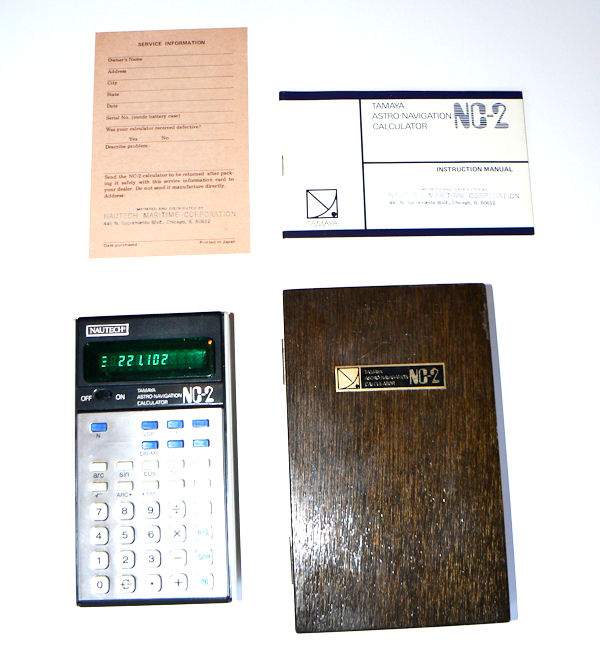 Warranty Card, Instruction Booklet, NC 2 Calculator,
Hard Wood case
This is a perfect gift for the man who has
everything and an interest in
celestial navigation and you can down load a Free Copy of the 2011 Nautical Almanac for
WIN 7 here: http://www.downloadatoz.com/home-education_directory/nautical-almanac/download-for-windows-7.html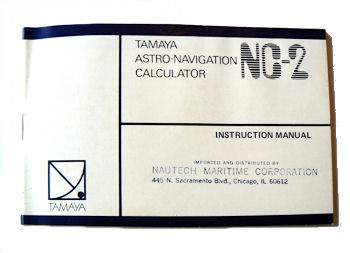 Instruction booklet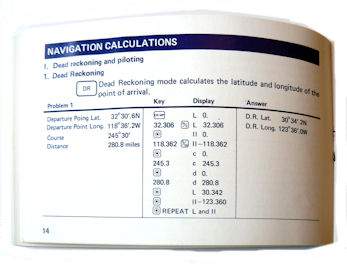 Sample page
Battery compartment & symbol meaning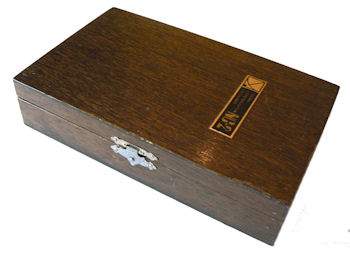 Hardwood case