BIG SHIPS WHISTLE & LIGHT HOUSE FOG HORN
Type 8 by Clark Cooper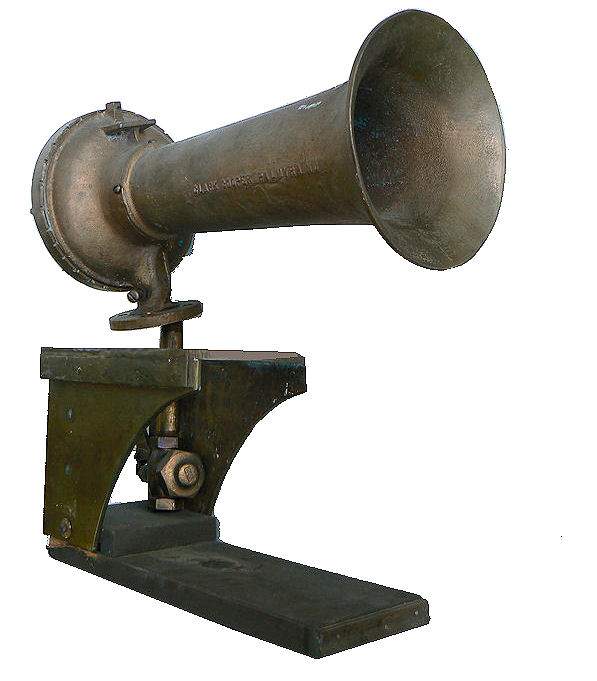 All Bronze ~ Gigantic Sound
Guaranteed to Work!


DIMENSIONS OF HORN:    18
3/4″L x 8 3/4″ W x 24 1/2″H

WEIGHT OF HORN:            54
1/2 lbs



Presented

is an item of seagoing gear, made

by the Clark Cooper Company of Palmyra, NJ. It is an air powered ship's signaling device and also has

been installed in light houses as a foghorn. Now it is available as an ideal addition to a serious collection

of unusual marine memorabilia or for use on a ship, boat or truck. Think about celebrating New Year's with the sound

of a BIG SHIP'S HORN.

The sound is said to be dramatic at 165 HZ and more decibels than other large horns
due to the large throat and nozzle area giving it the the characteristics of a vessel of large size. We
have read that the tone can be adjusted by adjusting the rear cover plate and increasing the air pressure. We have not
tested it, but all the parts are included so it should work when hooked to an air supply of sufficient pressure.
The entire horn and mounting stand is made of bronze so that the
54 1/2  pound weight makes it quite heavy. The horn extends 18 3/4 inches from 8 3/4 inch mouth
to the end, and on the stand it measures 24 1/2 inches high.

A super
horn for use aboard ship, at home or in a collection!

| | |
| --- | --- |
|       Back plate has maker's name and Type 8 |           Bronze stand with wood base |
MARKINGS: The back plate is embossed Clark Cooper Palmyra,
NJ as is the side of the trumpet.
                               Showing
the arm that activates the horn
CONDITION:

 In excellent condition with nothing

broken or missing, and without verdigris. Since it has been to sea, some signs of use. Note the rich, dark patina.

ASSEMBLY:
Because if its size and weight, it will be shipped with the horn and the supply pipe with valve taken off. There
are four bolts and nuts that secure the horn to the base after the air supply pipe is first attached.
Guaranteed to work and sound a blast that
can be heard over a mile.