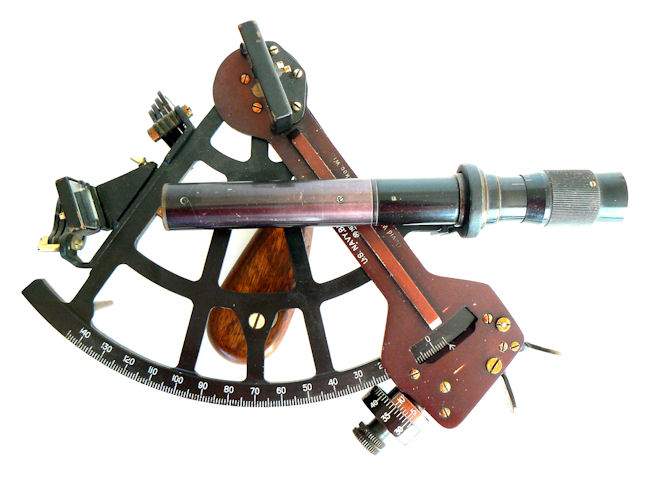 Top of Form
Presented is A U.S. Navy MK II sextant that we acquired approximately 38 years ago when we were in the
sextant business. For many years, I had it hanging on a display wall and the last ten its been in storage. Now
we are at a time when we are thinning out our possessions rather than acquiring things so we are making this available.
It
was made by David White Company of Milwaukee in 1943 and bears Serial Number 16722 along side the Naval Observatory cartouche
of acceptance. This sextant has the more expensive machined index arm rather than the later stamped arm. There is no
case or any accessories. Like all MK II's, its arc reads to 145 degrees which was standard for this design, making it
more properly a quintant.
CONDITION:
The sextant is in exceptional condition for its age. It shows little wear or use so that it can be considered as near new
in all respects. All its machinery is present. Both fitted mirrors are in excellent condition with only one ting
Grey dot on the index mirror. There is no case or mirror adjustment wrench
Bottom of Form
U.S. NAVY MK II SPECIFICATIONS:
Measuring Range: -5 to 145 degrees
Accuracy:
Tested to +/- 20 arc seconds
Telescope: 3 x 26
mm Coated optics
Frame: Aluminum with black enamel paint and white numbers
Arc: Bronze
Micrometer Drum and Vernier Scale: reads to 6 arc seconds
Index Mirror: 44 x 34 mm with spare
Horizon Mirror: 28 x 21 mm
Shades:
4 for index mirror
3
for horizon mirror
Illumination: No
Weight
sextant: 2.5 lbs
INCLUDED ARE:
1 Sextant frame
1 Scope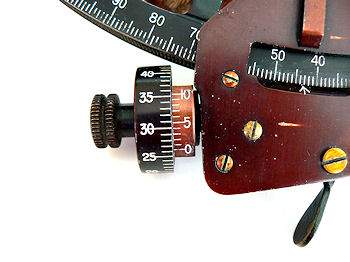 Micrometer and Vernier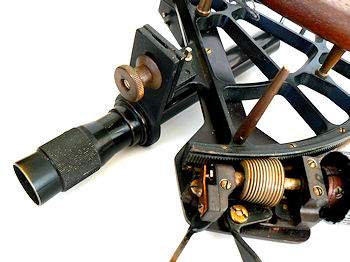 Rising piece and
tangent screw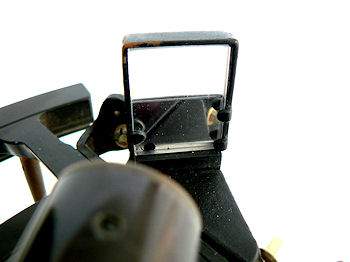 Perfect
horizon mirror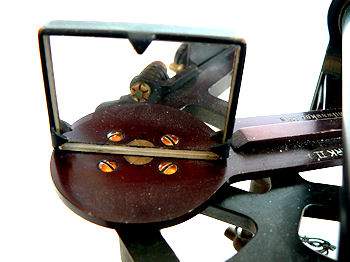 Near perfect index
mirror
BRIEF HISTORY OF DAVID WHITE: David White did a lot of military work during WW2 and was one of the principal manufacturers of Navy MK II sextants. After the War, they were not able to adjust to a normal business economy and did not develop substitute parodists. Consequently, they were forced to down size as the markets changed to peacetime production. Their work force was a ready pool of talent was available to SII. In 1958 or earlier, Scientific Instruments, also of Milwaukee purchased the inventory of MK II parts as well as several pieces of machinery including a collimator from David White, and hired some of their employees. Scientific Instruments never built the Mk II, but did manufacture various spare parts and did repairs over the years. They picked up on the heritage of their neighbor, and became a government contractor on the Navy's successor sextant the MK III.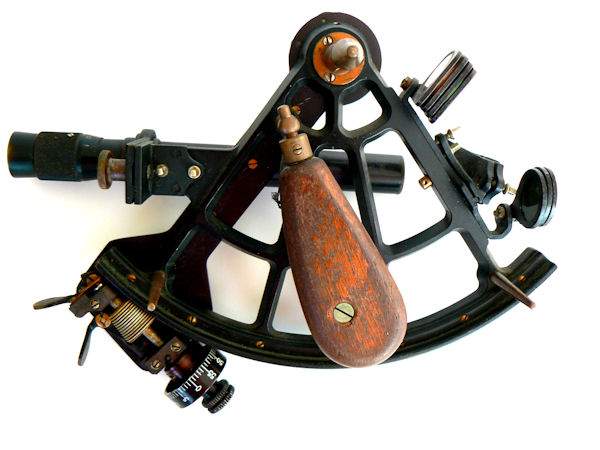 This is fine sextant in excellent condition and is backed by our guarantee of satisfaction.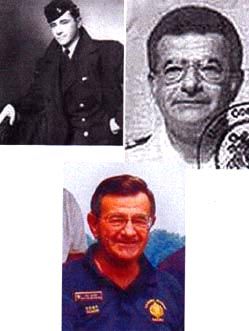 DOES OUR OPINION COUNT: We are one of the few company's still selling navigation instruments that know anything about them. For purposes of judging whether my opinion counts, Joel was the editor of the chapter on sextants of the 1977 Edition of "Bowditch", The
American Practical Navigator, NAVPUB 9; a member of the U.S. Naval Academy Navigation Symposium Board, 1975 -1978; the author of a book on marine sextants, Cornell Maritime Press,1975, and the founding president of Nautech Maritime Corporation which partnered with Tamaya of Japan in the introduction of the MS 733 Spica, the MS 833, Jupiter, MS 933 Venus sextants and thefamous NC-2 navigation computer, in the U.S. market. He also am a retired Master Mariner, and held a U.S. Navy "D" Qualification as a Senior Skipper – Oceans. From 1995 until 2001, Joel served as a Varsity Offshore Coach at the U.S. Naval Academy.