ANTIQUE IRON BOUND OAK SILVER TRUNK  CA 1897
by Wilson & Sharp,
Edinburgh
, Scotland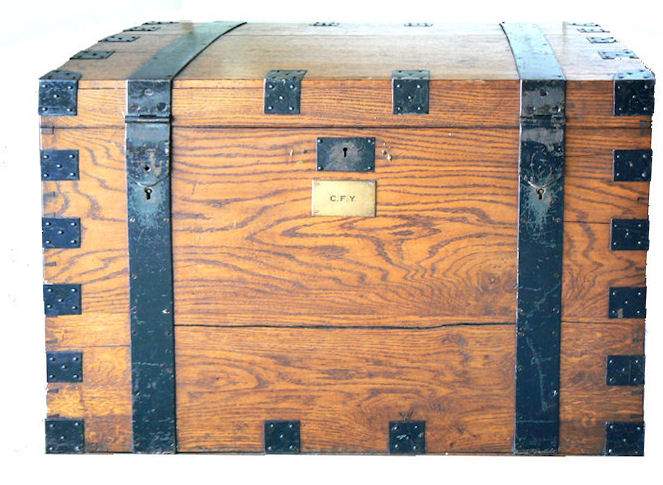 DIMENSIONS  35"
L x  22 1/2" D x 25" H


 

 

Presented is a antique iron bound silver storage trunk that was made in
England at the end of the 19th Century by Wilson & Sharp of

139 Princes Street,
Edinburgh

,
Scotland. They were active from 1895 to 1915. The trunk has a dome top and is bound in iron with two iron handles
at each end. It has four trays that are lined with suede with named cutouts for service of 36 place settings of
silver. There is a lower section that is designed to house large serving pieces such as platters and tea and coffee pots.
With the exception of two age cracks it remains in exceptional condition with a nice patina of age.

For the last 35
or more years it has been in a private collection.

APPRAISALS: Two appraisals
were made by certified appraisers as part of an over all insurance appraisal in which this was one of numerous items. The
one in 1984 valued it at approximately $1100.00 and in 1995, a different appraiser assigned a $2200.00 value. Both were accepted
by the insurance carrier.

 

| | |
| --- | --- |
|           First tray place settings for 36 |            Maker's name plate Ca 1897 |

 

| | |
| --- | --- |
|          Bottom area for serving pieces | |

MARKINGS: As Part of lock Marked: Warranted, Secure, 6, Lever on four
lines then over on right Made in Great Britain on two lines

 

Maker's Plate:

 

Wilson & Sharp

Silversmiths

139 Princess St.

Edinburgh

 

Original
Owner's Plate on front: C.F.Y

DIMENSIONS:


Outside    35" L x  22 1/2" D x 25" H


Top shelf  33" L x 20" D


Weight  Estimated            80 pounds

CONDITION: The trunk is in excellent condition and only has a few
age cracks, one on the top and the other on the front. There is some paint loss  on the iron work in many places.
The suede liners shows some dust and wear. The varnish has a rich, golden patina. The bare, inside wood shows as new.
=left>