SILVER PLATE COCKTAIL SHAKER YACHT TROPHY
1927
HERRESHOFF BAR HARBOR 31 FT CLASS
Club Championship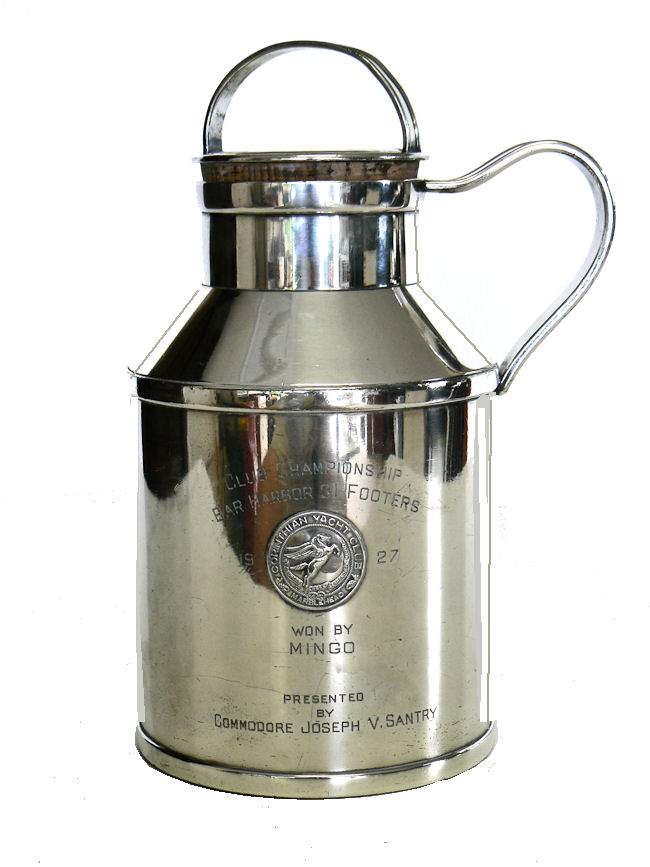 Awarded to MINGO by Commodore Joseph V. Santry,
Corinthian Yacht Club, Marblehead, MA
DIMENSIONS:
Diameter of mouth 3″                          
Diameter of base 5″

Height 8 inches                                                                
Weight 2 lbs 9 oz
Presented
is an important silver plated cocktail shaker that was awarded as a trophy in the 1927 class championship of
the Corinthian Yacht Club, Marblehead, MA to Yacht MINGO. It was presented by Joseph V. Santry, the clubs' commodore. This
is a historic trophy since it brings together a class of vessels that date back to 1903, designed and built by the famous Capt.
Nat Herreshoff of the Bristol, RI manufacturing company of his name with a yacht club noted for its small boat racing
dating back to 1885. Commodore Santry was both a distinguished business leader and ardent yachtsman of his generation.
Some of the highlights of these great participants follow.

HERRESHOFF MANUFACTURING CO.:

The

Herreshoff brothers – Nathanael Greene Herreshoff, or "Captain Nat", who designed the boats, and John Brown Herreshoff, or

"Mr. J. B.", who, although totally blind, ran the business – started building boats in Bristol RI in 1863 and formed Herreshoff

Manufacturing in 1878. The company is, of course, best known for its beautiful and extremely successful yachts, including

many America's Cup boats, powered yachts and other vessels. The shipyard closed in 1945 but the business and the Herreshoff

museum continues today. There are numerous books and articles about the company, the family and

the many designs built that nothing can be added here. See:

http://shipbuildinghistory.com/history/shipyards/6yacht/inactive/herreshoff.htm

THE BAR HARBOR 31 CLASS: was commissioned by the Corinthian Yacht Club, Marblehead, Massachusetts
in October,1902 as a One Design Class of 48′ 9" in overall length, with a waterline of  30'9", Beam of 10′
4", and a draft of 7′. In those days, there was a keen interest in this type and size vessel for club racing and
the class was very popular. There are a good number that have survived and are still sailing as far away as in Belgium.
Some
believe there is a relationship between the Bar Harbor 31 design the Newport 29, Bar Harbor 31, the New York 30 and the Fisher Island
31.

The print is the work of Kathy Bray an New England artist with a long background in yacht portraits. Her illustrations

appears regularly in boating magazines. See

http://www.brayprints.com/prints/herreshoffs/122/bar-harbor-31/

CLUB HISTORY:

Corinthian Yacht Club, Marblehead, Massachusetts

The Corinthian Yacht Club was founded on July 7,1885, to promote sailing of small boats with
a youthful and competitive spirit. Marblehead was a thriving summer resort in the second half
of the nineteenth century, and yachting events drew a large following. The well-established Eastern and Boston Yacht Clubs
were involved in what was considered large boat racing, but there was such strong interest in smaller racing vessels (between
16 and 30 feet) that a new yacht club was organized on Marblehead Neck, the club that became the Corinthian Yacht Club.


Founding members were Irving S. Palmer, chairman and Benjamin W. Crowninshield, John
B. Rhodes, Irving S. Palmer, Everett Paine, Frank E. Peabody, William S. Eaton Jr., George A. Stewart, William W. Whitcomb,
George W. Tyner and C.H.W. Foster. The first commodore was Benjamin W. Crowninshield, who was
related to then-Secretary of the Navy.

The founders chose the flying horse of Corinth, Pegasus, as its emblem, and Et Certare Pares
et Respondere Parati (meaning "Prepared both to contend together as equals and to respond to any challenge") as the club motto.

The Corinthian Yacht Club flourished and prospered over the years, and contributed to Marblehead becoming a Mecca for yachting with the club making yachting racing and cruising history, for which
all members can be justifiably proud.  The foregoing is largely based on the work of David W. Graham, Club Historian.

 

 

JOSEPH V. SANTRY

then the club's commodore: had a distinguished

career as a business leader. He graduated from MIT in 1906 taking a number of engineering jobs which lead to him joining

Combustion Engineering Co., of New York in 1918. He rose through the ranks to become the president in 1940 and chairman and

CEO in 1958. He retired from that position in 1963, but continued on its board of directors until his death.

A
well-known yachtsman, he served as commodore of the Corinthian and Eastern Yacht Clubs of Marblehead, and was long standing
member of the New York Yacht Club. His schooner, PLEIONE had a notable record of victories in major races, starting with winning
the Astor Cup in 1926. In 1960, he gave the vessel to the Mystic Seaport Museum in Connecticut.

FLAT RATE INSURED SHIPPING to 48 contiguous States
$25.00


International buyers welcome, but should
inquire first.  We have satisfied customers in Argentina, Australia, Austria, Belgium, Bermuda, British
Virgin Islands, Canada, Chile, China, Czech Republic, Democratic Republic of Congo, Denmark, Estonia, England, France,
Germany, Greece, Holland, Hong Kong, Hungary, Iceland, Ireland, Israel, Italy, Japan, Kuwait, Latvia, Malaysia, Martinique, Mexico,
New Zealand, Norway, Nova Scotia, Panama, Poland, Portugal, Puerto Rico, Romania, Saudi Arabia, Scotland, Singapore,
Spain, Sweden, Switzerland, Thailand, Turkey, United Arab Emirates, USVI and the Eastern Caribbean.