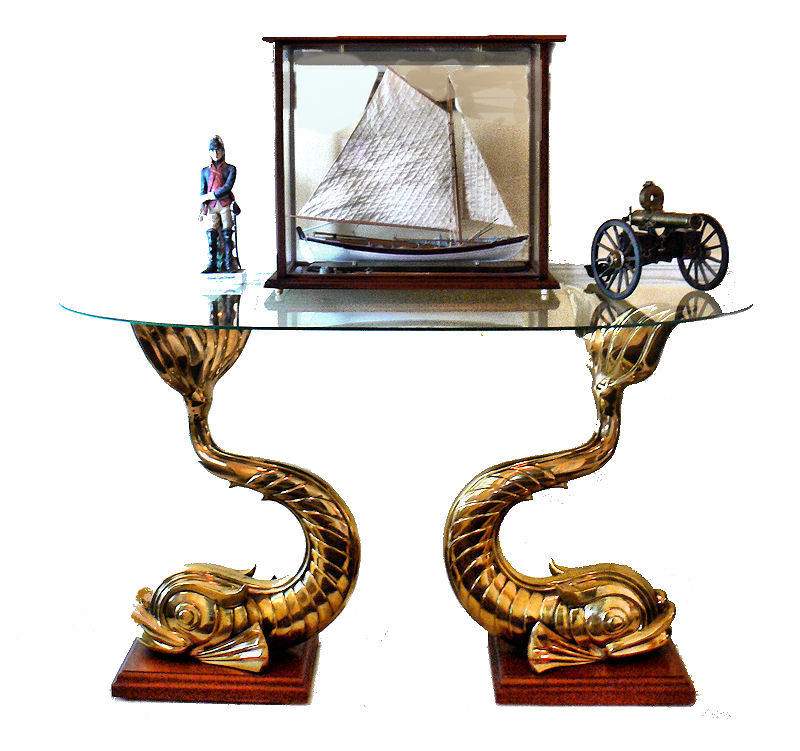 ACCESSORIES NOT INCLUDED
Presented is a pair of bronze dolphin statues in the Ar
Nouveau Style, Ca 1890 -1914 that were in a private collection until recently. They were said to have been removed from the
dining salon of a trans-oceanic ship. We had them polished and mounted on a Mahogany base. This allows great flexibility in
how they can be displayed. Here they are shown used as a side table. Even though they may be displayed
individually, they are being sold only as a pair.


| | |
| --- | --- |
| Highly stylized Dolphins for a dramatic touch | |

| | |
| --- | --- |
| Three dimensional shapes never to be duplicated | |

POSSIBLE USES:
Individual statue: As an accent piece in any decor that would benefit
from an unusual and high quality accent piece.

Together: with a top over to make a narrow table. We suggest marble may
be substituted for glass.
DIMENSION OF ONE DOLPHIN STATUE: 18″ L x 28″ H x 7″ W
Dimension of Mahogany Base: 18″ L x 15″ W x 1 3/4″ H
Estimated weight
50 pounds each

CONDITION: The statues may have a few minor scratches, but overall are in excellent condition. One statue has a small
piece of its tail worn which is only noticeable if you are looking for it. The wood bases are recent replacements.
A very rare and unusual Art Nouveau Maritime sculpture