UNKNOWN INFANTRY CAPTAIN
NEW YORK STATE MILITIA Signed & Dated 1894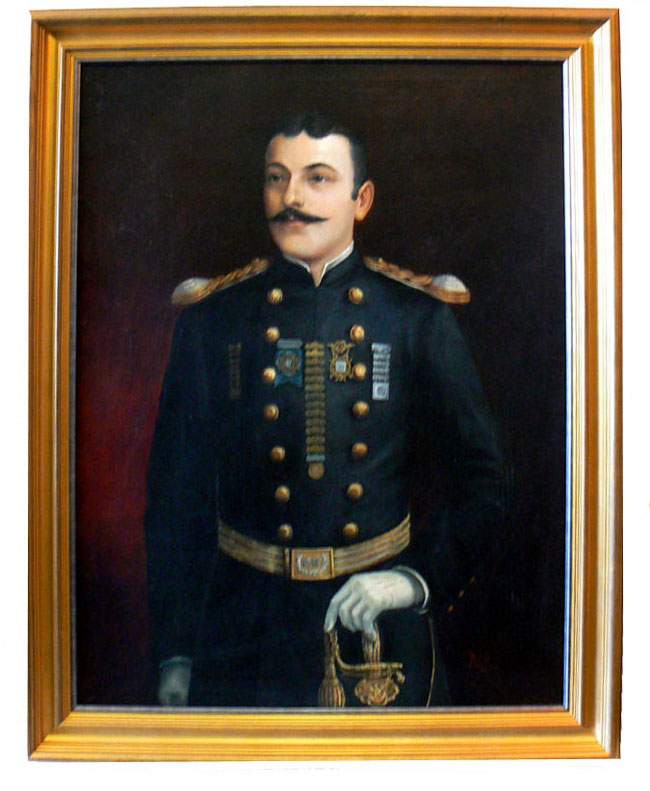 Oil on canvas                                         Dated
1894
Unframed 39″ x 29″                               Framed 46″
X 36″
Signed in Brooklyn, illegibly LR
Presented is a large 46" x 36 ½"
beautifully framed portrait of a captain in Company D of the 47 Regiment of the New York Militia, which was technically
part of the National Guard. It was painted in 1894 and signed artistically in Brooklyn, NY, by "Surhoff". We
have been unable to identify the artist, which is surprising as it is a very well done portrait. The captain is shown in his formal full dress blue choker uniform with silver and
gold epaulets, and with medals and his high quality regulation sword. The identity of this officer can
likely be determined from the records of the New York State Militia website, and though his regiment and company assignment,
along with the medals he is authorized to wear. A worthy challenge for a researcher of military ancestors.
The
officer was a member of the company's rifle team and wears a medal as 47th Regiment Champion in 1889. In
addition he held Sharpshooter badges for 1891 though 1894 inclusive. On center is a long string of what may be campaign badges,
but they are illegible. Left of center is a prominent 47th Regiment award. And to the far left are other indistinct
badges. His buckle has two large Gothic or Old English letters that are not NY. They may be A.D.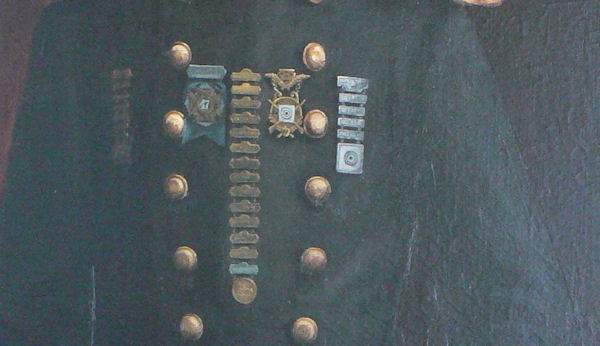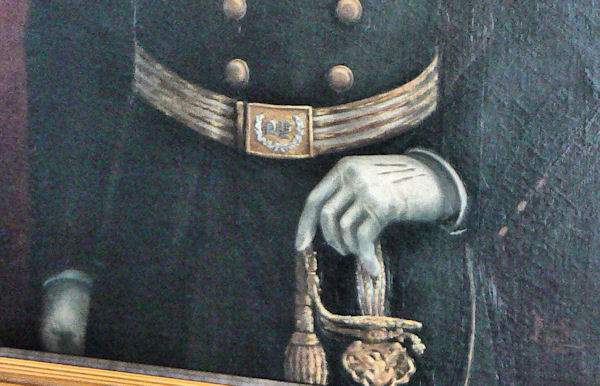 Medals, Badges, over sword plate and quality sword The major conflict of that era was the War with Spain
which started on April 25, 1898. New YorkState was asked to furnish twelve full regiments of infantry and two troops of cavalry to the war effort. The 47th Regiment was one of those selected. If the officer was still active, he likely saw this service.Provenance: From a New England auction and not before offered for sale.
THE ARTIST: Based on the stylized signature and date
in the lower right, the artist must have been a  popular portraitist, but unfortunately we have not been able to identify
anyone with a name close to Surhoff active in the 1880-1890's.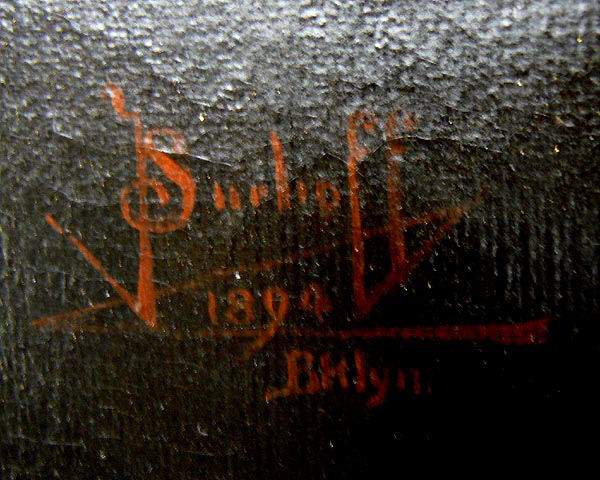 Signed by Surhoff lower right Brooklyn, NY, 1894
CONDITION:
The paint is a little brittle and should be handled with care. There may be some small repairs, but we have
not examined it under a black light. The extra build up of paint in a couple of places is not objectionable.