Custom Made Collector Quality
ROYAL NAVY STEAM LAUNCH OF  PINNACE CLASS
OF 1867

DIMENSIONS:

The model 28″
L x 12 1/8″ H x 3″ W
The Case  33″ L x 21″ H x 13″ W
Weight 12 pounds

Presented is a magnificent cased builder's model of the early 50 foot steam launch
which was designed for use by a capital ship to move personnel from shore to the warships, as a guard ship, and
later as a harbor patrol craft. In the configuration that you see here, she is fitted to transport high ranking officers on
ship's business. The Royal Navy classified these vessels as a steam "pinnace".


The steam pinnace was a highly successful design which was introduced around 1867. At the height of their popularity
at the end of WW I, there were 619 in service, and some lasted until the end of WW II. Royal Navy battleships embarked
two of these vessels. They served as guard ships, picket boats, and acted a as a livery for high ranking officers.
Some were fitted with torpedoes and carried a 3 pounder up forward for offensive use in shallow waters. Each boat then being
armed with the 3 pounder QG gun, a Maxim gun and rifles, plus 14″ diameter torpedoes. As 'picket boats', they were fighting
vessels capable of 12 knots. One of this type, S.P. 199 is now the last of these vessels still in operational use.
Source: Peter Collins, Dec 31st, 2009 




Highly
detailed models such as this are becoming extremely scarce and are hard to find
| | |
| --- | --- |
|              Steering pedestal & Telegraph |     Forward hatch and boiler room deckhouse |
| | |
| --- | --- |
| |     Foredeck sometimes mounted a 3 pounder     |
CONSTRUCTION: The model is constructed
of composite materials which include wood for the deck and deck houses, brass for the stanchions, flag poles,
portholes, telegraph and steering wheel, and resin for the low white deckhouse, cleats and propeller. The flags are made
from cloth. Painted in Navy Britannia blue for the hull, classic white bottom, and varnished woodwork,
the model is a magnificent example of a master model maker's art.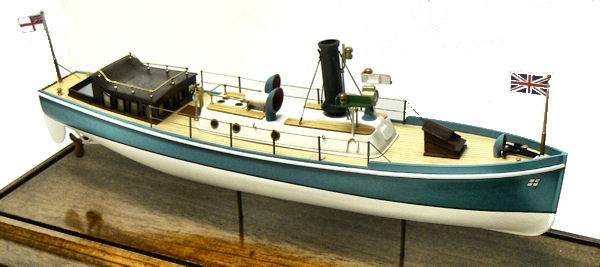 CONDITION:
Like new with everything first rate.



SCROLL DOWN FOR A GALLERY OF MORE PICTURES

 

SHIPPING
is an additional cost and will be calculated at the time of purchase.

OUR UNCONDITIONAL NO NONSENSE GUARANTEE:
If not completely satisfied with your purchase it may be returned within five days of receipt in its original packaging
if without damage. Return items must be insured for their full value. Only a prior email authorization from us for the
return is required. Shipping charges are  included in this offer if an error is due to our fault.

International
buyers welcome, but should inquire first.  We have satisfied customers in Argentina, Australia, Austria,
Belgium, Bermuda, British Virgin Islands, Canada, Chile, China, Czech Republic, Democratic Republic of Congo, Denmark,
Estonia, England, France, Germany, Greece, Holland, Hong Kong, Hungary, Iceland, Indonesia, Ireland, Israel, Italy, Japan,
Kuwait, Latvia, Malaysia, Martinique, Mexico, Nigeria, New Zealand, Norway, Nova Scotia, Panama, Poland, Portugal, Puerto
Rico, Romania, Saudi Arabia, Scotland, Singapore, Spain, Sweden, Switzerland, Thailand, Turkey, United Arab Emirates,
USVI and the Eastern Caribbean.

ACCEPTED FORMS OF PAYMENT
are Bank wire transfer, cashier's check, money order, or personal check in which case the item will be held until cleared.
No checks from overseas buyers, no credit cards or PayPal accepted on this item. 

This
represents a fine example of a classic model. It is an excellent addition to any nautical collection.


Copyright 2010 by Land And Sea Collection ™ , All Rights Reserved