No Scabbard

Length Overall 28 1/8"
Hilt 4 1/2″ L x 3/4″ W x 1 1/4″ H
Blade   23″ L x 1 1/8″ W x 3/8″ T at widest
Fuller   15 1/4" x 3/4"   
Weight 1 lbs 12 ounces   
Presented is a bayonet with an unusual wavy and curved shape
that was made in England by Robert Mole who was a known supplier to the Confederacy. It is marked on the back of
the pommel with the number 1334. There are no other markings on this bayonet and there is no scabbard. The bayonet has no
known provenance other than being bought at auction with this notation, "Confederate
Robert Mole bayonet".
For details on Robert Mole see: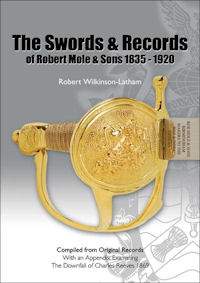 The Swords & Records of Robert Mole
Robert Wilkinson Latham
Robert Mole and Sons supplied swords and bayonets to the
War Office, the Admiralty and the Government of India as well as for private and trade customers. Company records were discovered
in 1988. These detail Government and India Office contracts from 1852-1919 and Private and Trade customers from 1903-1920.
This archive chronicles the bulk of Moles output, as by his own admission he had "no private trade worth mentioning."
The author has added notes and narrative to the records, which include Government and India Office specifications and official
drawings.
PROVENANCE: "This sword bayonet was manufactured
during the the period 1856 – 1878. It is typically British in design in that it has pressed-leather grips,
"cock's-comb" upper finial, will lower "button" finial.They are attached by fitting the "muzzle-ring" over the barrel muzzle,
and fastening the pommel to a bar (lug) on the barrel or lug on a
steel band. Metal
furniture is iron (steel); latch is of external spring-steel type with
integral push-button; grips are of black pressed-leather.These
were designed to fit the .577″ caliber Enfield "2-band" Rifled Infantry Short-Muskets of the period.
Blade length is about
23″ and muzzle ring diameter is ~7/8″ (internal).
Scabbards were black leather with steel furniture (throat and drag).
These bayonets were popular with North and South during the American Civil
War."
Based on the work of C. Allan Russell.
            Obverse
and reverse of hilt, pommel, quillion, and grip material
CONDITION: The bayonet
has most of its nickel or polished finish present. There are
two small areas of rust at the obverse mid section and scattered
rust on the after
reveres section of the blade. The hilt is in good condition and the lock works. There
are no nicks
and the edge is fairly sharp and professionally finished. Overall, it is in excellent condition.

         Serial number
on bayonet pommel end