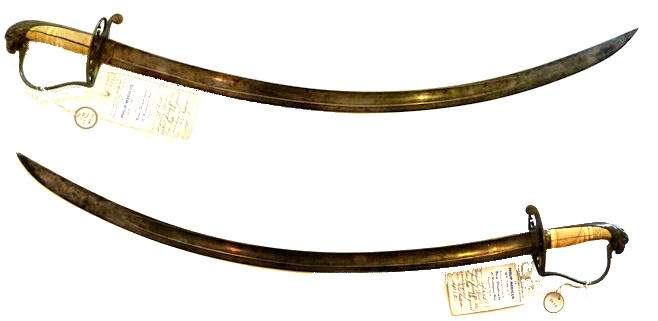 Presented is a very rare eagle head saber made
for the American Market with a radical curved, single edge blade, and cross hatched bone grip. The hilt and
backstrap are made in brass. The sword has a very rare pierced "Lace" cross guard with open areas
that extends into a single stirrup guard that dates to this period. The pommel is fitted with a rare "Parrot"
style eagle in sharp detail with the tang coming through the top of the head flowing directly into the backstrap. This
eagle combined with the backstrap are likely the work of John Salter of London who did not mark his swords for the
American market.  A 7/8" wider fuller runs from 7" back from the point. The high quality and sharpness
of the features of the eagle and the rest of the metalwork's handle design suggest that this saber was made from an original
mold in the early days of production. When new it was coated in silver wash, with a blued and gilded
blade of which only slight traces remain. The accession number, 56.3.6, appears on the front of the obverse side of the
guard. This eagle head looks like it was made by Salter.
| | |
| --- | --- |
| Peened tang and back strap | |
PROVENANCE:
Purchased by Norm Flayderman, Wallingford Hall, Kennebunk, Maine on September 8, 1956; "From the most
important American Sword Collection of Philip Medicus, New York, New York". Then to a museum, Accession number 56.3.6. Deacession
to benefit the Museum Collection Fund.
Flayderman, Norm. "American Swords From the Philip Medicus Collection".
Mowbray Publishers, 1998. Page 112, plates 52, 53f.
42 years later in this book, the saber is
classified as Ca 1800.

DIMENSIONS: Length
of blade 29 3/4″ Width 1 1/4 Thickness 1/4″ Length overall 34 3/4″
The hilt is 4 3/4″  Single large 7/8″ wide fuller 23"
long
Weight Saber 1 lb 12 oz


Rare "Parrot" Salter style eagle head of which only a few are known
CONDITION: The radically curved, single edge saber is
missing its scabbard. There is a significant age crack in the obverse bone grip with two very thin cracks on the reverse.
The blade is slightly loose in the hilt. There are no maker's marks, but there are American heraldic engraving on both sides
of the blade consisting of a gilded American Shield, Flag, Cannon barrel and Oak leaves with other sprayed foliage. The blade
is varying shades of Gray from light to dark. There is no rust or pitting. There are nicks along the fighting edge showing
its use in battle.
Gilded
American Shield, Flag, Cannon, Oak leaves with sprayed foliage
ADDITIONAL REFERENCES:
The American Eagle-Pommel
Sword by E. Andrew Mowbray, Chapter 2, 3, 4
The American Sword, 1775-1945, by Harold E. Peterson
Swords & Blades
of the American Revolution by George C. Neumann
     Rare open panel pierced "Lace"
guard 

         This style
guard is very early

 

                    The
blade has nicks along its fighting edge