WW II SETH THOMAS
MARK I BOAT CLOCK
U.S. NAVY + Naval Observatory Cartouche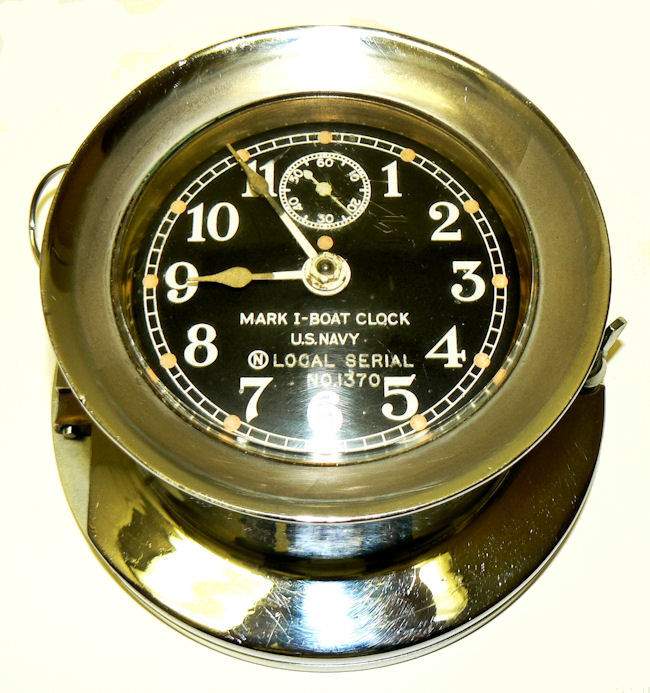 Seth Thomas, America's oldest
clock maker started operations in 1813. Their Nautical clocks first appeared in the 1860's and were the official US Navy Ships'
clock for almost 100 years

DIMENSIONS:

3 1/2″ 
Diameter of face                   
3 1/4″ Deep
5 7/8″  Full Diameter                        
Weight 4 lbs 14 oz

Presented

is a very small, hinged bezel, Navy boat clock which is a miniature design of the huge

Navy MK I DECK clock of WW II which was manufactured in accordance with military specifications 18C-11 and 18C -13. It

is housed in a nickel plated bronze case weighing 4 pound 14 ounces quite a lot for this small a clock. The front section

is hinged with all the controls on the back and mounts on a replacement aluminum backing plate. Compared to a quartz

time piece the clock is keeping exceptionally good time as long as it is wound every four days.

This rare boat
clock was  made for the U.S. Navy by Seth Thomas and dates to Ca 1940-41. It has a very small 3 1/2 inch, midnight black
dial with white acid etched Arabic numerals and Arial font letters. The spade hands are painted white with the points
at one time radium coated. The tan dots below the numbers held radium for night use, but that has since been removed. Radium is
radioactive and its use has been suspended. The face and concave plastic dial are in near perfect condition and the nickel
plating is free of pits and only has a few worn areas which are hardly noticeable.

         Back of mounting plate
with 3 holes
It is a rarity for a clock of this age and service at sea to be in
this fine condition. It will make a perfect gift or for a collector of military timepieces.
                         Clear
plastic lens and like new face
The seconds hand
is located at the 12 O'clock position and is the only Navy clock with this unusual placement. Beneath the hand arbor is etched:
MARK I BOAT CLOCK
U.S. NAVY
(NO) LOCAL SERIAL NO 1370
(NO) represents the Naval Observatory cartouche which means the clock not only met the military specifications,
but also met the stringent standards of this institution which maintains the Nation's Time Standard. At the bottom of the
dial it is marked, MADE BY SETH THOMAS IN U.S.A.
The following controls
are accessed on the back:
Fast – Slow adjustment. To regulate turn towards S to Slow and vice versa 
Stop – allows to precision setting with master clock
Set – moves hands
Wind – a key is included
It has an 11-jewel 8 day  movement that is wound, set and adjusted through a slotted cover at its rear whose
knob is missing. A separate start/stop mechanism allows it to be synchronized with a master time piece. The movement
is the same as would be found in a Chelsea clock made to the same specifications.
As originally fitted, there was a removable vibration dampener that is
spring loaded and attaches to the bulkhead when the front of the case is removed by pulling its hinge pin. The bezel is dogged
by turning a chrome wing nut and all is secure. The shock damping of the original design is not part of the replacement
backing plate, but this does not affect its utility.
               
Shown alongside its big brother the MK I Deck Clock        
| | |
| --- | --- |
|                           Movement is on left. Mounting plate on right | |
CONDITION: This example has seen about
70 years of service, much of it at sea, and gives the appearance of ruggedness. The face is in excellent condition
and shows little evidence of aging. The lens under most light conditions shows clear, but there are some light
zig-zag scratches at the 1 – 2  O'clock position. The movement is keeping excellent time, but as the spring winds
down the daily rate will change. It is best to wind it every four days. A key is included.

The cost of shipping, packing, handling, and insurance to your destination, will be calculated point to point and is an additional charge. You may email us to get these costs. We price our shipping honestly, but we expect to be reimbursed for the nominal cost of packaging materials and handling.
Our Unconditional 'No Nonsense' Guarantee
If not completely satisfied with your purchase it may be returned, if without damage, within three days of receipt in its original packaging. Return items must be insured for their full value. Only a prior email authorization by us for the return is required. Shipping charges are refundable if due to our error within the continental United States.
International buyers welcome, but inquire first. We have satisfied customers worldwide.
Standard Forms of Payment
Bank wire transfer, cashier's check, money order, or personal check in which case the item will be held until cleared. Our prices are quoted net to us so that the use of credit cards or PayPal incur extra charges. Terms on overseas sales are different.

Celebrating 18 Years of Exellence in Nautical Antiques