Collector Quality
U.S.S. NORTH CAROLINA
BB-55 FAMOUS
WW II BATTLESHIP
SCRATCH BUILT WOOD CASED MODEL Ca 1949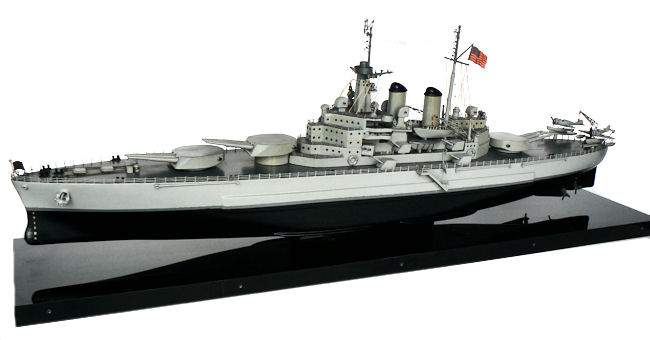 DIMENSIONS:
The model 33
1/2″ L x 10 3/4″ H x 5 3/4″ W  The Case  36″ L x 13 1/2″ H x 9″ W
Weight
18 pounds estimate
Presented is a cased
model of the USS North Carolina (BB-55) which was the lead ship of her class of battleship and the fourth in the United States
Navy to be named in honor of this U.S. state. She was the first new-construction U.S. battleship to enter service during World
War II and was commissioned in June, 1942. Built on a  35,000 ton standard displacement required under the 1936 London
Treaty, she set the basic pattern with her sixteen inch guns for all subsequent US Navy battleships, and was the first
to reach 28 knots. She participated in every major naval offensive in the Pacific theater to become the most decorated U.S.
battleship of the war with 15 battle stars. During the War, Navy ships did not carry hull numbers or names. She was decommissioned,
laid up in June, 1947 and placed in Reserve. Since 1961, North Carolina has been a museum ship at the port
of Wilmington, North Carolina.
"Vintage" World War II warship models hardly exist outside museums. The
ones you see today are mostly made in the Philippines. U.S. made models of this caliber are becoming extremely hard
to find

             Superstructure looking aft

         Bridge and midships at
gangway
            Two
16 inch turrets forward

  Two propellers on each side, single rudder
PROVENANCE:
Purchased at auction. No known prior ownership or maker history.

CONSTRUCTION: With every indication of being scratch built, the model's
hull and appurtenances, deck houses, turrets and cannons are of wood. The stanchions, ladders, portholes and bulwarks
are metal. The cranes are of wire. The rigging blocks are of wood with tread falls. Some parts may be cast in lead or plastic
such as the deck hardware, windlass, cleats, bollards, etc. The flags are made from paper. Painted in Haze
Grey with dark grey decks and boot top, and black bottom paint, the model rests on a black Lucite base with rectangular
pedestal. It shows great care in its construction and is visually impressive, but lacks the finesse of coming from the hands
of  a master model maker. The molded case is Lucite. It and the base may
be a later addition.=left>
CONDITION: Like new with everything
first rate except for a stain on the starboard side of the aft turret. The two aircraft on the catapults are not OS2U Kingfisher
floatplanes.
Later, Curtis introduced a low wing, single seat float plane, the SC Seahawk.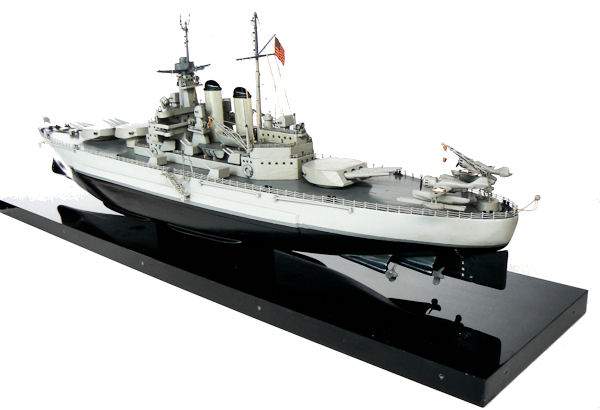 SCROLL DOWN FOR A GALLERY OF MORE PICTURES
General characteristics
Class and type:
NORTH CAROLINA CLASS BATTLESHIP
Displacement:
37,484 long tons(38,086 t) (standard)
44,377 long tons (45,089 t) (loaded)
Length:
728.8 ft
Beam:
108.3 ft
Draft:
33.0 ft
Power:
121,000 HP
Propulsion:
4 × General Electric Steam Turbines
8 × boilers
4 × shafts
Speed:
26 knts
Range:
17,450 NM (20,080 SM @
15 knts
Complement:
2,339 (144 officers and 2,195 enlisted)
Sensors and
processing systems:
CXAM-1RADAR from 1940 on
Armament:
9 × 16 in 45 caliber Mark 6 guns
20 × 5 in 38 caliber dual-purpose guns16 × 1.1 in
(28 mm)anti-aircraft autocannons; replaced by 20 mm and 40 mm guns
Armor:
Maximum: 16 in (410 mm)
Aircraft carried:
3 × Vought OS2U Kingfisher floatplanes
Aviation facilities:
2 × trainable catapults on the fantail
SHIPPING: This model should only be shipped by special courier. Shipping can be arranged directly by the buyer through
LDG Delivery Service for the U.S. East Coast, and certain cities in Michigan, and Indiana, and occasional trips to Texas and
California. Contact L. Drew Gerard, for quotes. 561-212-7159, Email: [email protected]
The buyer
is responsible for making arrangements for packing and shipping using his own forwarding agent and carrier. If the buyer
wishes to use the seller's assistance for shipment, he shall hold seller harmless for any damages or loss arising
out of their participation.
OUR UNCONDITIONAL NO NONSENSE GUARANTEE:
If not completely satisfied with your purchase it may be returned within five days of receipt in its original packaging
if without damage. Return items must be insured for their full value. Only a prior email authorization from us for the
return is required. Shipping charges are  included in this offer if an error is due to our fault.
International
buyers welcome, but should inquire first.  We have satisfied customers in Argentina, Australia, Austria,
Belgium, Bermuda, British Virgin Islands, Canada, Chile, China, Czech Republic, Democratic Republic of Congo, Denmark,
Estonia, England, France, Germany, Greece, Holland, Hong Kong, Hungary, Iceland, Indonesia, Ireland, Israel, Italy, Japan,
Kuwait, Latvia, Malaysia, Martinique, Mexico, Nigeria, New Zealand, Norway, Nova Scotia, Panama, Poland, Portugal, Puerto
Rico, Romania, Saudi Arabia, Scotland, Singapore, Spain, St. Maarten, Sweden, Switzerland, Thailand, Turkey, United Arab
Emirates, USVI and the Eastern Caribbean.
ACCEPTED FORMS OF PAYMENT
are Bank wire transfer, cashier's check, money order, or personal check in which case the item will be held until cleared.
No checks from overseas buyers, no credit cards or PayPal accepted on this item.
This represents a fine model of an important Navy ship . It is an excellent addition to any nautical
collection.
Copyright 2015 – 2011 by Land And Sea Collection ™ , All Rights Reserved