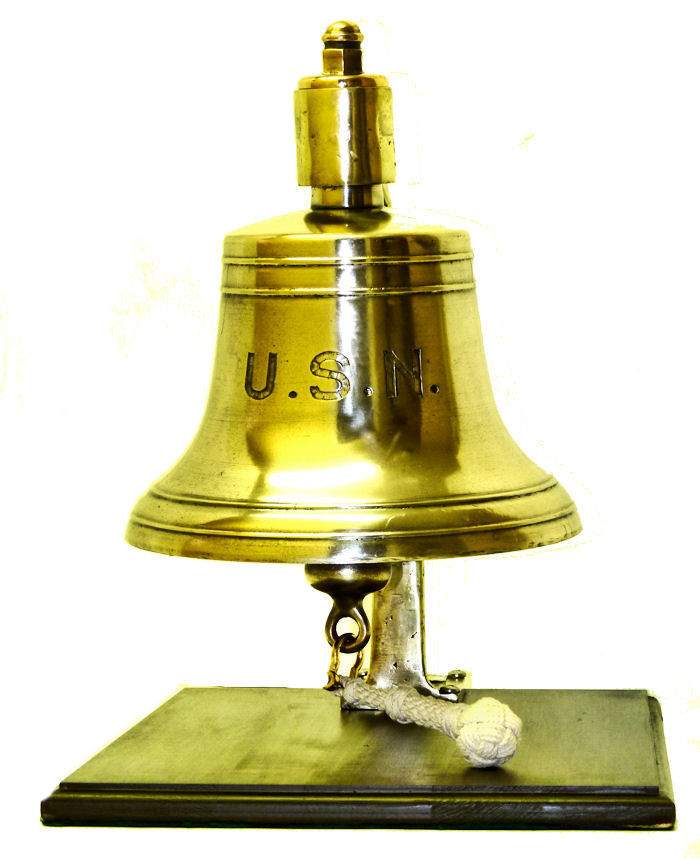 Presented is a very early "Foredeck" bell
complete with its original clapper. The sets of two ribbed bands at the top of the bell and the two bands at the
mouth circumscribing the crown dates it from before the turn of the 20th Century or earlier. The nut and clapper are original,
and the fancy bell rope is included.

The hand chiseled letters of USN mark it as an original and not
an engraved copy. Bells of this unique design are very rare, and those this early are rarer still. The vertical bracket allows
them only to be mounted on a pedestal or deck, hence they are known as anchor or foredeck bells. The bell has been mounted on a wood stand for display. A proper white macramé bell rope
is included.

The tone of an authentic Navy bell, made using a special "bell metal"
formula is not easily forgotten. It has a strong resonance and vibration that rings sharp and clear with a distinctive
sound. Do not expect cheap imitations to have this special characteristic ringing because "bell metal" is a specially
formulated bronze alloy, unique to the Navy for their specialized use.


THIS BELL HAS BEEN POLISHED AND LACQUERED FOR YOUR LASTING ENJOYMENT

 
DIMENSIONS:

BELL:

Diameter at crown 5″

Diameter at mouth 9 1/2″ Height to crown 6 3/4″ Height overall
16 3/4″

WOOD STAND: 15 3/4"
L x 12″ W x 5/8″ T      Weight: 30 1/2 pounds

CONDITION: The bracket has a slight
bend so the bell is not perfectly straight, Its inside shows the marks of the original clapper hitting the edge and flattening
it which shows that this bell has served at sea. There are some dark spots on the bell and more on the bracket and the bracket
has unaccountably casting imperfections. Outstanding resonate ring and strong vibration.
                            Note
the bend in the bracket

This outstanding and rare
US Navy bell is a great find for a gift, presentation piece or for a collection that includes only
the finest. 

The stand makes it ideal for display!