VERY RARE U.S. NAVY
CEREMONIAL BELL 
Ca 1950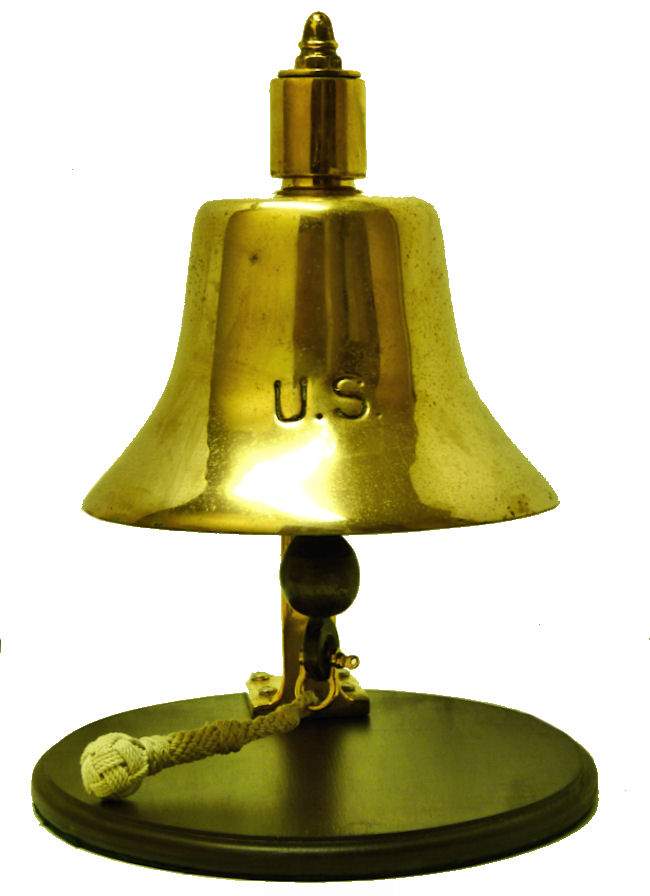 Gold Plated Bronze
Presented is a 1950's "Foredeck" bell complete

with original clapper and bracket. We believe it was gold plated for use in Naval ceremonies. It was purchased by the

last owner at a sale held by the Alameda Naval Air Station 15 years ago. It comes complete with a dark oval wood base

and a fancy macramé bell rope.

The bell is marked with a "US" on its front which dates it as being
the latest design of this type bell which was introduced in the 1950's. The bracket is smoothly finished and shows no roughness
or casting imperfections that are common to most Navy bells of this design. The clapper is larger and longer
than usual. The bracket and the bell were Gold plated to produce a jewelry like finish.

There is nothing comparable to the sound of a Navy bell. The use of a special "bell
metal" formula produces a clear, sharp ring and sets up a strong reverberation that has a strong resonance that once
heard will never be forgotten. Cheap imitations can never achieve this distinctive ring because "bell metal" is a specially
formulated bronze alloy, unique to the Navy for this highly specialized use.


 

Navy Bells have become very scarce. The vertical
inverted "J" bracket requires that they be mounted on a pedestal or deck, hence they are known as anchor
or foredeck bells.

                            
Looking down shows detail of fancy bell rope
DIMENSIONS:

BELL:

Diameter at crown 4 7/8″

Diameter at mouth 10″ Height to crown 6 3/4″ Height overall
16 1/2″

OVAL WOOD STAND: 16"
L x 11 3/4″ D x 3/4″ T  Weight: 30 1/2 pounds

 

CONDITION: Gold plated and polished, but
not lacquered. The bell's gold surface has pitted and it should be re-plated if the price of Gold comes back
to a reasonable level. Otherwise, it is not objectionable from a distance. At its back top, there is a lead area 
about 1 1/4 square which does not seem to serve any purpose since the inside of the bell shows no evidence
of any damage. The lead has been touched-up with Gold paint. The bracket is free of imperfections except on its base
where there is some pitting and the left corner's plating has worn off with the bronze showing through. The ring is sharp
and clear which resonates and makes a strong vibration.
                      
    Back of bell shows 1 1/4" gold painted area

An outstanding
example of a rare Gold plated US Navy bell.  It is perfect for ceremonial use or a special collection.

The stand makes it ideal for display or as a presentation!