ROYAL NAVY BRONZE SHIP'S MINIATURE CANNON CA 1745
=LEFT>
The cannon appears to have been made by a foundry and is embellished with royalty marks and the "Broad Arrow"
of military service.
Presented is a larger than normal cast bronze miniature cannon which replicates the type that was used by the
British Royal Navy during the 18th Century on the gun decks of Ship's of the Line. Miniatures like this were made for
presentation to a dignitary or as a foundry replica as an example of its products. It has various foundry markings which
include George Rex, a "Broad Arrow" mark and a royal crown forward. The deep dark patina ranges
in color from light to dark green with some brownish highlights. The stand, built in the shape of a carriage, came with
the barrel, but is likely not original. The bore shows an accumulation of encrustation of grit, possibly evidence
of it being fired. It has the characteristics of the most noteworthy examples of cannons of this period and type which include:
Prominent cascabal knob

Reinforced chamber


Centerline trunnions

Five reinforcing
bands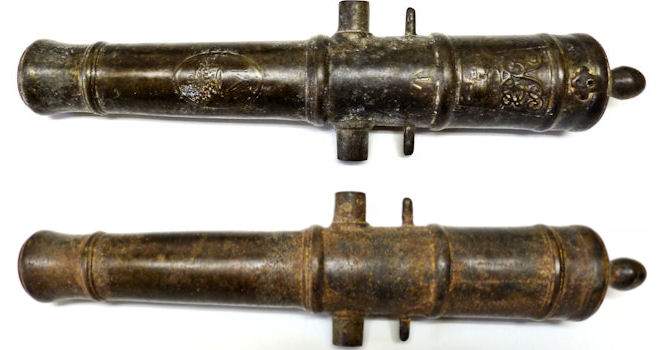 The central location of the trunnions date the tube's design to after 1725.
With the introduction of the Cronstedt system, the trunnions were located at the mid level of the inner chamber.
Before this, as with this gun, they had been placed at a lower level.

       This cannon is being offered for display only and should not be fired.
        Touch hole with George
Rex

DIMENSIONS:

Length overall
12″

Length of barrel:           11
3/4″    Bore .65″ or 16mm

Width at rear
1.9″   

Width, front reinforcing band behind muzzle  1.3″     WEIGHT
5 lbs 7 oz
Stand  7" LOA x 3 1/4″ W x 3 1/8"
H
Total Weight 6 lbs 3 oz

CONDITION: The barrel has a rich patina which varies from
greenish brown to tan with darker over tones. The trunnions are cast as part of the barrel at the middle of
the tube.  The various markings are well worn. The bore goes through the barrel to the touch hole. Because of its age and unknown history, it should not be fired and is sold
for display only.