SARATOGA CV-3 PRESENTATION SHAKER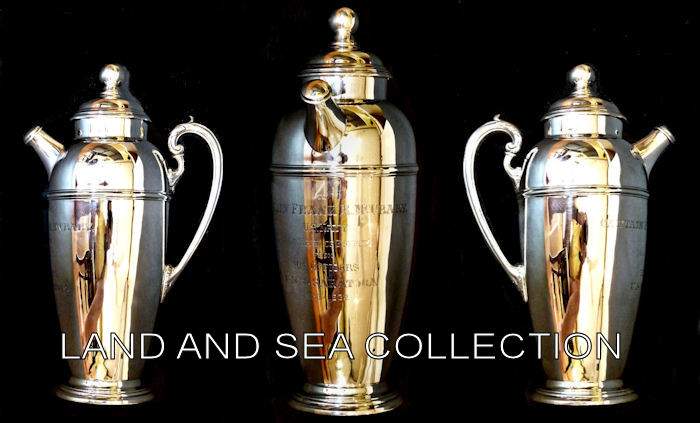 Memorializing 80 Years of Naval Aviation!

Presented is a beautifully made sterling silver cocktail
shaker made by the International Silver Company and presented to Captain Frank R. McCrary in 1932, by the officers of
the USS Saratoga as a token of their esteem. It has a few small dents and signs of handling, but does not appear to have
been used.

PROVENANCE: The shaker was handed down in the family for the last 80 years, finally to his Grandson, the last prior owner.

SPECIFICATIONS: 13 ¼" tall by 7 ¾" wide from spout to handle. It is made
from 822 grams or 29 Troy ounces of Sterling Silver having significant bullion value.

Captain Frank Robert McCrary, USN:

Born 1 October 1879, in Arkansas, Captain McCrary entered naval service on 11 September 1897 as a Naval Cadet at the US Naval
Academy. He graduated with the Class of 1901. As a lieutenant commander, he was the first Navy's first Lighter than
Air (LTA) pilot, and executive officer of Pensacola Naval Air Station and headed up its Free Balloon and LTA training
there, 1915-1917. He became the first CO of the Navy's first dirigible, Shenandoah, ZR-1. He  held that
position from October 1923 to some time in 1924. The Shenandoah crashed in September 1925 under the command of his replacement
due to violent weather in Ohio. There were 13 fatalities and 29 survivors.

McCrary was promoted to Captain on
22 January 1924. Captain McCrary was appointed commanding officer of NAS North Island (then called NAS San Diego) for
the first time, and served there until 10 June 1926 when he assumed command of the USS Langley CV 1 until 4 January 1927. From
there, he returned to North Island for the second time from 12 September 1927 until September 1930 when he assumed
command of the USS Saratoga CV-3. He served in that capacity until June, 1932 when he transferred to the Naval War College.
Next, McCrary is shown as one of the commandants of Taal Air Stalin at Pensacola Naval Air Station from June 1933 – May
1934. He retired from the Navy June 30, 1936. The Navy re-called McCrary out of retirement on November 1, 1940
to become Alameda Naval Air Station's first commanding officer. He died at age 72 years on 10 June 1952,  in Alameda
County, California. He  married Mary B. Davison in Dublin, Ireland during WW I. Mary had been doing Red
Cross work in France and became first American woman yeoman to serve in a foreign field at the Naval Aviation Headquarters
in Paris. Their son Shannon, followed in his Father's footsteps as a Naval Aviator. Unfortunately, LCDR Shannon McCrary was
killed in a crash not far form Miramar Naval Air Station in 1956.

Base marked International, Hallmark, Sterling, WM 206,
4 Pints on four lines   

Inside cap marked Pat'd Jan 11 1927
Sterling on
three lines  

Chapter Five, eleven pages of the authoritative book, USS Saratoga,
CV 3, by John Fry memorializes Captain McCrary's time as commanding officer with numerous photographs and details from
September 5, 1930 until June 1, 1932. A copy will be included in the sale.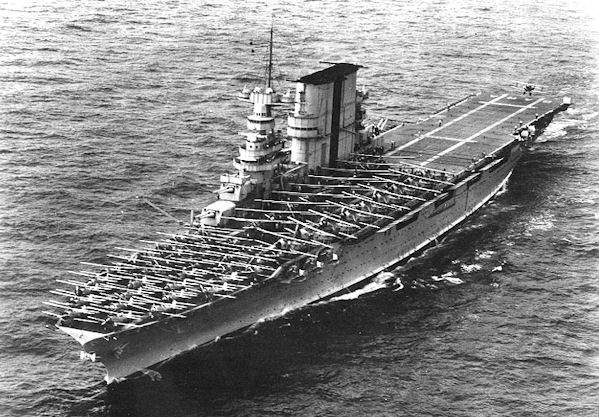 Landing aircraft June 6, 1935
USS SARATOGA'S HISTORY IN BRIEF: The ship's hull was designed
as one of six cruiser's of which only two were built and used as aircraft carriers. The Saratoga (CV-3) was the second aircraft
carrier of the United States Navy and the fifth ship to bear this name. She was commissioned one month earlier than her sister
and class leader, Lexington, which is the third carrier actually commissioned after Langley and Saratoga. As Saratoga was
visually identical to Lexington, her funnel was painted with a large black vertical stripe to assist pilots in recognizing
her. This identifying mark earned her the nickname "Stripe-Stacked Sara." Saratoga, Enterprise, and Ranger were the only fleet
aircraft carriers of the United States Navy built before the war to survive and serve throughout the U.S. involvement in World
War II. For a comprehensive history, the best is found here. Go: http://en.wikipedia.org/wiki/USS_Saratoga_(CV-3)