LARGE PAIR ANTIQUE WW I PERKO NAVY BULKHEAD OIL LAMPS ~ VERY RARE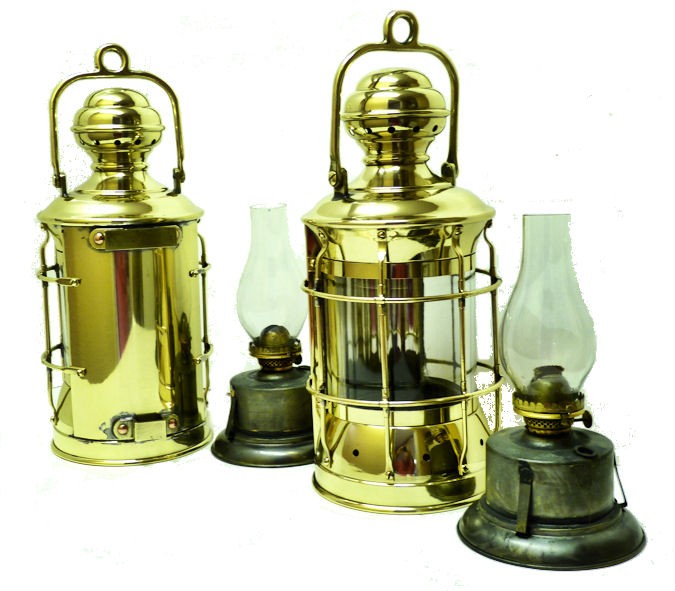 Warship
Bulkhead Lamps From the World Wars

PRESENTED

is a lamp that you are very unlikely to come across says Anthony Hobson, in book two of,
"Lanterns That Lit Our World". They were made by Perkins Marine Lamp Corporation during the first and second World
Wars as bulkhead lights for warships. We doubled check this with the successor company, PERKO in Miami, FL and they advise
us that they are extremely rare and the only ones they know of in existence.

PROVENANCE: Handed down in the family of a WW II naval officer and are now first reaching the
market after 65 years.

The imprint on the plate in the bottom of the lamp on three lines
reads:
M'F'RD BY

PERKINS MARINE LAMP CORPRN

BROOKLYN – New York



This helps
date them to sometime after 1916 when Persky first incorporated and before 1931 when the company's name was changed to Perkins
Marine Lamp & Hardware Corporation.



PERKINS' BRIEF HISTORY:
Starting in
1904, Perko made all kinds of lights
under their original name, "Persky".In 1916, they incorporated under the name Perkins Marine Lamp Corporation
in Brooklyn, NY. This same year the PERKO trade mark was adopted. In 1931 the name was changed to Perkins Marine Lamp &
Hardware Corporation. In 1961, the Brooklyn facilities were closed and operations were moved to Miami, FL. Perkins was dropped
from the name and the company became known as PERKO Inc. It was in 1916 that the Perko trademark was registered, and it has
been used ever since. The company still makes high quality marine lights and hardware out of its Miami, FL facilities.

 

If you like big lamps, you will have to appreciate the size and bulk of these lights from the first quarter
of the 20th Century
Back and
front of US Navy shipboard light of an earlier time
Left side
view and one burner showing original patina of age
DIMENSIONS: Not counting bail, 15 ¼" high with a diameter of 7 ½".
The bail adds 1 ¾"
Weight one lamp 8 ½ lbs The pair 17 lbs

CONDITION:
These very unusual lights are in outstanding condition overall considering their age and use. There are only a couple of minor
dents and marks of age. The lens is perfect. One of the original kerosene burners has it's wick stuck in the guide and needs
some freeing. They have been recently polished and lacquered at considerable expense.