4 X 40 and 7 x 35 SCOPE
WHOLE HORIZON MIRROR
Ranks 5 Pus Stars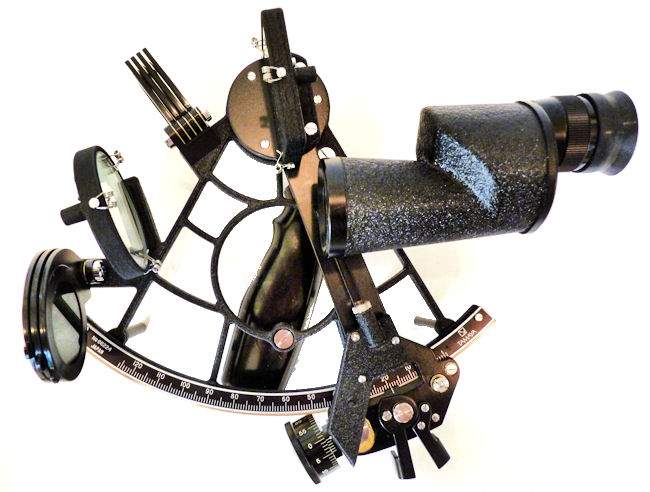 Tamaya Sextants Sold on the Internet are Priced Without Scopes. Don't be Mislead!
The overall condition of this sextant is as new. It has never been used and is ready for an experienced navigator or by a serious student desiring the whole horizon feature rarely found on a Tamaya
I've been involved in selling Tamaya sextants for over 37 years, and my company, Nautech Maritime Corporation, was instrumental in the design of all Tamaya sextants which are essentially in the same form and are still on the market today. This included introducing their MS 733 Spica, MS 833 Jupiter, and MS 933 Venus sextants and the famous NC 2, and NC 77 navigation computers to the US Market.
That said, it is with great pleasure that we offer a never used 1983 Tamaya Jupiter sextant, Serial Number 66224, with factory 4 x 40 and 7 x 35 scopes, and the optional whole horizon mirror they called "UNIVISON".
This feature was a $350.00 option when it was available, but it has not been offered in the U.S. for quite some time, as you will see by comparison shopping for what is available today.
This sextant is in exceptional condition, and shows like new except that two caps for the ocular lens of the scopes are not included. The likelihood is they were discontinued by the factory. The case is the more recent style plastic one which is much improved over the early wood cases. The instrument's certificate, dated, August 30, 1983, shows "0" error over its usable range.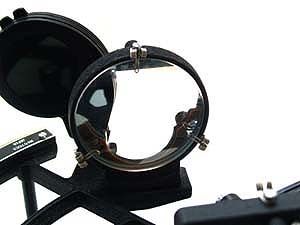 UNIVISON VS SPLIT IMAGE MIRROR: Traditional sextants have a split image mirror, silvered on one side, clear on the other. It divides the field of view in two. On the clear side, there is a view of the sky, sea and horizon; on the other side, a reflected view of the celestial object. The advantage of this type mirror is that slightly more light is reflected through the telescope so that the image is brighter. If you are going to be taking a lot of twilight sights, you may find this an advantage.
On the other hand, whole-horizon sextants use a mirror with a reflective film over the entire surface that provides a full view of the horizon without interruption. This makes capturing the celestial
body much easier. If the preponderance of sights are to be taken during daylight, it is easier to use and much preferred. The maker of the Astra III B sextant reports that 90% of their sales are with whole horizon mirrors.
If your preference is for a split image mirror we will fit a new one on an exchange basis, and re-tune the optics at no cost.
PROVENANCE:
Purchased new in 1983 by a medical doctor with a life long love of the sea, and with aspirations of doing some long term ocean voyaging. Because of his commitment to his patients this has never come to pass.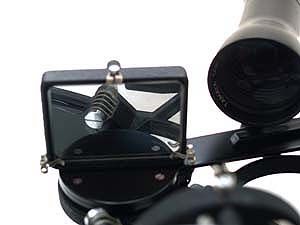 UNIVISON Whole Horizon mirror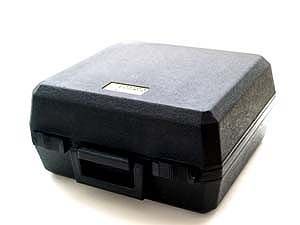 Index mirror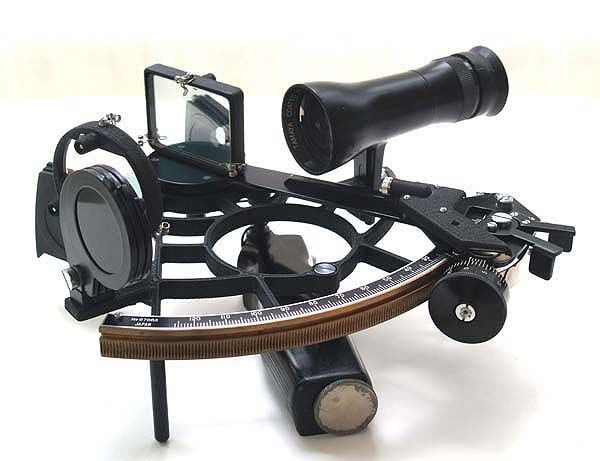 High impact case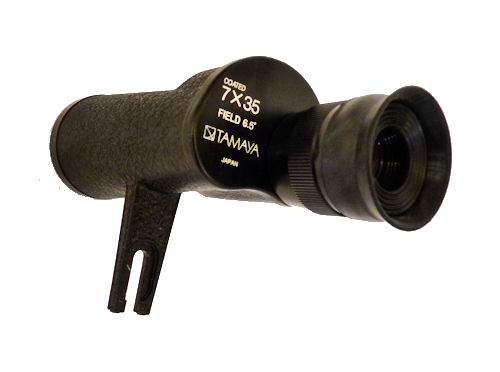 Horizon mirror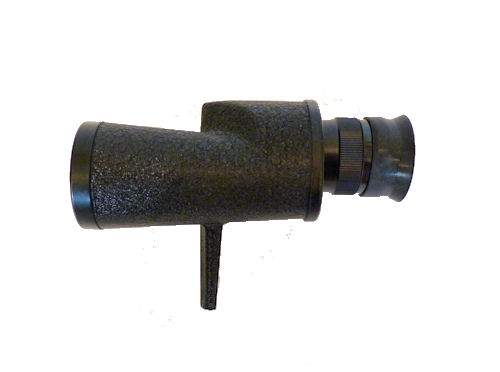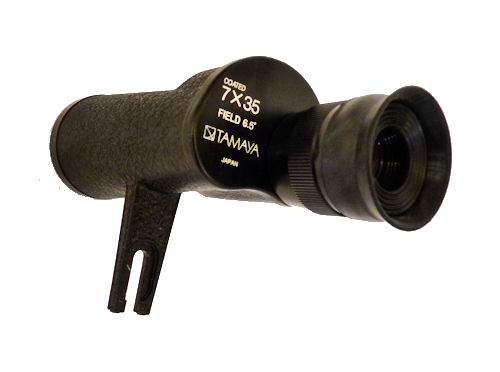 Tamaya 7 x 35 scope an expensive accessory
CONDITION:
Irrespective of age, overall condition, is "as new" with some light evidence of handling, moving, and storage. Adjustable
index error is less than 1′ and side error is nil . All moving parts turn freely. Nothing is broken. The only exception
is that the circular shade for the scopes' ocular lens are not included. The end cap was rarely, if ever, used and were discontinued
since no new Jupiter has them. That date is not known. The mirrors are perpendicular to frame. Both mirrors are without blemish.
The case is in excellent condition. Case, certificate and sextant numbers match. The light works. The case does not have a
lock.
This sextant is exceptional in condition and because of its special features is perfect for someone desiring
the UNIVISON feature. If not we will fit a split image mirror at no cost on an exchange basis.
STAR RATING: Without qualification, this instrument
rates 5 PLUS STARS
QUALIFICATIONS: We are one of the few company's still selling
navigation instruments that know anything about them. For purposes of judging whether Joel's opinion counts, he was the editor
of the chapter on sextants of the 1977 Edition of "Bowditch", The American Practical Navigator, NAVPUB 9; a member of the
U.S. Naval Academy Navigation Symposium, 1975 -1978; the author of a book on marine sextants, Cornell Maritime Press,1975,
and the founding president of Nautech Maritime Corporation which partnered with Tamaya of Japan in the introduction of the
MS 733 Spica, the MS 833, Jupiter, MS 933 Venus sextants and the famous NC-2 navigation computer, in the U.S. market. Joel
is a retired Master Mariner, and held a U.S. Navy "D" Qualification as a Senior Skipper – Oceans. From 1995 until 2001, he
was a Varsity Offshore Sailing Team Coach at the U.S. Naval Academy.
Some of his memberships, past and present, include the: Association of Naval Aviation,
Silver Wings, The Tailhook Association, Naval Academy Sailing Squadron, McCampbell's Aces Squadron, Naval Historical Foundation,
and the Naval Order of the United States.
STANDARD FLAT RATE SHIPPING, INSURANCE & PACKING
to 48 contiguous States, $40.00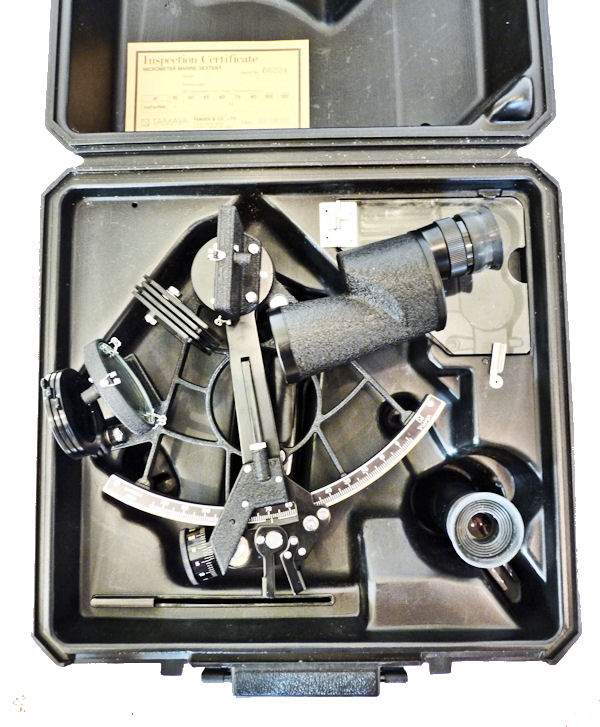 Model
833 JUPITER SPECIFICATIONS:
Measuring Range: -5 to 125 degrees
Accuracy:
+/-12 seconds.
Telescopes: 4x40mm: angle of view 7 degrees, relative
brightness 100. All optics are fully coated.
Frame: Die cast
aluminum alloy with corrosion resistant black finish. Bronze arc.
Vernier
Scale: has 5 marks & reads to 0.2′.
Index Mirror: 57 x 42 mm.
aluminized on the rear side.
Horizon Mirror: 57mm diameter – UNIVISON
whole horizon
Shades:
1. 4 for index mirror
2. 3 for horizon mirror
Weight:
3 lbs 12 oz, 7 lbs in case
Carrying case: Hi impact plastic
INCLUDED ARE:
1 Tamaya Nautech Model 833 sextant frame
1 4 x 40 Star scope
1 7 x 35 Sun
Scope
1 Whole horizon
mirror
1 bulb installed
1 spare bulb
1 Mirror adjustment wrench
1 New style plastic sextant case
1 Tamaya Certificate of Accuracy
Batteries included.
They should be inserted with the positive terminal to the top.
OUR UNCONDITIONAL NO NONSENSE GUARANTEE: If not completely satisfied with your purchase
it may be returned, if without damage, within three days of receipt in its original packaging. Return items must be insured
for their full value. Only a prior email authorization by us for the return is required. Shipping charges are included in
this offer if the error is due to our fault on domestic shipments.