LAST of a BREED ~ 5 Stars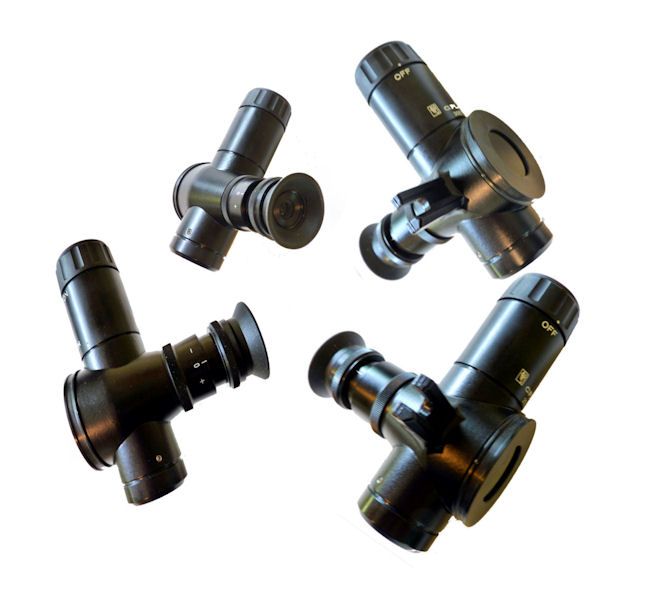 Presented is a rarely seen late model C. Plath Bubble Horizon
in absolutely outstanding and flawless condition. The serial number shows the design as Ca 1991 manufacturer. This is the
last such horizon design made by C. Plath and has an internal power supply consisting of two 1.5 volt Duracell 357 batteries.
Therefore, there are no wires and it can be used on a wide variety of sextants other than C. Plath and Cassens &
Plath without having to worry about a power source. This would include Tamaya, Astra, and the Russian CHOT/SNOT. Like all Plath bubbles except for the one produced directly after WW II, the size of the bubble is not
adjustable. No carrying cases were supplied since most were sold with a sextant having a case within which it would fit. A
simple trip to the camera store can solve that problem if necessary. The occular lens is adjustable for focus.On July 3, 2008, Ken Gebhart of Celestaire writes me that this unit which was discontinued around 2001,
sold new for $1,700.00.
There is no instruction booklet, but there is a copy of a C. Plath letter
explaining its use. The device is simple to use and provides an artificial horizon using a circular illuminated bubble as
a sustutute for a horizon reference. The bubble is centered at the midpoint of the viewing area and the celestial body is
brought into coincidence with the bubble's center.
CONDITION: We were told it
was purchased in 1991 and never used. On receipt, the required illumination did not work which was traced to a faulty LED
which was replaced using a US bulb and two new 357 Duracell batteries.
MARKINGS:
Above the front lens:
C PLATH, 3057
Under
the rotary switch: Off On
Pictured below are two mint condition C. Plath Navistar Classic sextants which it
fits along with Cassens & Plath, Tamaya, Friberger, and the Russian CHOT/SNOT.
The links to these sextants which are for sale are: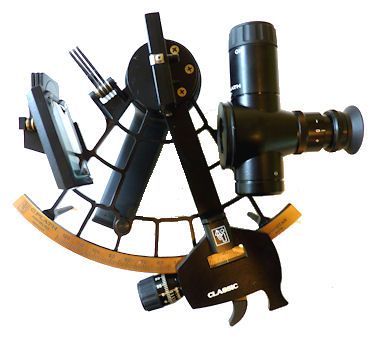 Mounted on 1991 C. Plath Navistar Classic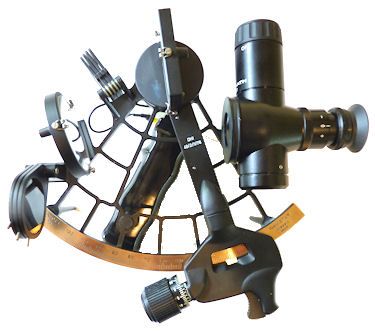 Mounted on 1983 C. Plath Navistar Classic
THE SEXTANTS PICTURED ARE NOT INCLUDED BUT ARE FOR SALE!
1991 C. Plath Navistar Classic https://landandseacollection.com/id794.html
1983 C. Plath Navistar Classic https://landandseacollection.com/id792.html
SUGGESTED USE:
The bubble horizon has a 2 power optical system and a smaller than normal field of view. The internal dampening mechanism of the bubble is greater than will be found on less costly alternatives, but requires some practice in getting used to. The Plath Bubble Horizon is far superior to a normal artificial horizon which can only be used for objects with altitudes of less than 60 degrees and can not be used for twilight sights. This makes it ideally suited for land based training applications, for land navigation and for use at sea from ships large enough to be a stable platform. Interestingly, in the 1970-80's this device, in an earlier form, was issued to U.S. submarines for back-up celestial navigation. Ref. Dutton's Seamanship & Navigation, 12th Edition, Article 2206, page 385.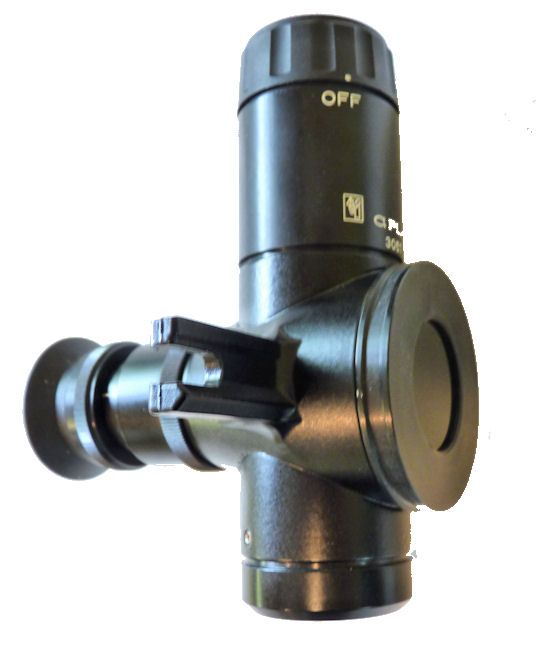 Standard sextant rising piece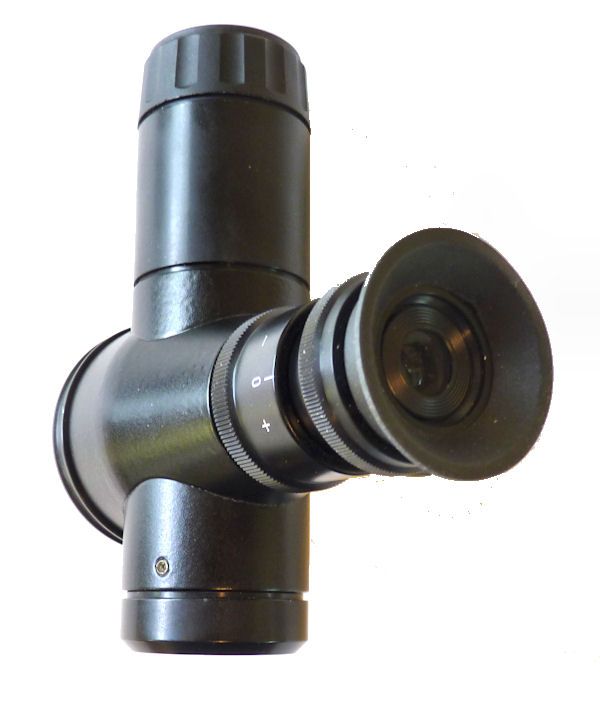 2 X power lens system
C. PLATH BUBBLE HORIZON SPECIFICATIONS:
Magnification 2 X
4″ 3/4 H x 4″ L x 1 7/8″ W
Slip-on green filter included
Weight: 7 oz
This device is suited for someone who can appreciate the fine points of its design, and is willing to pay an appropriate price for this level of C. Plath quality and excellence.
COMPANY HISTORY: In brief, Carl Plath started manufacturing sextants, in addition to other nautical products, in Hamburg Germany in 1862 though the purchase of the David Filby instrument company though the company's origin dates back to 1837. As a result WW II, C.Plath was dismantled completely by the occupation forces. Around 1950, various prohibitions were lifted, and C. Plath was allowed to begin production again of sextants and other nautical instruments. Also in 1949,C.Plath was offered a gyrocompass patent and in 1951 the first gyrocompass designed to this patent was presented to the public. C.Plath progressed from the role of instrument maker to that of a modern marine navigation equipment manufacturer. In the following years the product range was expanded by many more modern designs such as autopilots, speed logs, radio direction finders, etc. In 1962 C.Plath was acquired by Litton Industries, a large American concern.The C.Plath North American Division was set up in 1978 in College Park near Washington. 1996 saw the introduction of the world's first fiber-optic solid-state gyrocompass by C.Plath. The first ever gyrocompass with no moving parts. Sperry Marine was formed in 1997 with the combination of C.Plath, Decca Marine and Sperry Marine with more organizational changes yet to come. After 163 years, C.Plath changes its name to Sperry Marine in May 2000. In 2001 Sperry Marine becomes part of the Northrop Grumman Corporation. In the 1990's Plath came out with a series of new sextant designs with overlapping designs and confusing names. Shortly thereafter, C. Plath quit producing sextants. The parent company has completely liquidated everything including machinery, equipment and spare parts.