ANTIQUE SILVER HILT FRENCH/GERMAN HANGER – HUNTING – SHORT SWORD,
Ca 1710 -1740


Presented
is an exceptional silver hilt hunting sword with the stag horn grip in perfect condition with an engraved single
edge flat blade. The obverse blade has a six inch area with a floral design where two hunting dogs are chasing a boar. On
the reverse, the two dogs are chasing a stag. On the obverse ricasso there is a rectangular area within which is a geometric
design. The 21 1/2″ blade has some small areas of pitting and some black marks, but is mostly in good condition. There are
no other markings on the sword.



The cross
guard is made of a near 5/16" x 1 ¼" square length of silver metal set on end which protrudes through a seven
sided center piece over which is a banded ½" ferrule. The stag horn 4 ½" grip ends in a flat top pommel with a
capstan head on top.



Both the British and the French
favored the cast vertical style scallop shell guard during the period 1710 -1740. That said, the lack of hallmarks eliminates
this being English Sterling, and the preponderance of silver metal tends to make this sword of possible German manufacture,
i.e. German Silver or nickel silver.


The brown
pebbled leather sheath has a large 2 ¾" silver band with throg at its throat, and 4" double pointed band at the
end. The seam on the reverse is bonded. It is in perfect condition.

There
are a number of near exact examples of this style hilt in "Swords & Blades
of the American Revolution" by George C. Neumann. Ref. 64.S, 66.S and 23.S, 24.S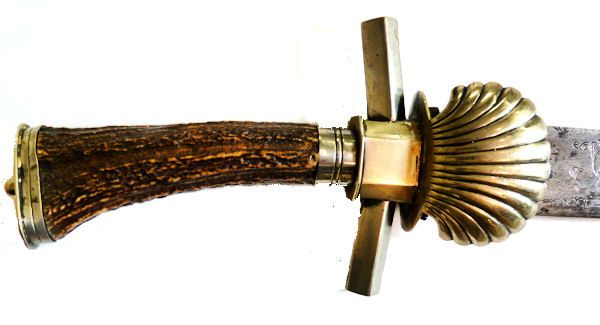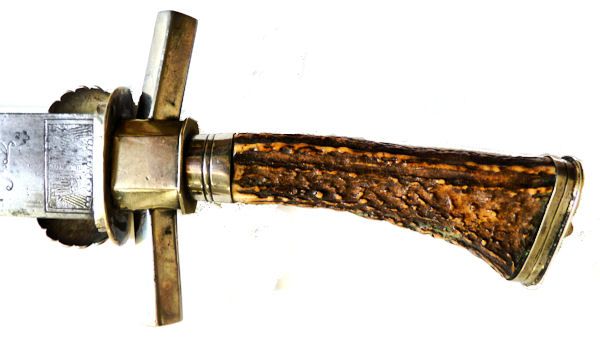 The dramatic hilt pictured above showing
both sides, is one of the most beautiful we have ever seen.
 



DIMENSIONS:
=left>
BLADE:Width 1 1/4″ Thickness 1/4″ Length 21 1/2″

False edge: 4″

HILT:
5 1/4" Length Overall 27" Length in scabbard
27 3/4"

WEIGHT: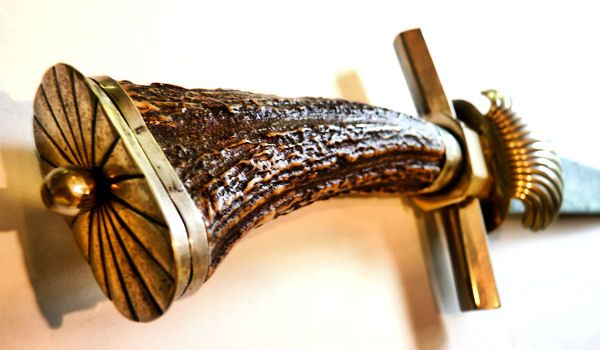 The flat pommel cap has a sunburst pattern,
and simple capstan terminus.



Top: Engraving
on obverse shows two hunting dogs chasing a boar with floral designs surrounding. Center: Shows some pitting. Bottom: Point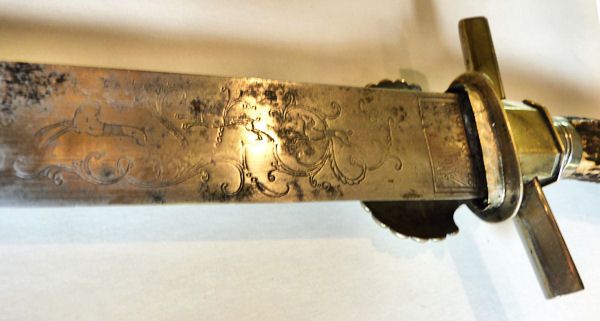 The reverse shows the rectangle
on the ricasso with geometric design followed by two hunting dogs chasing a stag, with floral design surrounding.=left>

This rare sword offers a unique opportunity to acquire a historic silver craft
of great skill done by an unknown hand.
 

OUR
UNCONDITIONAL NO NONSENSE GUARANTEE: If not completely satisfied with your purchase it may be returned within five
days of receipt in its original packaging if without damage. Return items must be insured for their full value. Only a prior
email authorization from us for the return is required. Shipping charges are included in this offer within the continental
United States if an error is due to our fault.