GUARANTEED 5 PLUS STARS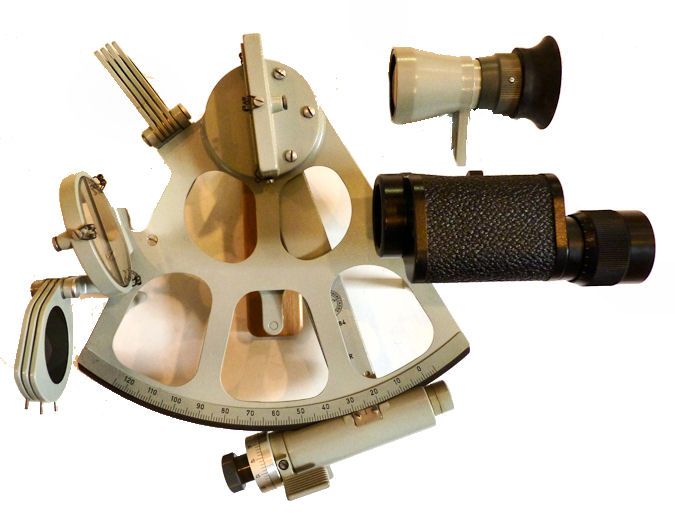 The condition of this superb sextant is outstanding. It is ready to go back to sea where it can be put back to use. It is also perfect for a serious student because of its two scopes, large size mirrors and light weight.
Presented is Freiberger sextant, Serial No.781984, with matching certificate dated 29 APRIL 1978. It was purchased in Malta by the owner, now a retired, U.S. Merchant Marine Captain. The sextant is in excellent, "Like New" condition, even though it was used by the captain in the rescue and evacuation of Vietnamese Boat People on a number of passages between Singapore and Vietnam in 1979. In the waters of the South China Sea at this time, there were few reliable aids to navigation which was hazardous due to out-of-date charts and coast pilots, no Loran or GPS signals, and uncharted sunken ships from WW II. The sextant proved invaluable in position fixing in these dangerous waters.
Even with that background, there are no visual cues that this sextant was used at sea in wartime conditions because it was maintained by a trained professional who valued his instrument as he valued his ship, crew, and the refugees for whom he became responsible. For example, both its index and horizon mirror are unblemished and everything else is in "like new" condition making it an outstanding example of a Freiberger. The matching inspection certificate reports errors of under 29 arc seconds over most of its usable range.
A report of his experiences taken from his log from 3 February through 29 November 1979 will be furnished the new owner.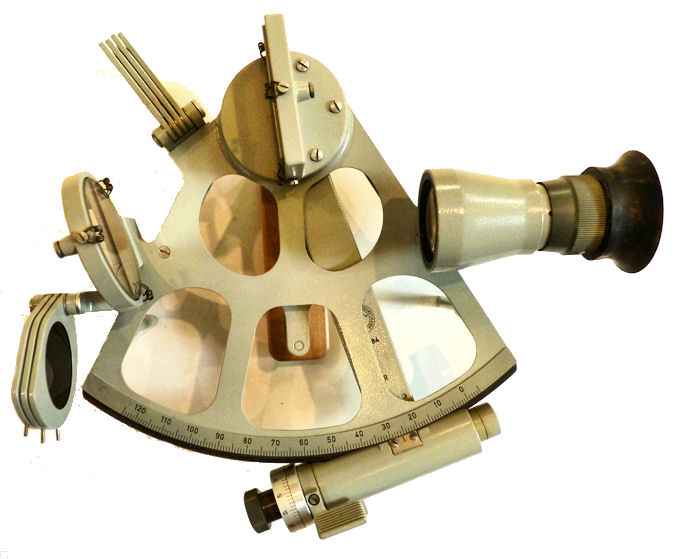 PROVENANCE: This instrument was purchased new nearly 33 years ago in Malta by a U.S. Merchant Marine Master who used it aboard his ship in performing rescue operations in the South China Sea. At the end of his service, he kept the sextant as it was his personal property and brought it back to the States. For nearly 30 years it sat on a shelf in his home which accounts in part for its perfect condition.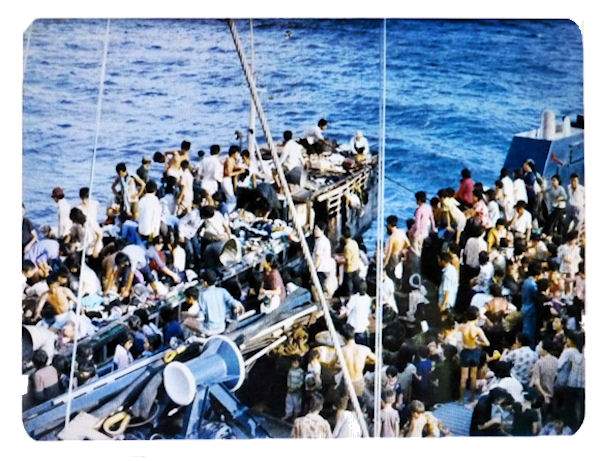 A rescue of Vietnamese Boat People on the South China Sea
in 1979
SCROLL DOWN FOR ADDITIONAL PICTURES
FEATURES: All Freiberger sextants are fitted with Carl Zeiss lenses. This one has two. We have been asked what "Trommel" means in describing this brand sextant. Trommel in German means barrel or drum which describes the tangent screw housing. It is not a separate model.
CONDITION:
Overall condition is "as new". Adjustable index error, 1 min "on the arc" with a smidgen of side error which is a good thing. Index arm clamps open and close freely. Index arm moves smoothly, micrometer drum knurled knob turns freely. Like many sextants, the vernier reads to one arc minute, but may be estimated visually in tenths. Both scopes' ocular adjustment turns freely. Mirrors are perpendicular to frame. Both mirrors are in like new condition. The case has a scratch on the top and a couple of very minor blemishes which are hardly noticeable. A key and the mirror adjustment wrench are included.
THIS SEXTANT RANKS 5 PLUS STARS!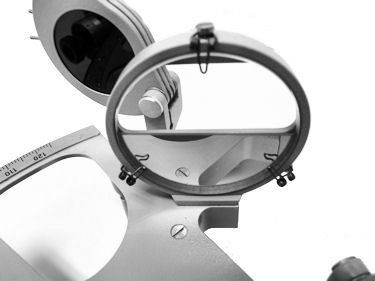 Perfect Horizon Mirror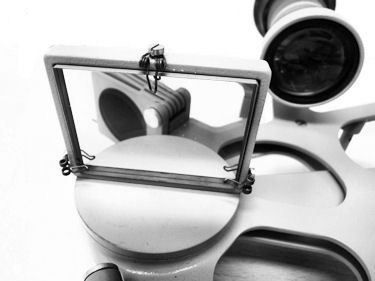 Unblemished Index Mirror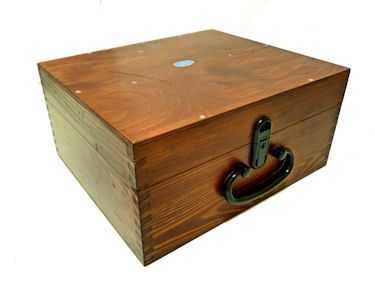 Sextant's case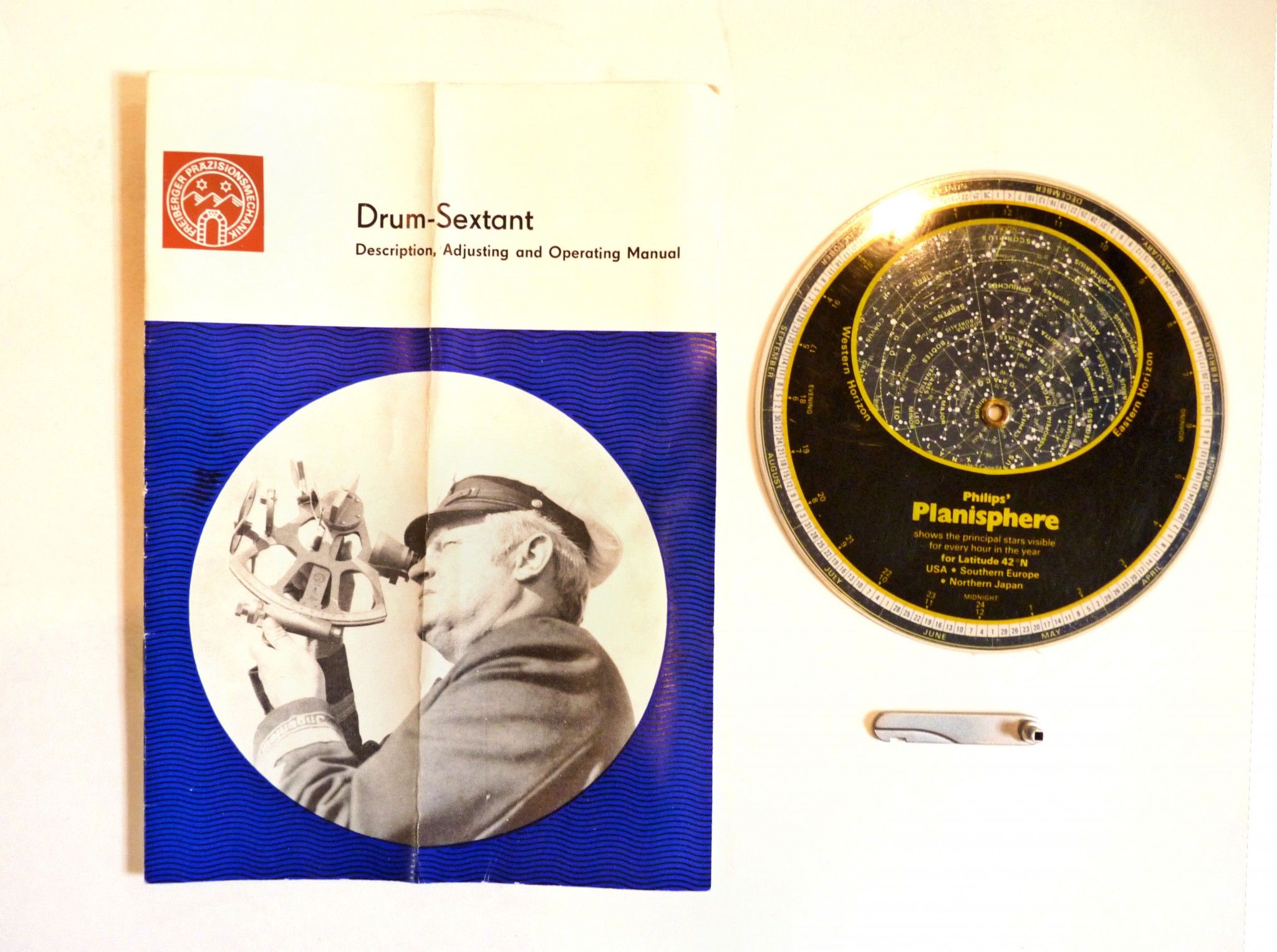 Owner's manual, Planisphere, wrench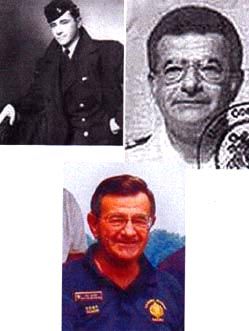 QUALIFICATIONS:
We are one of the few company's still selling navigation instruments that know anything about them. For purposes of judging whether Joel's opinion counts, he was the editor of the chapter on sextants in the 1977 Edition of "Bowditch", The American Practical Navigator, NAVPUB 9; a member of the U.S. Naval Academy Navigation Symposium, 1975 -1978; the author of a book on marine sextants, Cornell Maritime Press,1975, and the founding president of Nautech Maritime Corporation which partnered with Tamaya of Japan in the introduction of the MS 733 Spica, the MS 833, Jupiter, MS 933 Venus sextants and the NC-2 navigation computer, in the U.S. market. Joel is a retired Master Mariner, and held a U.S. Navy "D" Qualification as a Senior Skipper – Oceans. For six years he was a Varsity Offshore Sailing Team Coach at the U.S. Naval Academy. Some of his, present and past, memberships include: Association of Naval Aviation, The Tailhook Association, McCampbell's Aces Squadron, Navy League, Naval Historical Foundation, Naval Academy Sailing Squadron, the Naval Order of the United States and Silver Wings.
FREIBERGER HISTORY: Freiberger Präzision Mechanik (FPM) is based in Saxony, Germany. It has a long and impressive history. Originally founded in 1791 FPM has produced instruments for Astronomical and mine navigation as well as mine, geological and land surveying for almost as many years as the United States of America is old. In 1965, FPM became a satellite factory for VEB Carl Zeiss Jena, and was the sole manufacturer of all levels, compasses and sextants. In 1990, following the reunification of Germany, the Jena Surveying Instrument factory at Göschwitz was closed by Carl Zeiss Oberkochen. However, the Freiberger company was able to continue the production of these fine German-Made instruments under their own name as a publicly owned company.
Freiberger sextants are well thought of by the European and Asian Merchant Mariners and have become more and more popular in this country. They were also the basis of the Russian marine CHO-T sextant design. You will likely see some cruise ships that come up in a Google search, that show them as part of their ship's inventory. If you are a small boat navigator keep the enclosed tangent screw free of salt water and lubricated with WD-40 or Vaseline, and you will have no problems. You will welcome its light weight and full size mirrors compared to other more expensive instruments.
FREIBERGER Drum Sextant SPECIFICATIONS:
Measuring Range: -5 to 125 degrees
Telescopes:
3.5 x 40mm: Coated optics
Frame: Lightweight die cast aluminum alloy with corrosion resistant light gray finish. Bronze arc.
Vernier Scale:
reads to 1.0 min. Visually estimates to 1/10 min
Index Mirror: 56 x 42 mm.
aluminized on the rear side.
Horizon Mirror: 57mm diameter.
Shades:
4 for index mirror
3 for horizon mirror
Weight:
3lbs, 9.2 lbs in case
Carrying case: Varnished wood case with
placard and key=left>
INCLUDED ARE:
1 Freiberger Marine Drum Sextant frame
1 4 x 40 Scope
1
6 x 30 Carl Zeiss Scope
1 Mirror adjustment wrench
1 Varnished wood sextant case
1 key
1 Planisphere (Visible celestial bodies)
Certificate
of Inspection
Original owner's manual