GUARANTEED 5 PLUS STARS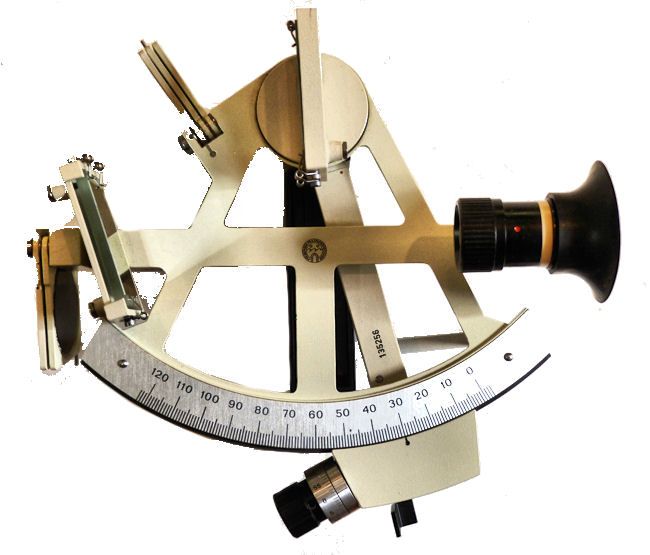 This model Freiberger is the best of all the smaller size sextants.
It is in outstanding condition and perfect for the experienced navigator, beginner, or where storage space is limited.

Pesented is Freiberger smaller scale Yachtsman sextant, Serial No.135 256, with matching certificate
dated 7.12.84. Once again we offer a sextant in "Like New" condition without even a minor fault. There are no
visible marks that it was ever used, and we rank it with 5 Plus Stars. Back in the 1970's my company, Nautech Maritime Corp.,
introduced the Tamaya MS 933 Venus to the American Market along with the entire Tamaya product line so we know quite a bit
about these smaller size sextants. The Venus was well received, and is still seen today. However, it's mirrors were smaller
than the full size mirrors fitted to this sextant and its telescope does not compare favorably, nor does its inexpensively
made case. It did have illumination which the Freiberger doesn't.The design specifications on the Yachtsman
are: a smaller Instrument specifically designed for the Yachtsman where space, weight and size are at a premium. Its features
include: The comfortable, well balanced, light metal alloy frame fitted with a large horizon and index mirror that are tested
for optical flatness and parallelism. The front focusing 2.4 x 25 mm telescope is ideal as the rubber eyepiece does not turn
against the rim of the navigators eye during adjustment. Graded filters, 3 for the index and 2 for the horizon are more than
adequate.

In this example, both its index and horizon mirror are front silvered,
and are unblemished and everything else is in "like new" condition making it an outstanding example of a
Freiberger. The matching inspection certificate reports errors of under 24 arc seconds over most of its usable range. Adjustable
index error is 1.5 minutes "off the arc", with virtually no side error.

The
thing to remember about any smaller size sextant is that it will not perform exactly like its larger counterparts. You cannot
increase or decrease the size of things without mathematical changes taking place. Ref. Laws of similitude

http://en.wikipedia.org/wiki/Similitude_(model)



We
consider The Freiberger Yachtsman the "Best of Breed" in this size sextant.
Even though
you may find dealers offering new sextants from this maker in Europe, we believe they ceased operations in 2007 which was
when their website was last updated.


PROVENANCE:

Purchased directly from a non-user. Nothing else is known.
By comparison to other smaller sextants, the mirrors are
massive
CONDITION:
Overall condition is "as new". Adjustable index error, 1.5 min "off the arc" with very little side error. Index arm clamps
open and close freely. Index arm moves smoothly, micrometer drum knurled knob turns freely. Like many sextants, the vernier
reads to one arc minute, but may be estimated visually in tenths. Both scopes' ocular adjustment turn freely. Mirrors are
perpendicular to frame. Both mirrors are in like new condition. The case has a tiny scratch on the top which is hardly noticeable.
Two keys and the mirror adjustment wrench are included.

THIS SEXTANT RANKS 5 PLUS STARS!


 

Micrometer
drum and vernier

Sextant vied from the
bottom

Yachtsman
sextant' manual

QUALIFICATIONS:
We are one of the few company's still selling navigation instruments that know anything about them. For purposes of judging
whether Joel's opinion counts, he was the editor of the chapter on sextants in the 1977 Edition of "Bowditch", The American
Practical Navigator, NAVPUB 9; a member of the U.S. Naval Academy Navigation Symposium, 1975 -1978; the author of a book on
marine sextants, Cornell Maritime Press,1975, and the founding president of Nautech Maritime Corporation which partnered with
Tamaya of Japan in the introduction of the MS 733 Spica, the MS 833, Jupiter, MS 933 Venus sextants and the NC-2 navigation
computer, in the U.S. market. Joel is a retired Master Mariner, and held a U.S. Navy "D" Qualification as a Senior Skipper
– Oceans. For six years he was a Varsity Offshore Sailing Team Coach at the U.S.
Naval Academy.

Some of his, present and past, memberships include: Association of Naval Aviation, The Tailhook
Association, McCampbell's Aces Squadron, Navy League, Naval Historical Foundation, Naval Academy Sailing Squadron, the Naval
Order of the United States and Silver Wings.

FREIBERGER HISTORY: Freiberger Präzision Mechanik (FPM)
is based in Saxony, Germany. It has a long and impressive history. Originally founded in 1791 FPM has produced instruments
for Astronomical and mine navigation as well as mine, geological and land surveying for almost as many years as the United
States of America is old. In 1965, FPM became a satellite factory for VEB Carl Zeiss Jena, and was the sole manufacturer
of all levels, compasses and sextants. In 1990, following the reunification of Germany, the Jena Surveying Instrument factory
at Göschwitz was closed by Carl Zeiss Oberkochen. However, the Freiberger company was able to continue the production of these
fine German-Made instruments under their own name as a privately owned company. However, in 1993 they spun off many of their
operations to individual companies, and went through a major reorganization as FPM Holding GMBH. They appear to have been
active until 2007 which is the year they last updated their website. However, the sextants continue to be readily available
in Europe.

Freiberger sextants are well thought of by
the European and Asian Merchant Mariners and have become more and more popular in this country. They were also the basis of
the Russian marine CHO-T sextant design. You will likely see some cruise ships that come up in a Google search, that show
them as part of their ship's inventory. If you are a small boat navigator keep the enclosed tangent screw free of salt water
and lubricated with WD-40 or Vaseline, and you will have no problems. You will welcome its light weight and full size mirrors
compared to other more expensive instruments.

FREIBERGER Drum Sextant SPECIFICATIONS:

Measuring Range: -3 to +123 degrees
Telescopes:
2.4 x 25 mm: Coated optics
Frame: Lightweight die cast aluminum alloy with
corrosion resistant light gray finish. Bronze arc.
Vernier Scale: reads
to 1.0 min. Visually estimates to 1/10 min
Index Mirror: 45 x 29 mm. aluminized
on the rear side.
Horizon Mirror: 45 x 28 mm diameter.
Shades:
4 for index mirror
3 for horizon mirror

Weight:
1 lbs 12 oz, 5 lbs 7 oz in case
Carrying case: Varnished wood
case with two keys

INCLUDED ARE:

1 Freiberger Yachtsman Sextant frame
1 2.4 x 25 mm Scope

1 Mirror adjustment wrench
1 Varnished wood sextant case
2 keys
Certificate
of Inspection

Original owner's manual