VINTAGE
CHELSEA
"OCEAN PRIDE" – "COLUMBUS" SHIP'S
BELL CLOCK AND BAROMETER DESK SET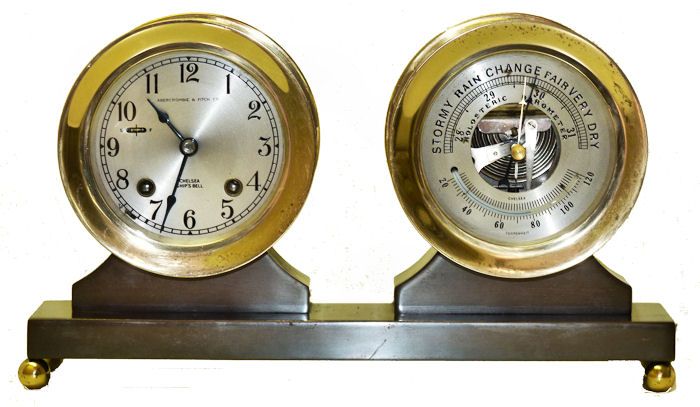 Presentation
Quality
A
very rare and classic ship's bell clock and barometer set in excellent original condition and keeping perfect time. Ideal
for a superior collection, or as a prestige gift, or for use on shipboard
Presented is a near perfect example of a Chelsea
ship's bell clock and a companion holosteric barometer with special Fahrenheit thermometer that was first introduced in 1928
as the Columbus model and made until 1938. The Ocean Pride limited
production series was made from 1959 until 1982. Both devices are housed in polished yellow brass forged cases that are mounted
on a statuary bronze base making it an incomparable set that was designed by Chelsea for special occasions. These would include
as a gift memorializing an important event such as a wedding, championship victory, company promotion or retirement or any
occasion that calls for a special trophy or ultimate gift. There is room for engraving or a plaque on the front edge of the
base. This set has been long out of production, and the only thing that comes close in today's Chelsea product line is the
same style clock with a basic barometer that is mounted on a plain wall plaque. It sells for just under $3000.00.


Our vintage example's
clock is keeping accurate time compared to a quartz comparison watch. It has an 8 day time Ship's Bell movement
with an 11 jeweled escapement that accounts for its good timekeeping. We have not taken it out of the case so the serial number
is not visible, but we estimate that it was made around 1975. The design of this clock's movement dates back to 1906, and
its upgraded movement is descended from patents issued June 5, 1900, and Aug 29, 1911. The set weighs a heavy 12 pounds. The
bells sound in proper ship's sequence and have a resounding ring due in part, to the special forged case and the base upon
which it mounts. The clock has a 3 3/4 inch, 12 hour silvered brass face in original condition, midnight black Moon hands,
and no seconds hand. There is a fast-slow adjustment at 9 o'clock. The bezel is hinged to open on the left. A Chelsea key
included.

THE NAME CHELSEA is acid etched in black upper case letters above
the six o'clock position with Ship's Bell under. The name of the original retailer, Abercrombie & Fitch, is etched under
the 12 O'Clock position.

SPECIFICATIONS:

Diameter of dial 3 3/4″ Diameter of bezel 4 3/4″
Base
12 1/2″ L x 2 7/8″ D x 7″ H Depth of case 3 1/4″ Weight 12 pounds

| | |
| --- | --- |
| Like new dial and Abercrombie & Fitch name | Barometer dial showing a few blemishes |

Backside of Ocean Pride Presentation Set with tiny small
age spots

CONDITION: Considering it age, and years of use it is hard to tell this clock and barometer
set from new except for the the barometer which remains on 29.8 millibars, and the tiny spots on the cases where the lacquer
coating is worn through leaving little brown specs. The barometer also has two small blemishes on its face from minor oxidation.
The lacquer is worn off in a number of places elsewhere, darkening the bronze. All this is part of the normal aging process,
and from a few feet away they can hardly be seen. The upgraded movement keeps perfect time, and there is nothing quite like
the resonant ringing of a ship's bell from this design.


Larger than life. Top of case showing
spotting. From a few feet it is hardly seen.