AMERICAN BRIGANTINE
NEWSBOY  Ca 1854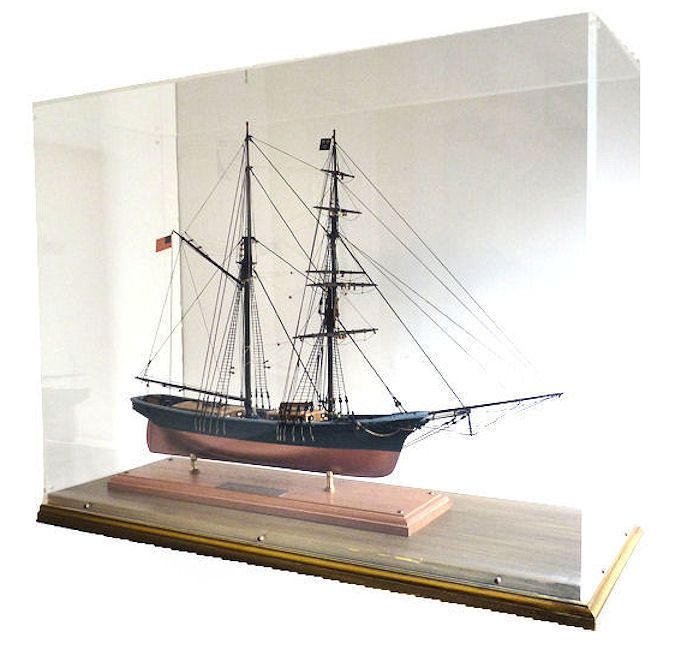 Scale:
1/8″ = 1 ft. Overall
Length: 21-1/4″; Hull Length: 154″
Width: 8″ (width of lower
yard); Hull Beam: 3″
Height: 15″ (main mast top to bottom of keel)
Case: 26″ x 19 1/2″ x 9 1/2″ Weight:23
pounds


Presented is a finely
handcrafted model of one of the noteworthy small sailing ships that comprised the U.S. Merchant Marine back in the Golden
Age of Sail. The Brigantine NEWSBOY
was designed by Dennison J. Lawlor of Chelsie, Massachusetts for owners Dabney & Cunningham of Boston. She was built
in Owl's
Head, Maine, at the Joshua C. Adams and Elisha Brown shipyard. Launched in 1854, the NEWSBOY
was engaged in the so-called triangular
trade carrying lumber and manufactured goods from New England to the Mediterranean, then transporting wine, oil, and fruits to the West Indies, then back
to New England with rum, molasses, and sugar.

The real ship had a length
of 111 feet, beam of 27 feet,
and a draft of 11 feet. While designated a Brigantine, the rig is more accurately described as a hermaphrodite brig because there are no square sails on
the main mast.



The Monthly
Nautical Magazine said "having a reputation for speed , by wringing reluctant laurels from her competitors who
have "chanced to fall in company with her at sea ….she does her designer no discredit….her log will speak
for itself ".




Finely formed hull with long bowsprit
mounted on brass finials

The model was unquestionably made by a Master Craftsman
and is clearly of museum quality, a term we do not use lightly. It is made from a solid
block of wood for the hull with basswood parts for the cabin, companionways, keel, rudder and stern post, plus Beech dowels
for masts and yards. The hardware and appropriate deck fittings are metal castings. These include anchor, windlass, pump,
binnacle, figurehead and lifeboat. Chains, nails, eyebolts, belaying pins and other small parts are brass and copper. There
are hundreds of blocks and dead eyes plus different sizes of miniature rope to recreate life-like rigging. The hull is painted
flat black, the bottom, copper/bronze and the cap rails Grey. It comes complete with a Plexiglas case.



Sharply hollow hull at the bow and
foredeck

Large aft cabin and wheel steering




PROVENANCE:

Purchased in 2012 at Palm Beach Gardens
upscale consignment store which sells only luxury furniture and accessories. It is our opinion that this model dates to the
early 1960's based in part on the 48 Star ensign she fly's from the mizzen. 48 stars on the U.S. flag was authorized from
1912 to 1959.

A finely shaped vessel from any angle



The
rig has a gaff main set for a topsail, then a foremast with five yards with perhaps an upper and lower staysail between the
masts. Forward there is a fore staysail, jib and flying jib. The running rigging, including lazy jacks, are all authentic
and makes this an incomparable model. The wood deck and deck houses have scribed planks and details just like models made
in the 19th Century. There are all kinds of deck gear, large grating covered hatch, fittings including two large fisherman
type anchors, an anchor windlass, miniature cook stnding near the bulwark, and a proliferation of other gear and fittings.


The rigging
on the fore mast and the 48 star flying from the mizzen




CONDITION: There is only one fault. The wood base upon which
the Plexiglas case is fitted apparently has swollen and can not be removed. Everything else is near perfect.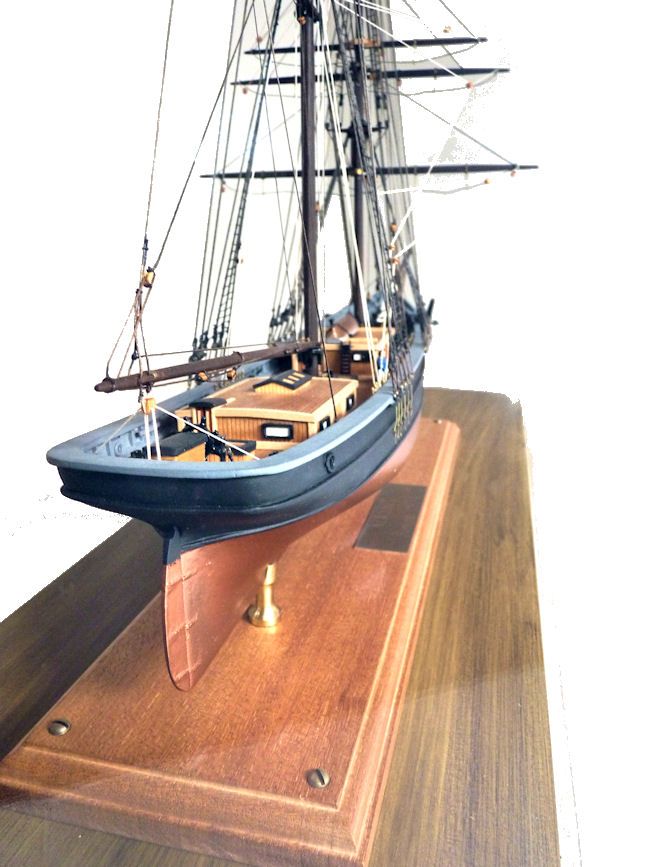 Nicely rounded transom reminiscent of a clipper ship