RARE CHELSEA WW II U.S. NAVY
MARK I DECK CLOCK PRESENTATION GRADE
Naval
Observatory Cartouche 1941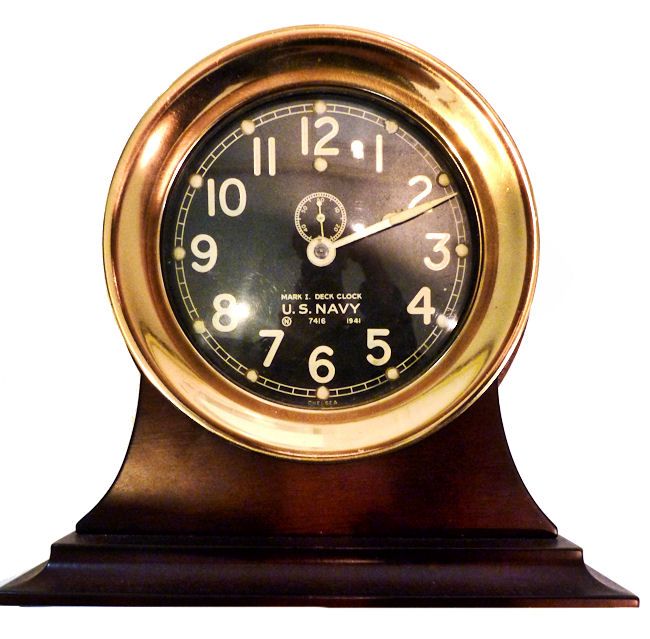 STAND
INCLUDED A $75.00 VALUE
Thousands of these clocks
were made during War II, but few were by Chelsea whose design is different and more refined than the ubiquitous nickel plated
version made by Seth Thomas

DIMENSIONS: 5 1/2″ Diameter of face 3
1/4″ Deep 8″ Full Diameter Weight 10 lbs 6 oz

Presented
is a finely Chelsea made, back winding, Navy boat clock with a hinged bezel that is sightly different and more refined than
the numerous examples housed in nickel cases that were made by Seth Thomas. This clock's case is bronze which has the appearance
of being plated in Gold! A wood backing plate has been added to allow wall hanging. The clock is keeping exceptionally good
time compared to a quartz time piece.


Navy MK I DECK clocks
of WW II were manufactured in accordance with military specifications 18C-11 and 18C -13. This Chelsea example has modifications
which we haven't seen before. It's housed in a bronze case of Gold appearance, and with an integral hinge stud on the backing
plate that acts as the hinge. This compares to the more comon version which uses a removable pin, and has a chrome plated
case. The back of the front section has all the controls on the rear and couples to the backing plate by a fixed stud.


Chelsea clock has an integral stud on the mounting plate as

a hinge


Seth Thomas uses a separate pin as a hinge

Andrew Demeter in his
definitive book, "Chelsea Clock Company, the first 100 years" writes on page 210 that Chelsea
MK I Deck and Boat clocks were chromium plated up to 1941 when cases were switched to Bakelite, a phenolic.



The
Chelsea case and backing plate pictured on page 208 in Marvin Whitney's encyclopedic work, "MILITARY
TIMEPIECES" is as the same as as shown here, but he also says it should be chromium plated

. We wonder if this clock wasn't Gold plated for "Presentation" for which it is eliminately suitable.

Controls
on back have a dust cover over
A Mark I Deck clock made by Chelsea is a rare find, as is a clock of this age and service
at sea to be found in this fine condition. It is perfect for a collector of military pieces or as an important gift.
Beneath the hand arbor is etched:

MARK I DECK
CLOCK


U.S. NAVY


(NO) NO 7614
(NO) represents
the Naval Observatory which means the clock not only met the military specifications, but also met the stringent standards
of this institution which maintains the Nation's Time Standard. At the bottom of the dial it is marked Chelsea.
The following controls are accessed on the back:
Fast – Slow adjustment. To regulate turn towards S to
Slow and vice versa

Stop – allows to precision setting with master clock
It
has a Chelsea Model 17K, 11 jewel 8 day movement that is wound, set and adjusted through a slotted dust cover at its rear
which closes. A separate start/stop mechanism allows it to be synchronized with a master time piece.
The removable vibration dampener
backing plate was attached to a bulkhead when the front of the case is removed by pulling its hinge pin. The bezel is dogged
by turning a wing nut and all is secure.
Wing nut latch on the right and

the ubiquitous
chrome plated model below

A typical
MK I Deck clock in standard nickel plated configuration
CONDITION:This example has seen about 72 years of service,
much of it at sea, and gives the appearance of being new. The face is in excellent condition and shows little evidence of
aging. The lens under most light conditions shows clear, and without scratches. The movement is keeping excellent time. A
key is included. The bronze work has the appearance of Gold.