Rare HORSTMANN
1840 Cavalry
–
Shrapnel Struck Civil War "Wrist Breaker"
Fine
Condition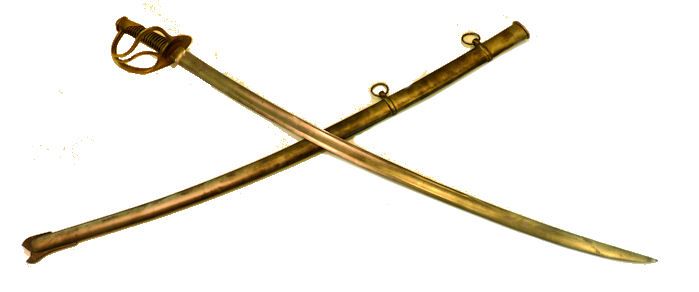 Civil War Service!
Presented
is a very scarce M1840 Saber that was made for the three Dragoon regiments in the Army's Cavalry under a War Department contract
for only 1043 pieces by Horstmann, and has seen battle in the Civil War. The design called for brass basket guard with two
branches in addition to the knuckle bow and Phrygian helmet pommel. For good reason, these immense sabers were known as the
"Old Wrist Breaker", due to its over four pound weight while in the scabbard. This one is a rare piece most suitable for a
collector looking for a sword with an interesting pedigree,and battle damage. It has the Horstmann mark on two lines and beneath
it, a keystone stamp which is the mark of the Keystone Company that became Emerson & Silver. There is a large inverted
1 just below Horstmann that may signify it was intended for the First Cavalry. There is no date. The most distinguishing mark
for the experienced collector is the drag that was hit hard by a piece of flying shrapnel.
MARKINGS: A worn Horstmann & Sons over Philadelphia is stamped on two lines on the obverse, above a keystone stamp signifying the Keystone Company
which is a known sub-contractor to Horstmann and which later became, Emerson & Silver (E&S) who used the same mark.
As with all Horstmann swords, there are no inspector's marks so this is not unusual for a Horstmann sword made for the Union
Army in the Civil War Era. The expected markings of US over WD on two lines on the reverse may have worn off, or may never
have been imprinted.
HISTORICAL SIGNIFICANCE:
Noted sword authority, Michael McWatters says, "E & S testified against Horstmann during the Holt-Owen Commission in 1862. The
commission was put together to review the military contracts from the start of the war, and E&S testified that Horstmann
was making too much profit and that they could do the same work for less money. E & S knew that because they had been
supplying the blades to Horstmann. They ended up getting awarded a contract that made them more money than they were making
as a subcontractor. This means that this saber was one of the ones that E&S made for Horstmann's contract before 1862.


It has

a known dating to the early
war years and is a part of an interesting footnote of Civil War history with its shrapnel impacted drag. E&S
sabers are among the higher quality of the American manufacturers.Horstmann's contract swords weren't inspected."
COND
ITION:
The hilt has a light greenish brown patina in a very pleasing color. The unsharpened blade has been polished sometime in the
past and is silver-grey, with some pitting and evidence of prior spots of rust which were removed. It is nick free. The leather
covered wood grip has no faults and the two strand wire wrap is complete and in perfect condition, both of which may be replacements.
The leather washer may not be original. A 1/2 by 3/4 inch section of the drag has been blown off by shrapnel showing this
sword saw combat. The scabbard is in the same fine condition with both carrying rings, tight suspension bands, and a haze
grey patina that varies from light to dark with a few light reddish areas and marks of handling. It has no dents.
All and all, for a sword which has seen service in a armed conflict it is in excellent condition.
The
weight of this combination is 4 lbs 7 oz
DIMENSIONS:
43 3/4″ long overall. 41″ sword 35 1/2″ blade length

Max width of blade 1 1/4″ Max thickness 3/8″
Large
Fuller 7/8″ W x 26″ L Weight 4 lbs 7 oz
Saber 2 lbs 8 oz
Small Fuller 1/8″ W x 13″ L
Tightly wrapped two
strand wire

Two branch basket guard
in excellent condition
Maker's
mark on ricasso, Horstmann & Sons over Philadelphia
Hefty
blade in good condition with little pitting
M1840 Cavalry saber and will be appreciated by those who value only the finest, and
represents
seventy five years of continuous service, first in the Mexican, then the Civil War, and on into WW I.
Scabbard is in excellent condition with no, but has a 1"
x 3/4" piece missing at the drag
BRIEF
HISTORY OF THE W.H. HORSTMANN COMPANIES: Initially, Horstmann was
more of a reseller than a maker. They carried a range of sword varieties rivaled only by the Ames company. Most standard issue
models were sold, as well as a huge variety of related military equipment. Most, if not all, blades were imported from Germany,
and some still carry marks from their German makers. Horstmann held government contracts for 1043 cavalry sabers, 1143 NCO
swords, 270 musician swords, and 87 light artillery sabers, and is the only known maker of the M1840 Marine sword. By Michael McWatters



HORSTMANN
NAMES, DATES & LOCATIONS:

W.H. Horstmann & Son

s, Horstmann Bros. & Allien
NY – 1852-77 Phila – 1843 to 1863

W.H. Horstmann & Co Horstmann/Philadelphia
1893-1935
Phila 1859 – 1863
NY – 1850-52