– A FULLY ADJUSTABLE BUBBLE HORIZON – NEW!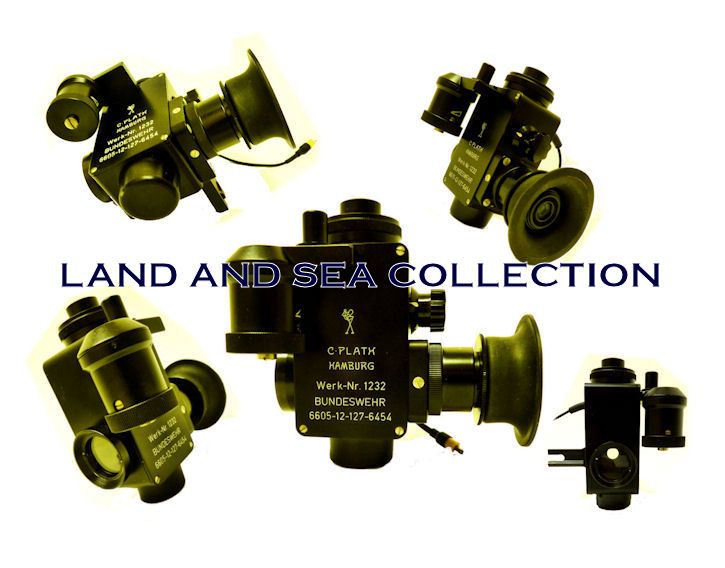 Fully Adjustable and Never Used!
This is a once-in-a-lifetime opportunity to own a brand new, never used C. Plath Bubble Horizon that has a fully adjustable bubble and a rheostat for adjusting the brightness of the internal lighting system. The trade name, "DRAGONFLY", the design dates back to WW II when these devices were used on surface ships, and submarines. After cessation of hostilities, Plath did not get back into the sextant business until about 1954, and this version was reintroduced to the Commercial Market in 1957. Very few of them were made before they were superseded by a more simplified version that eliminated the adjustable bubble even though all users of these devices preferred the fully adjustable versions and felt the new one was a major step backward.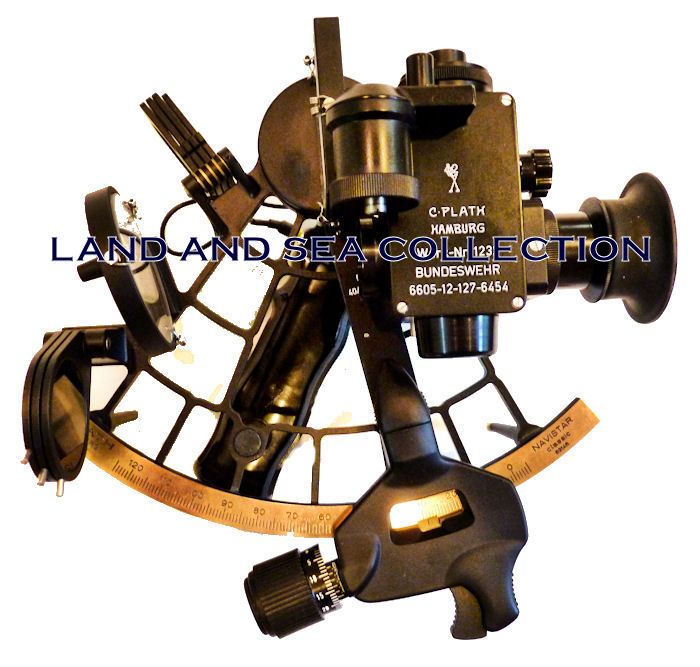 Mounted on 1983 C. Plath Navistar Classic
Over the years, we have sold more of the non-adjustable C. Plath Bubble Horizons, including their most recent one which had neither an adjustable bubble or an adjustable light, than any other dealer, and can state unequivocally that they are all inferior to this design. Even so, all Plath bubbles are still highly sought after by ocean-going navigators and advanced collectors. The fact that this one is brand new and comes with the original box it came in thirty-four years ago, dated 28 June 1978, makes it a prize, second to none. There should be no question of its absolutely outstanding flawless condition.
In the photograph below, it is shown alongside the last bubble horizon design made by C. Plath which has an internal power supply. Like all Plath bubbles except for the one being offered, the size of the bubble is not adjustable. On July 3, 2008, Ken Gebhart of Celestaire wrote us that the last version was discontinued around 2001, and sold new for $1,700.00.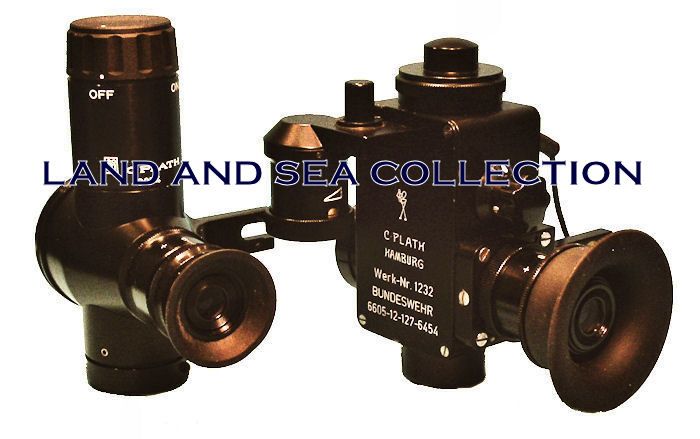 Ca 2000 C. Plath Bubble vis-a-vis a 1957 fully adjustable version
DIRECTIONS & INSTRUCTION SHEETS: A Plath sheet of instructions in German and English come with the device. There also will be a diagram of the internals and a diagram of the geometry of the optical system. The device is simple to use and provides an artificial horizon using a circular illuminated bubble as a substitute for a horizon reference. The bubble is centered at the midpoint of the viewing area and the celestial body is brought into coincidence with the bubble's center. The intensity of the internal light is adjusted by a small knob on the front. Bubble size is adjusted, by the larger rotary dial on the base of the cylinder on the left. A large bubble is preferred for sun and moon sights, and a smaller bubble for stars and planets. The ocular lens is adjustable.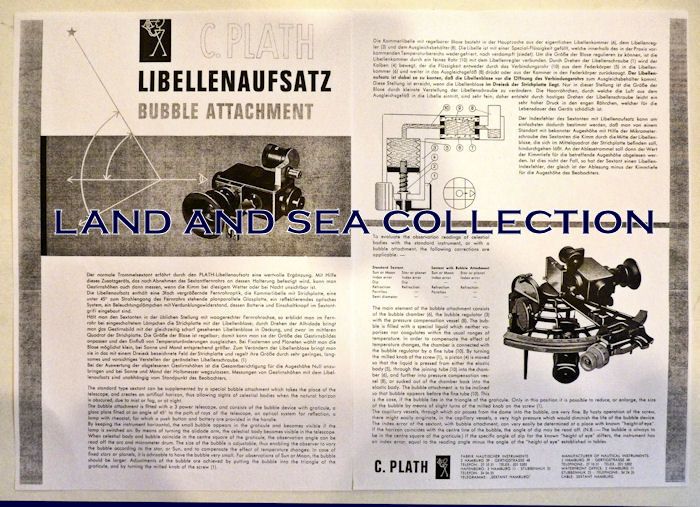 CONDITION: New and Unused
MARKINGS: Sun Shooter (So Ballerspiele) Logo over C. Plath, over Hamburg, Werk-Nr. 1232, over Bundeswehr, over 6605-12-127-6454
PROVENANCE: Formerly owned by the world's foremost collector of C. Plath contemporary sextants with a specialty in Plath artificial bubble horizons.
USABLE WITH: As pictured above, it fits the C. Plath Navistar Classic sextant. With an external battery supply, it will work with Ca 1990 C. Plath sextants, Cassens & Plath, Tamaya, Freiberger, and the Russian CHOT/SNOT.
| | |
| --- | --- |
| | |
| Rheostat center, bubble adjustment to left | Top cap hold bulb |
THE SEXTANT PICTURED IS NOT INCLUDED in this offering, but is available for sale. It is a New C. Plath Navistar Classic. See https://landandseacollection.com/id792.html
SUGGESTED USE: The bubble horizon has a 2 power optical system and a smaller than normal field of view. The internal dampening mechanism of the bubble is greater than will be found on less costly alternatives but requires some practice in getting used to. The Plath, fully adjustable, Bubble Horizon is far superior to all other artificial horizons and the devices that can only be used for objects with altitudes of less than 60 degrees, and cannot be used for twilight sights. This makes it ideally suited for land-based training applications, for land navigation, and for use at sea from ships large enough to be a stable platform. Interestingly, in the 1970-80s this device, in the form being sold, was issued to U.S. submarines for backup celestial navigation. Ref. Dutton's Seamanship & Navigation, 12th Edition, Article 2206, page 385.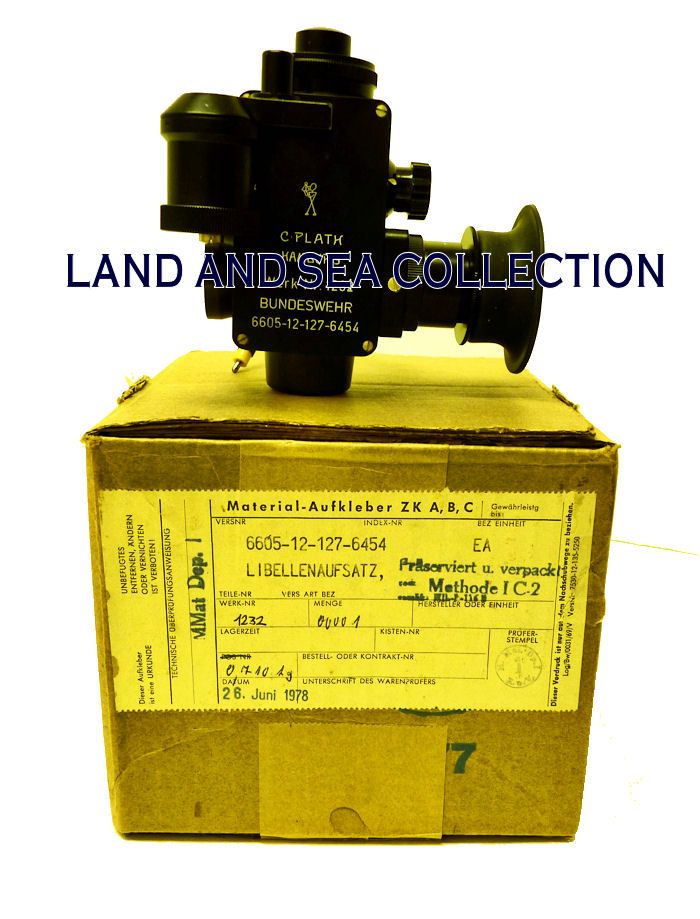 Original shipping box for this instrument
C. PLATH BUBBLE HORIZON SPECIFICATIONS:
Magnification 2 X 4″ 1/4 H x 4 1/2″ L x 3″ W not courting rising piece
Slip-on green filter included
Weight: 1 lb 1 3/4 oz
It is suited for someone who can appreciate obtaining a New device and fine sophisticated aspects of its design and is willing to pay an appropriate price for this level of C. Plath quality and excellence.
COMPANY HISTORY: In brief, Carl Plath started manufacturing sextants, in addition to other nautical products, in Hamburg Germany in 1862 through the purchase of the David Filby instrument company though the company's origin dates back to 1837. As a result of WW II, C.Plath was dismantled completely by the occupation forces. Around 1950, various prohibitions were lifted, and C. Plath was allowed to begin production again of sextants and other nautical instruments. Also in 1949, C.Plath was offered a gyrocompass patent and in 1951 the first gyrocompass designed to this patent was presented to the public. C.Plath progressed from the role of instrument maker to that of a modern marine navigation equipment manufacturer. In the following years, the product range was expanded by many more modern designs such as autopilots, speed logs, radio direction finders, etc.
In 1962 C.Plath was acquired by Litton Industries, a large American concern. The C.Plath North American Division was set up in 1978 in College Park near Washington. 1996 saw the introduction of the world's first fiber-optic solid-state gyrocompass by C.Plath. The first-ever gyrocompass with no moving parts. Sperry Marine was formed in 1997 with the combination of C.Plath, Decca Marine, and Sperry Marine with more organizational changes yet to come. After 163 years, C.Plath changes its name to Sperry Marine in May 2000. In 2001 Sperry Marine becomes part of the Northrop Grumman Corporation. In the 1990s Plath came out with a series of new sextant designs with overlapping designs and confusing names. Shortly thereafter, C. Plath quit producing sextants. The parent company has completely liquidated everything including machinery, equipment, and spare parts.