WORLD RECORD HOLDER AMERICAN STEAM YACHT BUILDER'S MODEL Ca 1902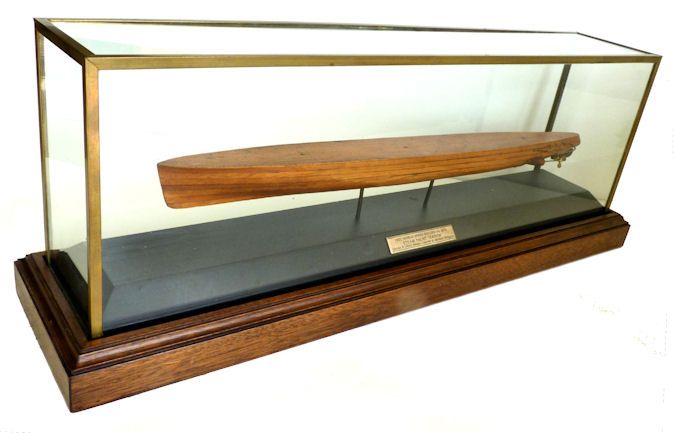 MODEL
DIMENSIONS:
Scale: 1″ = 6 ft. Overall Length: 21″;
Beam: 1 3/4″ Depth: 1 3/4″ (Deck to bottom of keel)
Case: 27 3/4″ x 6 3/4″ x 9 3/4″ Weight:
12 pounds


Presented
is a handcrafted builder's model whose origin has been lost with time, but whose history is known. The model is of a steam
yacht built right at the Turn of the 20th Century for a famous businessman of that era, Charles R. Flint, (1850 – 1934), who
had many accomplishments. In 1900 he decided to have a run at bettering the speed record that was set by the British Steam
Yacht Turbina in 1897.

Per Flint's request, the
Steam Yacht Arrow was designed by Charles D Mosher in 1900. She was 130′ 4" LOA and 130′ LWL with a beam of 12′ 6″,
a draft of 4′ 11" with a displacement of 78 tons. She carried 17 tons of coal, and 1800 gallons of water at full displacement,
and developed 4000 HP with 5000 available from two Mosher designed, quadruple expansion engines supplied by two water tube
boilers. Her designed speed was to top 40 knots. Fuel consumption at full throttle was 6 tons of coal per hour. At cruising
speed, she had a range of 3000 miles and would use 30 tons of coal. Arrow's hull was constructed by Samuel Ayers & Son of Nyak;
the boilers were built at the Crescent shipyard at Elizabeth, N.J. The L. Wright Machine Works of Newark, N.J., turned out
the main engine and auxiliaries; the air and feed pumps came from the shops of W. Forbes & Co., Hoboken, N.J., and the
decorative work was that of E. Caldwell & Co., of New York.

A two page article appearing in the September 20th 1902 edition of  the Scientific American
will come with the model. It details all aspects of the ship, and record setting run.



THE MODEL: is of a very small size as builder's models go and was likely used as a concept piece.
It is made of seven lifts of knot free wood, and has a detailed balanced rudder aft of a long skeg. Twin screws on long shafts
are fitted with propeller guards over each adding a nice touch. There are no other fittings. Six lines are drawn transversely
across her deck in addition to a centerline. There is a plaque in the case with the vessels name and 1902, the year the record
was set.


The model
is very interesting to look at in its simplicity and makes an elegant understatement in its high quality case. which was made
later.






Finely formed hull mounted on
painted finials

THE
RECORD RUN: An official course was laid out on the Hudson River between Ardsley and
Irvington, New York. Arrow beat her own and all other records steaming over a nautical mile
of 6,080 feet in 92 seconds, or a statute mile in a little more than 1 minute 18 seconds.

This equated
to 39.24 knots, the equivalent of 44.13 statute miles an hour. The record was made using two boilers, the second of which
had been installed shortly prior to the run. Her best record before that was 36 statute miles an hour, with one boiler. The
new record was accomplished without accident or indication of undue strain, and the craft at full speed, "sat flat; left no wake except churned green water; did not "squat;" ran on her lines, and
created no "furrowing" or "channeling." During
her run, the crew consisted of her Captain, E. C. Packard, Chief Engineer Jefferson S. Briggs, "the brains of the second engine
installation," two firemen, one water tender, two assistant engineers, and two oilers.

| | | | | | | | |
| --- | --- | --- | --- | --- | --- | --- | --- |
| | LOA | Beam | HP | Weight | Claimed speed | Weight per HP | Year |
| Turbina | 100′ | 9′ | 2000 | 44.5 tons | 35 kn | 49 lbs | 1897 |
| Arrow | 130′ | 12.5′ | 4000 | 66 tons | 39 kn | 36 lbs | 1902 |
| | | | | | | | |


After
her record setting run she was used by Mr. Flint as a commuter, and for entertaining his business guest. Records say that
she had five owners through the year 1920, and there is no report after that.




Large balanced ruder. Long shaft
props

Bow section showing seven lifts


PROVENANCE:
Purchased in 2012 at West Palm Beach auction with no attribution.

A finely shaped and very slender
vessel with a fitting name


Arrow was light and luxurious. She was
double planked with mahogany, diagonally strapped with steel and using aluminum for deck beams and many members. There were
comfortable accommodations for 25 and the joiner work was in finest English oak. L Francis Herreshoff said …."the weight
per horsepower of these vessels was much less than any before. For instance the best torpedo boats were 120 lb per hp and
the best racing motor boats did not get down to a weight less than these figures until around 1905. Right after her record
run, one of her boilers was removed and she went back to being a yacht. She had good accommodations in her large stern and
was used that way for at least the next fifteen years.


The simplicity
of the design has an enduring appeal




MODEL'S CONDITION: The model has a nice
age patina and show the marks of being handled which means that this was a working model. The model is slightly loose on its
pedestals. Everything else is near perfect.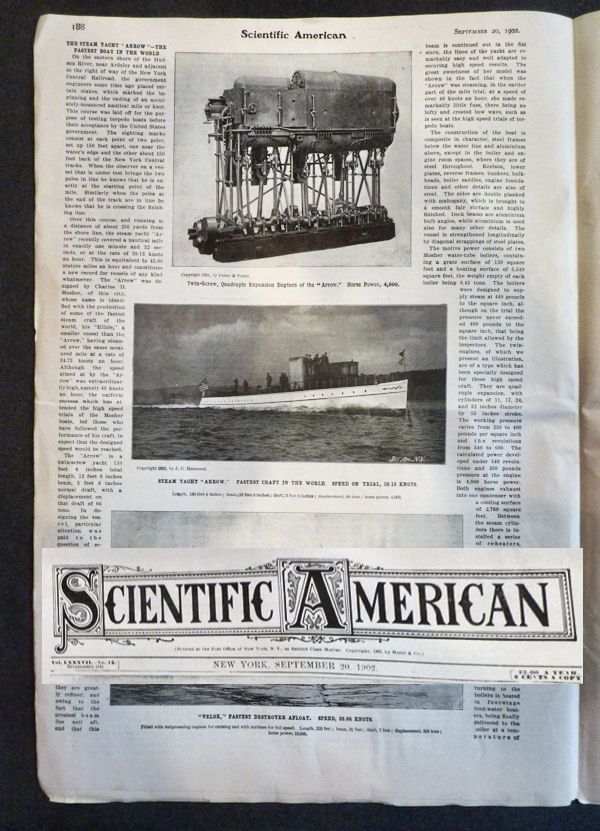 Scientific American two page article of the Record,
September 20, 1902 
Charles Ranlett Flint
(1850 – 1934)

Charles Ranlett Flint was an American businessman, best known as the founder of the
Computing-Tabulating-Recording Company which later became IBM. For his financial dealings he earned the moniker "Father of
Trusts". Flint was born on January 24, 1850 in Thomaston, Maine. His father, Benjamin Chapman, had changed the family name
to Flint after being adopted by an uncle on his mother's side. The family moved from Maine to New York where his father ran
the family's mercantile firm Chapman & Flint, which had been founded in 1837.


Business career: In 1868, Charles Flint graduated from the Polytechnic Institute in Brooklyn,
and in 1871 entered the shipping business as a partner in Gilchrest, Flint & Co., and later W.R. Grace & Co. after
a merger. From 1876 to 1879, he served as the Chilean consul at New York City. He also served as consul general to the United
States for Nicaragua and Costa Rica. In 1892, he merged several companies to form U. S. Rubber. In 1899 he repeated the same
with Adams Chewing Gum, Chiclets, Dentyne, and Beemans to form American Chicle. He was also responsible for the formation
of American Woolen in 1899. He negotiated the Wright Brothers' first sales of airplanes overseas.

His biggest achievement came in 1911 when he successfully merged three companies to
form the CTR or Computing-Tabulating-Recording Company In 1924, the company was re-christened as International Business Machines
and went on to dominate the computer industry in the USA for several decades. Flint served on the board of directors of IBM
until 1930 when he retired. He died on February 26, 1934.
Other interests: Charles Flint was an avid sportsman and loved swimming, hunting, fishing, sailing, and aviation. He helped
found the Automobile Club of America. Credit Wikipedia.