ANTIQUE HIGH
QUALITY ANEROID BAROMETER
Attributed to Hulot, Pertius & Naudet, Ca 1880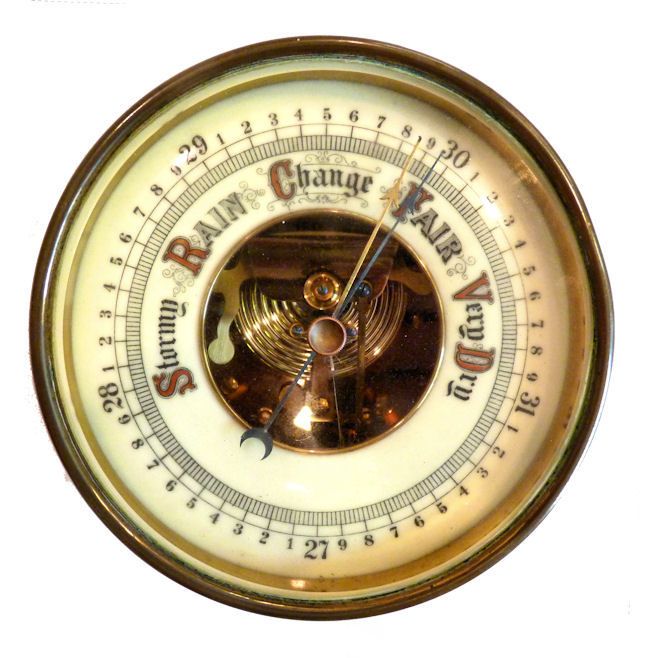 SIZE 5 1/2 H x 5 1/2 W x 3 3/4" D
WEIGHT 1 lbs  5 oz


PRESENTED is an exquisite French made brass barometer that was made for the English market.
The quality of the cream colored porcelain dial and fancy Edwardian lettering with flourishes bespeak its very high quality.
What is interesting is that it is unmarked, for such a high quality piece, but its styling, and complicated and finely
finished machinery points towards one of the better French makers. Since it has the same design barometer mechanism, we
beleive it is the work of Hulot, Pertius & Naudet who are still in business. The instrument has its original beveled
glass lens, blued moon and arrow center pointer, with a second movable brass pointer for watching the changes take
place. There is a ring on the top for wall hanging or it stands on two turned brass legs for desktop support. We have been
comparing its readings to the published barometric pressure for our location and it is spot on. On minor bruise from
an earlier time exists at 30.5 inches.


="left">

 

 

  Finely
made and finished machinery

 

COMPANY
HISTORY in BRIEF: The company which started operations in Paris in 1859 by the founders, Messrs. Pertuis, Hulot,
Bourgeois and Naudet,  whose first names are unknown  began operating as Naudet & Cie in 1860. Their
Trade Mark was "PNHB," for their last names,
and later was said to mean, Paul Naudet Holosteric Barometer. They were located at 4, Place Thorigny, Paris. Over
the years various changes took place in ownership and management, but the high quality of their instruments was maintained.
They survived the rigors of WW II. In 1985, the company's headquarters moved to 12, rue du Bois, in Le Perreux sur
Marne.

               

Back of pressed brass housing, Hole is to adjust.