A Rare Navigation Light for a Larger Ship!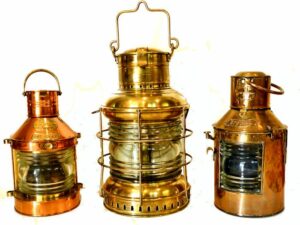 DIMENSIONS:
Lamp not counting bail, 17 1/2″  high      Diameter of 10".
The
bail adds 5"                LENS: 8″
W x 6″ H               Weight 15 lbs


PRESENTED

 is one of the largest kerosene ships navigation lights made by the iconic Perkins Co.
that you are very unlikely to come across. Anthony Hobson, in book two of, "Lanterns That Lit Our
World" illustrates this light on page 103 and says that it was made for twenty years starting in 1916. They were
available in clear, red, blue or green Fresnel lenses. An internal hurricane chimney was not necessary.  Note the two
rings on each side of the lamp which acts as guides to raise and lower it for fueling which lasted about eight days.

| | |
| --- | --- |
| Maker's tag helps date the lamp | Bottom shows opening and flat spot |

The imprint on the plate in the bottom of the lamp reads on three lines:
MANUFACTURED BY

PERKINS MARINE LAMP & HARDWARE CORP

BROOKLYN – New York


This dates the
lamp to sometime after 1931 when when the company's name was changed to Perkins Marine Lamp & Hardware Corporation
and to 1936 or earlier when this lamp was discontinued.

PERKINS' BRIEF HISTORY: Starting in 1904, Perko
made all kinds of lights under their original name, "Persky". In 1916, they incorporated under
the name Perkins Marine Lamp Corporation in Brooklyn, NY. This same year the PERKO trade mark was adopted. In 1931 the name
was changed to Perkins Marine Lamp & Hardware Corporation. In 1961, the Brooklyn facilities were closed and
operations were moved to Miami, FL. Perkins was dropped from the name and the company became known as PERKO Inc. It was in
1916 that the Perko trademark was registered, and it has been used ever since. The company still makes high quality marine
lights and hardware out of its Miami, FL facilities.
This
is the largest anchor light by this maker that we have seen.
Old fashioned Turn of 20th Century
styling.
 

Compare t

he lamp for sale in the center to the lamps on each side of about 14″
H x 7″ W
            

  The flat spot is near the back and mostly not visible
CONDITION: Except for the flat spot near the
back which is mostly not visible, this lamp is in very good condition with only the usual minor marks of age from use
at sea. The Fresnel lens is perfect. The original kerosene burner resorvior is stamped PERKO on its bottom.