Important Seth Thomas
Antique Ships Clock, Dated April 16, 1878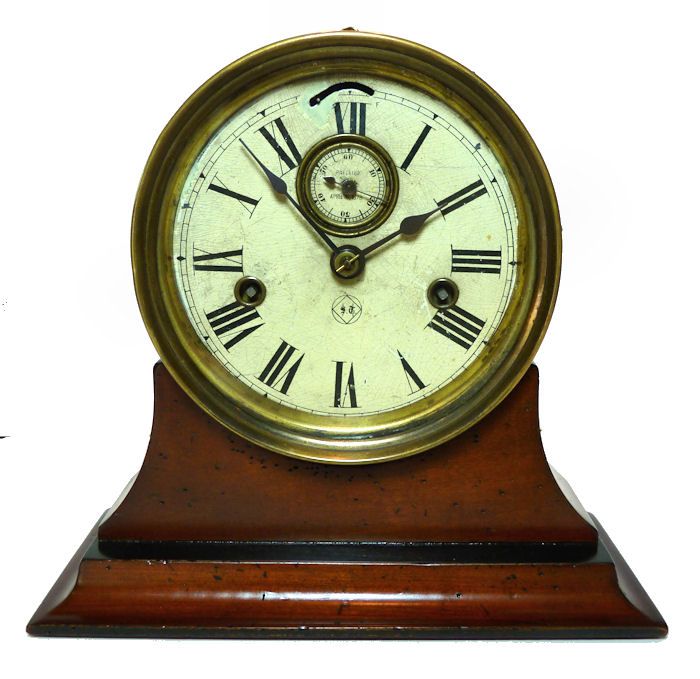 Stand Included. A $75.00 Value! 
Seth Thomas, America's
oldest clock maker started operations in 1813. Their Nautical clocks first appeared in the 1860's and were the official US
Navy Ships' clock for almost 100 years.
Presented is a superb and very rare example
of an Eight Day "Double Wind" Seth Thomas Ships clock from when it may have been FIRST
INTRODUCED on April 16, 1878. It has the very early style slip on outer bezel, and an eight day, time only, movement
likely the predecessor to the reliable No. 10. For best results, it should be wound
every four days using the period key which is included.

We
have never seen one exactly like it, nor can it be found in Tran Duy Ly's epic, Third Edition – Volume 2, SETH
THOMAS CLOCKS & MOVEMENTS .  However, we are the company that sold one of this generation with a bell
in 2004. That one had a patent date of Nov 4, 1879. This clock is running so well after 134 years that
we decided not to take it out of its case, but you can see from the front that it is mounted on a circular wood frame, rather
than the brass frame that is in most Seth Thomas Ships Clocks, other than these very early ones.

The
placement of the seconds bit in a recessed dial with a separate bezel is a unique feature which was discontinued with this
model and others similar to it, never to reappear. The Fast-Slow lever is above this in an elongated slot. The over
size Roman numerals on a porcelain face makes reading the dial easy.

ACCURACY: The movement appears
to be in very good mechanical condition, and was recently adjusted by our clock shop on August 30, 2012. It keeps good time
for three days and then begins to run slightly fast. Therefore, it is best to wind it every two or three days to maintain
its accuracy using the period key which is included. It will run for seven days. on a single winding.


Partial side and front
view

 Back showing remnant of old label

They
were intended to be hung on the bulkheads of a ship's pilot house, captain's cabin,etc., and could be found in vessels ranging
from the most luxurious yachts to battleships! A Seth Thomas clock was recovered from the wreck of the USS MAINE
and presented to Franklin Delano Roosevelt when he was Secretary of the Navy.

This
version Seth Thomas – Double Wind clock may be considered a 'Classic' American ship's clock. Relatively few
have survived the effects of rough usage, years at sea, and salt water corrosion to come down to today in the fine condition
of this example. It is ready for display in the home or use at sea…..a great looking collector's clock with exceptional appeal
that will make a great gift, perfect for use on vintage yacht or as an important addition
in a collection.
Recessed seconds dial
with bezel and patent date

 The original Seth Thomas Maker's Mark
  Full face showing elongated lever slot and
touch-up 
CONDITION: The porcelain dial is heavily
crackled and slightly yellowed with age. There is a 1 mm trapezoid loss of finish at the XII position that has been touched-up
with paint which scarcely shows from a few feet away. The darkened steel Spade hands are original, but the glass
has been replaced . The case has
the especially pleasing untouched patina that knowledgeable collectors search for. The stand is a bit small. There is a remnant
of a small old label on the back which is illegible. The Eight Day, Double Wind movement runs for four days, and The
timing mechanism was set with an electronic timer on August 30, 2012 by our clocksmith…

Dimensions: Cartridge Brass Case 6 1/2″ x 3 1/8″,
Dial Diameter 6″
Weight 3.3 pounds

The cost of shipping, packing, handling, and insurance to your destination, will be calculated point to point and is an additional charge. You may email us to get these costs. We price our shipping honestly, but we expect to be reimbursed for the nominal cost of packaging materials and handling.

Our Unconditional 'No Nonsense' Guarantee

If not completely satisfied with your purchase it may be returned, if without damage, within three days of receipt in its original packaging. Return items must be insured for their full value. Only a prior email authorization by us for the return is required. Shipping charges are refundable if due to our error within the continental United States.

International buyers welcome, but inquire first. We have satisfied customers worldwide.

Standard Forms of Payment

Bank wire transfer, cashier's check, money order, or personal check in which case the item will be held until cleared. Our prices are quoted net to us so that the use of credit cards or PayPal incur extra charges. Terms on overseas sales are different.

Celebrating 18 Years of Exellence in Nautical Antiques