GIANT THREE MIRROR
PRESENTATION BACK SIGHT OCTANT HADLEY STYLE
Unusual Gold Gilt Machinery & Brass Covered Index
Display Stand Included Presented
is the largest octant with an index arm 17 1/2 inches long, which makes it one of the largest instruments
of this type known. It has other interesting features which sets it apart from most other Hadley type octants, which include: Mahogany frame All the metal
work gilted in gold. Unusual vernier with
a center index graduated 5 to 10″ to right and 15 to 10″ to left It is one half inch larger
than Hadley's "double reflecting" octant which he submitted to the Royal Society in London in 1731.
Shortly thereafter, Hadley began making octants with a vertical dimension of 17 inches. There is no case. There is only a
single octant with these features and this size out of numerous included in the epic book, "Sextants at Greenwich", by
W.F. J.  Morzer Bruyns which catalogs the collection of antique navigation instruments at England's National Maritime
Museum. It appears on page 112 under accession number 042 NAV 1306 and was made by Goater, Wappin, London in about 1769. For
a photograph of one very similar to this one, see page 46 of Peter Ifland's wonderful book, "Taking the Stars".

A single similar octant is in "Sextants
At Greenwich"  Compared below to an octant of of the
same Ca 1795 period with an arc by the famous English iinstrument maker, Jessie Ramsden. Ramsden was the inventor of
the dividing machine which made accurate instruments of smaller size possible.

An octant
by Ramsden Ca 1795 with near 14 inch index arm to the left. It's rare gold gilding,
very large size and high quality, make us believe that it was made for presentation. And the remarkable condition of its ivory,
and overall condition would indicate it was preserved in near original condition in a cabinet.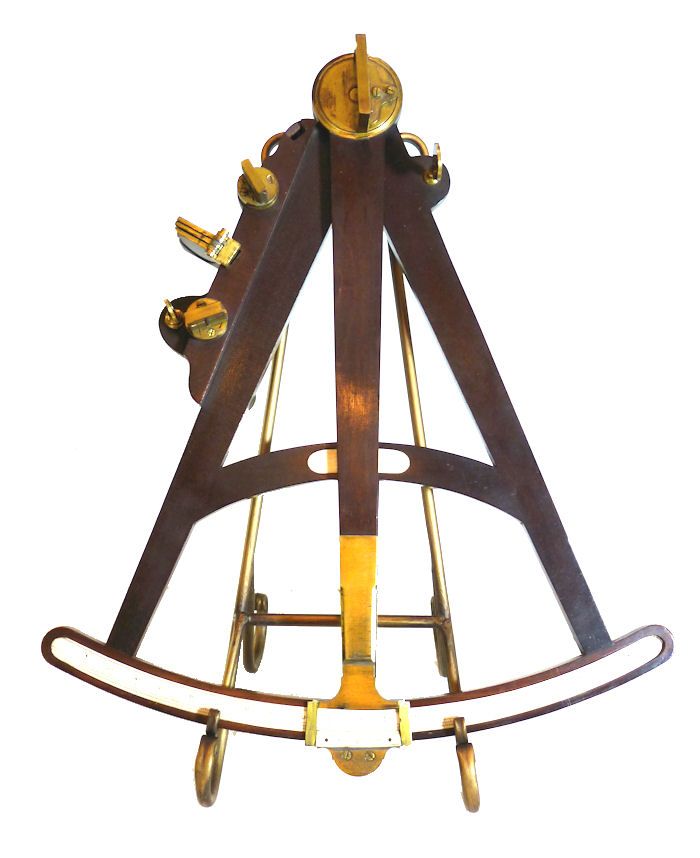 Shown on display stand which is included.   Other features that
are characteristic of an early octant consist of:
An early style Mahogany frame Three mirrors on backFlat index arm 16 inches or longer Graduated arc from – 5 degrees to + 95 degrees Vernier reading from right to left  Machined bronze fittings Single
set of three movable shades (filters)The three shade glass assembly is movable for placement at either
the index mirror position or below at the secondary position where the third mirror allows for the taking of "back sights".
The ivory scale is precisely marked with large size numerals and sharply
engraved marks on the arc. The ivory shows little age degradation or discoloring which suggests the instrument was
stored away from daylight. This further supports our conclusion that it was made as a presentation piece and has seen
little use. It clearly was made by an experienced instrument maker standing at the top of his trade.
MARKINGS:  No maker's mark present

Machinery

Looking toward horizon & back sight mirror
PROVENANCE:
Purchased at auction from top tier house. Prior ownership a respectable collector who carefully collected and bought and sold
throughout the years.

Looking
towards Horizon mirror & Back sight

Looking toward Index & Horizon mirror
The metal fittings are precisely machined, which makes this instrument a work of manufacturing
excellence for this early a period.
SPECIFICATIONS:Arc reads – 5 to +95 degrees Length of index arm 17 1/2″ long Radius of index arm 15 3/4″ Width of frame at arc 15″ wideIndex mirror 47 x 36 mm Horizon mirror – 22 x 20 mm Back sight mirror – 22 x 20 mm Three movable shade glasses Two Peep sights
Weight 2 Lbs 12 oz
DATING THE INSTRUMENT: The arc measures from – 5 to plus 95 degrees on a Mahogany frame. It is known that Mahogany
went out of use in favor of Ebony some time after 1750. The octant has a flat wood index arm, partially encased
in brass, that measures 17 1/2 inches long to the clamp. Tangent screws began replacing finger clamps
in the last quarter of the 18th Century. The
horizon mirror is mounted on an adjustable turntable. Its base can be rotated by loosening a screw which locks the mirror's
position. A third mirror is below it for taking back sights and is also adjustable. The ivory vernier scale, reads from
the center to the right and to the left in 5 second increments up and down. Two hole peep sight with "flap", and a movable
three sun shades cluster serve both horizon mirrors. All
of these features date the instrument after 1750 and before 1780, likely Ca 1770. Some time after 1780, the index arm clamp
was superseded by an adjustable tangent screw, which also helps date this octant. See Peter Ifland's comprehensive sextant work, "Taking the Stars". particularly figure
64, page 57.
 Special style vernier reading from the center
Unusual gilded brass portion of index arm
CONDITION: The instrument is in fine overall condition except for some minor items which
are mentioned out of a sense of thoroughness. The gold gilting is worn in places which is a natural result of the aging process
and less so than the similar octant at Greenwhich. Approximately 95% of the gilt remains. There is a small chip of wood missing
at the lower left leg and there is a small chip of wood missing on the back of the upper slot for the mirrors. The ivory
arc is 3/32″ smaller than the groove. The wood frame is not evenly smooth in a couple of places. The lower
peep sight is slightly different, and the upper turned brass leg is longer and smaller in diameter than the others.
Both are likely old replacements. Some of the screw heads have irregular slots showing use. The mirrors have the
normal loss of silver and degradation of age, but are in better condition then would be expected after 232 years.  The graduated ivory arc and vernier are in excellent condition, and all the hardware is present. It
has the ivory pad on back, and the original small ivory scribe with lead. There is no case.

Back of octant showing all gilded brass machinery
A very rare, and special example of an early Hadley style octant of
Giant size and having special gold gilding!


OUR QUALIFICATIONS:
We are one of the few company's still selling navigation instruments that know anything about them. For purposes of judging
whether Joel's opinion counts, he was the editor of the chapter on sextants of the 1977 Edition of "Bowditch", The
American Practical Navigator, NAVPUB 9; a member of the U.S. Naval Academy Navigation Symposium, 1975 -1978; the author of
a book on marine sextants, Cornell Maritime Press,1975, and the founding president of Nautech Maritime Corporation which partnered
with Tamaya of Japan in the introduction of the MS 733 Spica, the MS 833, Jupiter, MS 933 Venus sextants and the famous NC-2
navigation computer, in the U.S. market. Joel is also a retired Master Upon Oceans, and held a U.S. Navy "D" Qualification
as a Senior Skipper – Oceans. From 1995 through 2000, he served as a Varsity
Offshore Sailing Team coach at the U.S. Naval Academy.