FINE AMERICAN CLIPPER SHIP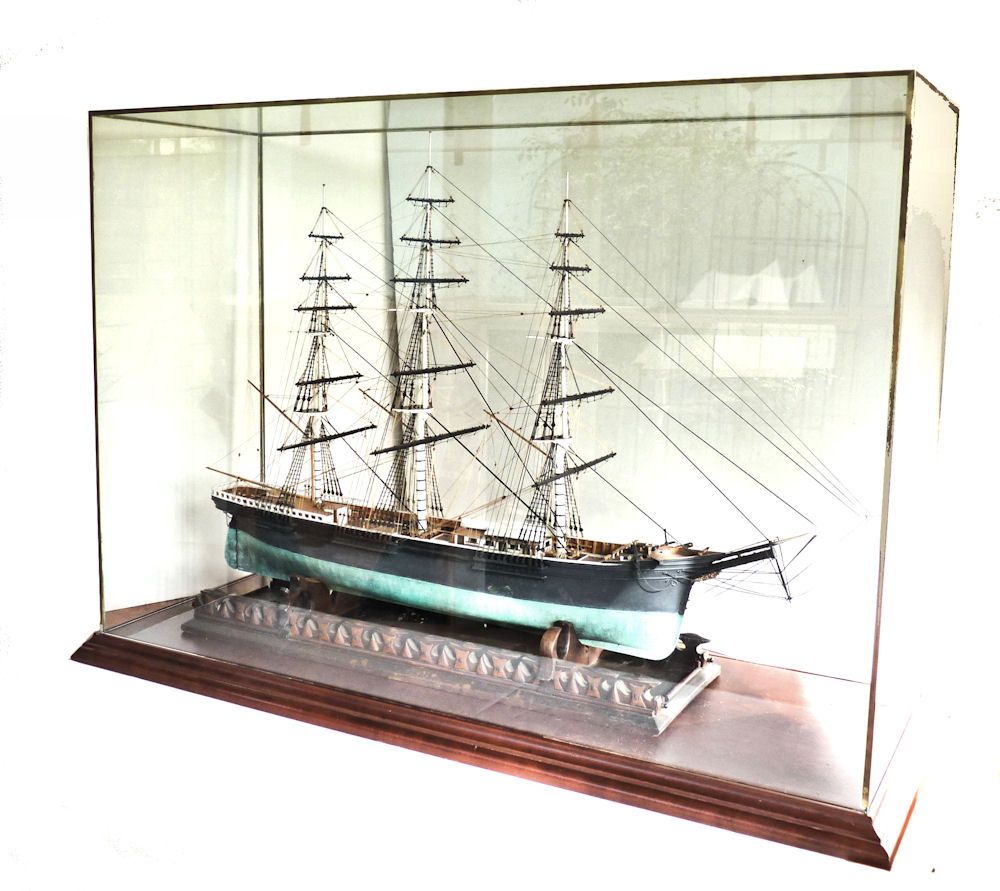 Carefully Handmade and Authentic to Original Presentedis a carefully handcrafted
full rigged model of a classic American three masted Clipper Ship,QUEEN OF CLIPPERS, that was
made by a professional model maker. The hull is carved from a solid block of wood with exceptional attention to
detail, and is mounted on an antique hand carved base and enclosed in a glazed case with brass corners. The model
maker carefully followed the ship's design and laid out her lines, rigging and fittings so perfectly as
to compare with what is known of the real vessel.NOTE: Because of the size and weight
of the glass case, the photographs were taken through the glass and do not do justice to the quality of the workmanship and
attention to detail which is exceptional.
Ref. "GREYHOUNDS OF THE SEA", The story of the American
Clipper Ship by Carl Cutler, Halcyon House, New York, 1930; Pages 256,320,431,491 "The Clipper Ship Era: and Epitome of Famous American
& British Clippers" Arthur Hamilton Clark. Listed page 359.


Mounted on a high
quality antique carved base within contemporary glass case
DIMENSIONS of MODEL: LOA 36″ L x 4″ W x  22 1/2″ H
CASE: 41 1/2″ L x 16″ W x 28 1/2″ H
Weight
70 pounds estimated
As depicted in the Nathaniel Ives engraving below: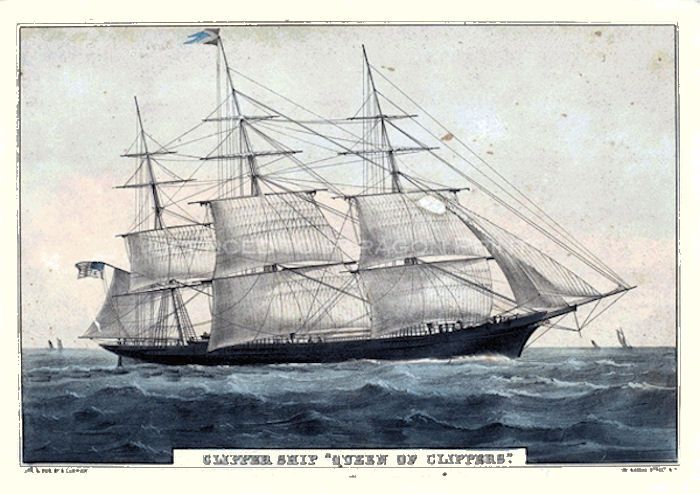 Behind the bowsprit and dolphin striker, the stem has an ornately carved queenly figurehead. On deck aft of the foredeck and bowsprit
is the foremast, and then a forward hatch aft of the forecastle. Next aft, a long raised deckhouse with three
lifeboats secured to its roof. Then a cargo hatch on either side of the main mast with a companion way behind
with a large raised poop deck following. There are the ladders to the poop deck where the mizzen mast stands,
and a small companionway which serves for easy access to the helm (steering station) which is at the very stern.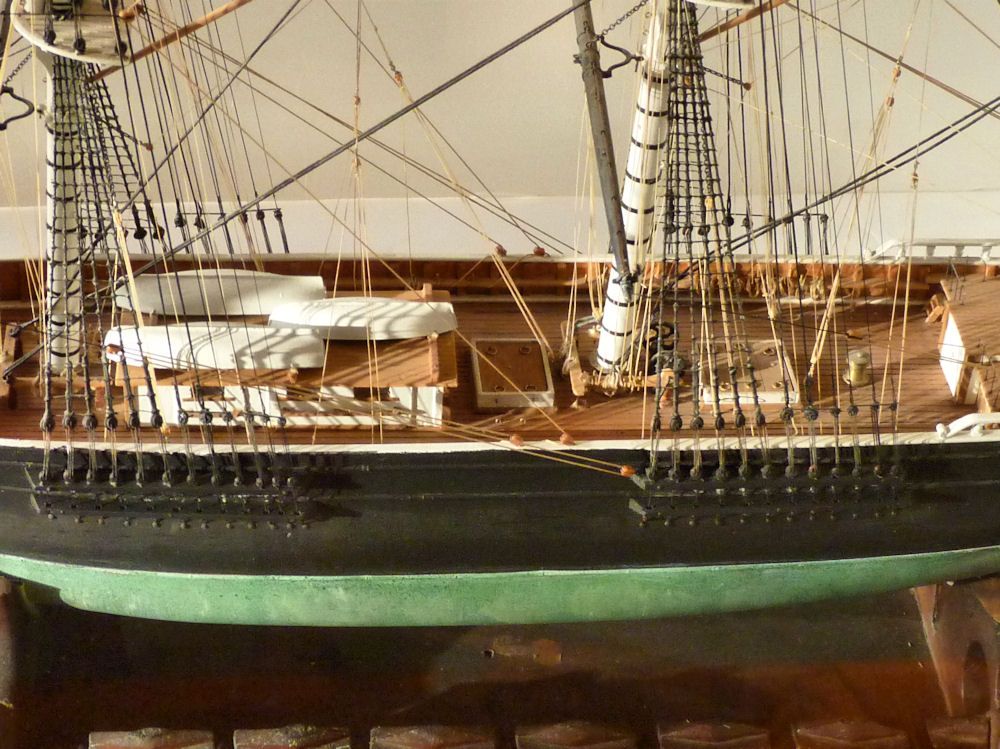 THE SHIP'S SPECIFICATIONS: The real
ship was 235 feet long on the keel. 10 feet longer on deck, and 258 feet over all, from the knights-heads to the taffrail.
Her extreme breadth of beam is 44½ feet, depth 24 feet, including 8 feet height of between-decks; rounding of sides 4 inches,
sheer 4 feet, and will register about 2300 tons, Custom House measurement.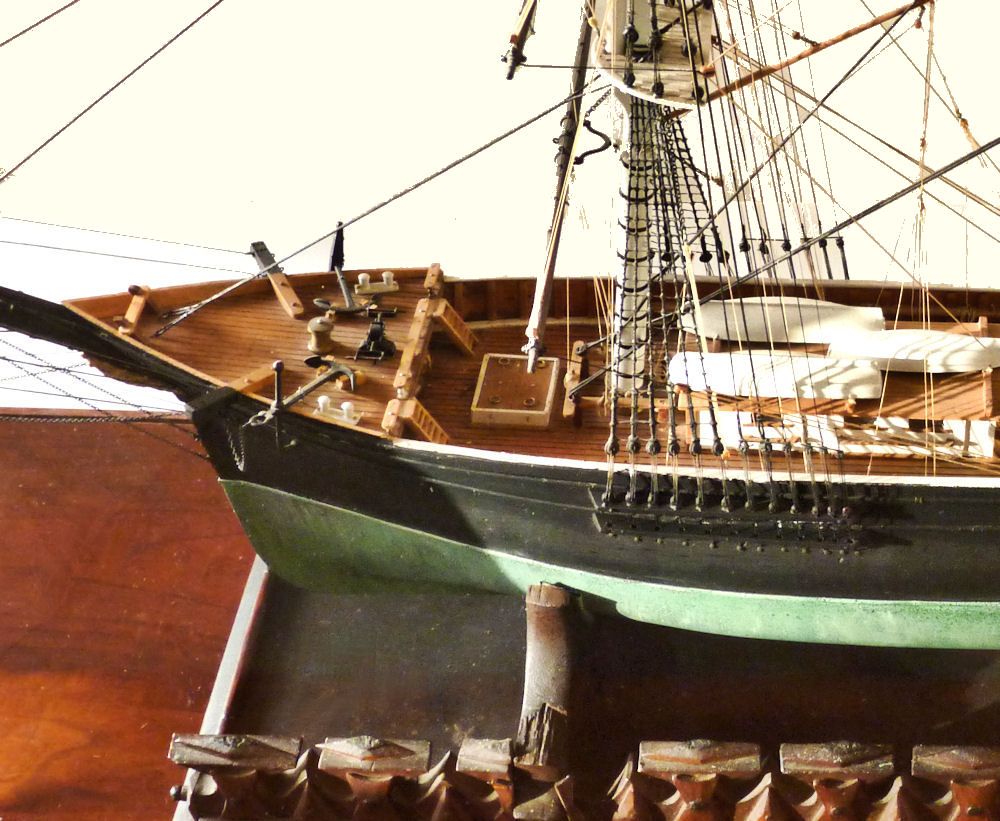 Foredeck, anchors capstan. Detail of
chain plates with foreward deckhouse behind
From a newspaper article in the Boston Daily Atlas, April 2, 1853: She was built at
East Boston by Mr. Robert E. Jackson, the builder of the John Bertram, Winged Racer, and many
other fine ships; but this was said to be the crowning triumph of his professional life. Her enterprising owners,
Messrs. Seccomb & Taylor, have spared no expense to make her a perfect ship, and to ensure her success. She is expected
to sail twenty knots with a leading wind, and to rank first among the foremost upon the world of waters.They will find
her to be better and more beautiful than we have been able to describe her, and every way worthy of her name, the Queen
of Clippers! Capt. She was launched in April, 1853 and  Reuben Snow, a sailor of great experience, and established
reputation, was her first captain. Under the ownership of Zerega & Co., New York, she set a record passage between that City and California
of 118 days. She was chartered to France during the Crimean War and after the hostilities, she was sold to France in 1856.
After that, no further record of her is found.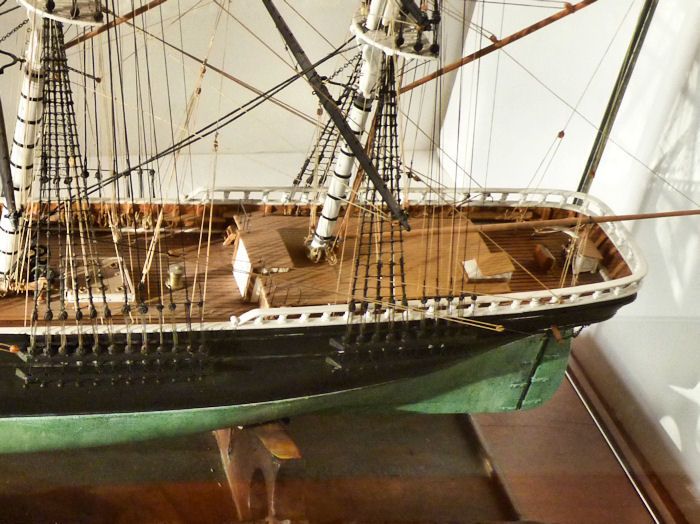 Poop deck and signal flags You will not find a nicer model of an early American
Clipper Ship model, of the Golden Age of Sail making this an important addition to any serious nautical collection.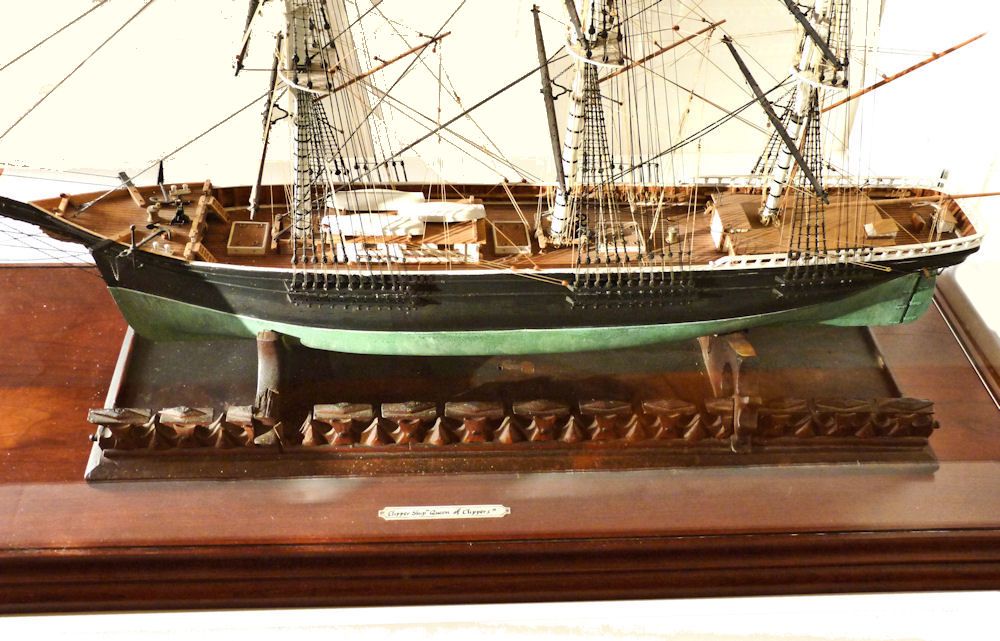 From stem to stern looking down on the deck
CONDITION: The model and its original
case is exceptional in all respects. The rigging is taught, all the gear and fittings are in place and nothing is broken or
missing. The mast, spars, boom and rigging are all correctly fitted. Considering its age, the model's condition is excellent. The
overall appearance of the model and massive case is quite remarkable and impressive.