WORLD FAMOUS HAMILTON MODEL 22
NON-GIMBALED  CHRONOMETER WATCH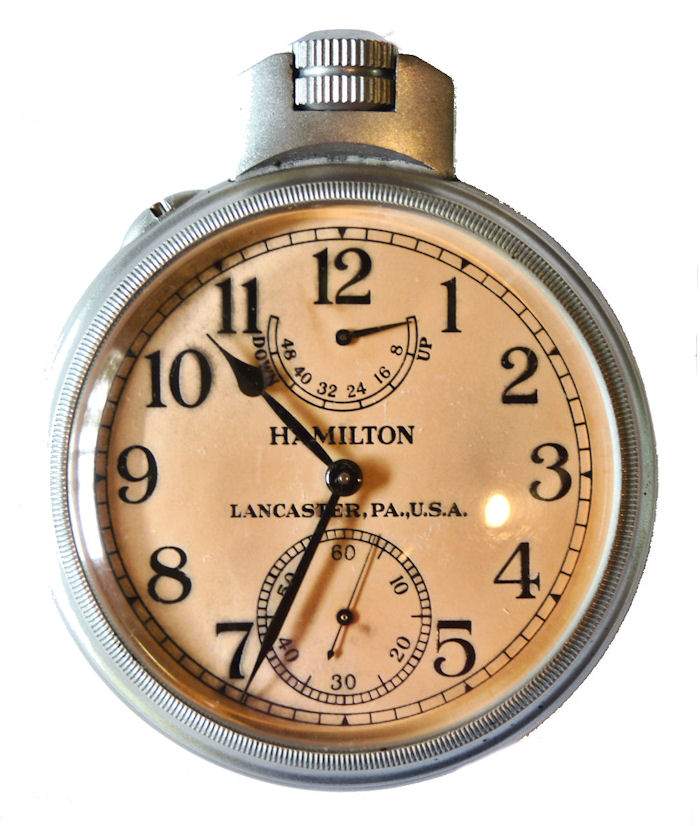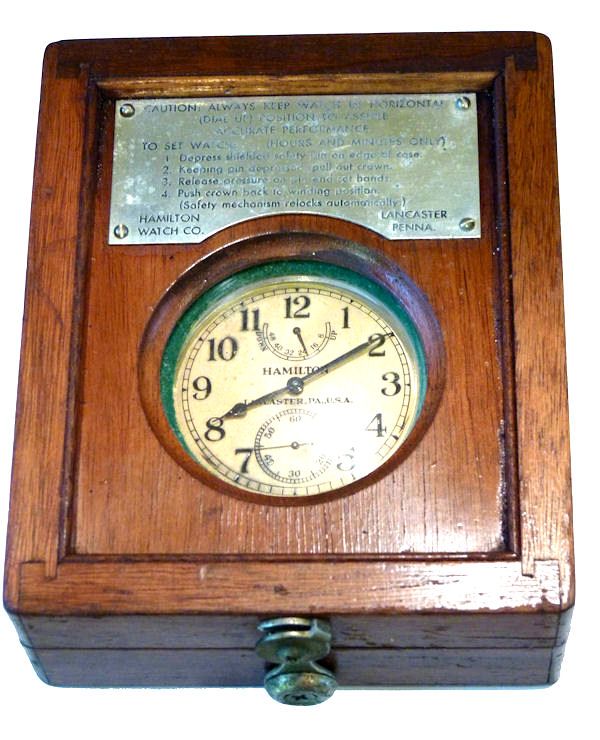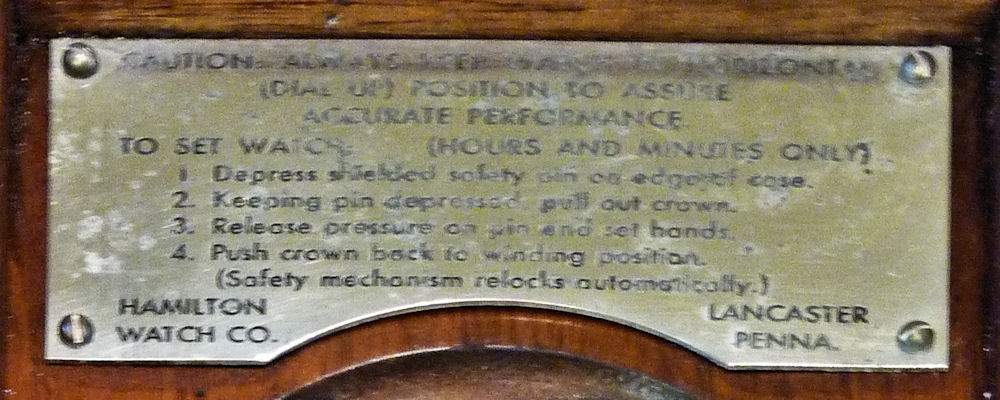 CASE
DIMENSIONS: 5 5/8″ L
x 4 3/4″ W x 2″ T   Weight: 1
lbs 11 oz
Model 22 35 watch     2
3/4″ D x 9/16″ H              Weight:         
11 oz


Presented
is a WW II HAMILTON Model 22, 35 size chronometer watch that was made in a non-gimbaled satin silvered metal case and
with Mahogany wood protective deck case. It is recommended that this clock always be in a horizontal position for best time
keeping results. First delivered to the Naval Observatory on June 7, 1942, only 9,780 of these watches were purchased
by the Navy compared to the 13,531 gimbaled versions which were fitted to a three tier 6 inch square box. Both versions
used the same Model 22 35 size movement. This much rarer chronometer watch was used as primary navigation timepieces on smaller
size ships which included PT Boats, patrol craft, sub chasers, mine layers and ocean going tugboats. This one's movement
is registered to the U.S. Navy Bu. Ships and is dated 1942. We have tested this watch against a quartz comparison time
piece and its daily rate of change is infinitesimal. It runs for 56 hours.






The engraving on the back of the case gives the part number, 37615 and the serial number, AF/45-D-1454.The
12 hour dial was silver white originally, but has developed a light cream hue with
age and has some slight discoloration at the 11 O'clock position and also within and around the seconds dial.
It reads HAMILTON LANCASTER, PA., U.S.A., 48 hour Up/Down Indicator at top, Seconds Bit Under.  The rear panel of
the case unscrews, and there is a protective metal dust cover over the movement.Inside, the movement is engraved
with the Maker's name,  Model 22 – 21 Jewel specifications, U.S. Navy, Bu. Ships – 1942, and down low to the
right of the balance wheel, the movements serial number, 2F20658.

CONDITION: As stated earlier, we tested this watch
against a quartz comparison time piece and its daily rate of change is infinitesimal for eight days. It runs for 56
hours at one winding. The massive non-gimbaled watch was carried in a especially designed padded carrying case with
an inner box with a round viewing window in the top which fit into a wood carrying case. The hinged top of the inner
box is secured to the bottom with a rotating sliding hook with locking cam. The interior of the case was fitted with a padded
green liner that was formed for the watch to fit securely in place. The case showed some age, handling marks, small scratches, and
some loss of the green felt covering. Our shop refreshed the finish with a good cleaning and replaced the lower green covering.
The result  is a case which meets the requirements for which it was designed, and looks good doing it.

Marvin E. Whitney, the scholar and author of the definitive work on military clocks, says this
about the Model 22 series on page 396 of his masterful work, "MILITARY TIMEPIECES".

"These beautifully designed watches were truly remarkable timepieces, the performance
of which was outstanding. The rates were very steady and well within the Navy's mean daily rate tolerance of 2.0 seconds.
……The vast majority of these watches equaled or exceeded the performance of many foreign made ship's (full size)
chronometers." 
This Model 22 is a fine running clock which should appeal to those
seeking a historic chronometer of the WW II Era



SPECIFICATIONS:
The Hamilton Model 22 is a legendary watch, hurriedly designed when the USA was entering WWII, along with the far more complicated
Model 21 marine chronometer; both are considered amongst the finest of their type. The 22 was even produced in the boxed-and-gimbaled
format, as it was proven to be reliable enough to serve as a ship's primary timekeeper! The case is 70mm across,
of plated and matted brass, and features a wonderful guarded crown and button to prevent inadvertent setting. Although the
mainspring's power reserve is some 60 hours, and the dial indicates up to 48, it was intended that the watch would be wound
each day at the same time for nearly perfect isochronisms. The enormous movement is fully adjusted and immaculately finished
and striped. The elegant regulator uses a spring-loaded finger which traces the perimeter of a snail-cam.

   Bezel off.  Dial with count down indicator, cream hue
and slight aging

 

HAMILTON CHRONOMETER
HISTORY: Hamilton
Model 21 Marine Chronometers and Model 22 Deck Watches.   At the outbreak
of W.W. II the United States Navy required a vast quantity of high quality chronometers. At that time the Navy had
been using Ulysses Nardin timepieces as standard equipment with few if any being available in this country.  A request
for bids was made by the War Office and the Hamilton Watch Company was the only firm able to meet the requirements by designing
and producing an innovative marine chronometer in  a period of about 18 months.  Hamilton was able to produce the
unit in sufficient numbers to meet U.S. wartime demand, and made 11,239 combined total of these chronometers during the
War. 

The model 21 and 22 are technically one of the great achievements
in horology. The balance and hairspring assembly were a radical departure from traditional chronometer design and
resulted in superior time keeping rates.  In addition, Hamilton also produced a 21 jewel lever escapement chronometer
deck watch. A more detailed description of both the model 21 and 22 timepieces can be found in Marvin E. Whitney's book: "Military
Timepieces" which is recommended reading for serious collectors.