ANTIQUE SCRATCH BUILT LAPSTRAKE SAILING
DINGHY  Ca 1895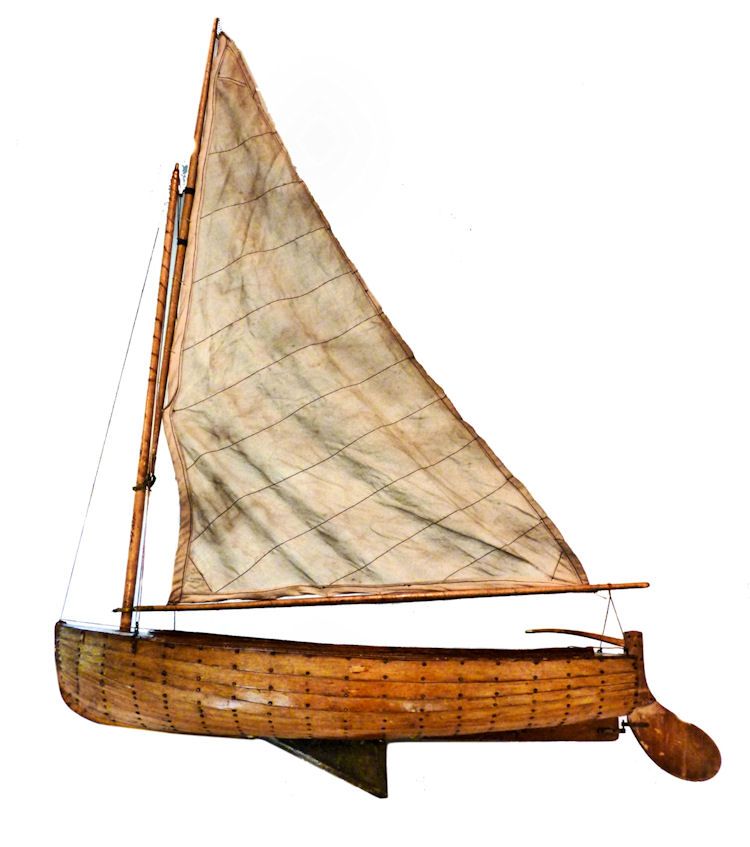 It has
a lead centerboard which means it might have been sailed. On its stand, this handsome relic displays as a fine
work of maritime Folk Art.
 

Presented

is

a hand crafted sailing dinghy with centerboard and outboard rudder, made from scratch using traditional lapstrake plank on

frame construction. All the woodwork is hand fitted using the exact same materials and methods of building

as would be a real vessel. The design dates back to the 1870's, and with minor modifications, was popular on both the

East and West coasts of the United States. One of the most accepted designs was that of the Connecticut River Shad or Drag

boat as shown below. The hull model was roughly that of the New York Whitehall design, but with greater depth and carrying

capacity. The boats ranged in size form 15 to 18 feet, and were generally Sprit Sail rigged as is this one. This model has

a centerboard that is made of lead and may have been sailed as a pond yacht at one time.

 

The transition from work boat to racing dinghy took place in January, 1932, at Manhasset, on
Long Island Sound where a group of nine small boats inaugurated winter racing in what was called in that day, "Frostbiting".
By 1954, Frostbite dinghy sailing had taken hold, and smaller eleven foot versions of the original working boats
were found racing on Long Island Sound in what were called Frostbite Dinghys. One  other active area was along the
harbors of Chicago's waterfront where competitive sailor's raced in the numerous harbors. It continues today
using one design classes to compete during the winter.

.

 

 

              From Howard L. Chapelle's "American Small Sailing Craft"

 

METHOD
OF CONSTRUCTION: The hardware is made from brass with the centerboard being made from from a flat plate of lead,
with the leading and trailing edges faired to sharp edges. There is a solid bulkhead forward of the mast and one aft of
the stern thwart so that the beams cannot be seen at deck level. The hull is made by nailing a series of planks called "strakes"
on steam bent frames or ribs that are mounted crosswise on the keelson, and nailed to the frames on one inch centers. The
interior has white paint which has yellowed with age and with the deck, coming, seats and centerboard cap varnished. The varnish
has crackling on the flat surfaces and shows it was applied many years ago. All surfaces have been lightly dusted and
still show an accumulation of grit and dust appropriate for antique of this age. The lead centerboard
is fitted for stability indicating this may have been built as a Pond Yacht. The overall model is so finely constructed that
it must have been made by a master shipbuilder or model maker. 

 

 

 

DIMENSIONS: 

 

Scale:  1 inch equals 1 foot

Length on deck  18″      Beam
 7″       Height
on stand 27 3/4″

Maximum depth  2 1/4″                      Weight  1
lb 14 oz with stand   

 

 
A fine piece of American nautical Folk Art. It is truly a masterpiece, and makes a
beautiful display.
CONDITION: This is a handmade model, and it is in excellent condition
considering its age. What you see is a mellowed state of aging with a great patina. The hull finish is in very
 good shape with the varnished surface heavily crackled.  In our view, this is a fine, high quality
model, a handsome work of maritime Folk Art that anyone will be proud to display or hand down in a family of sailors. 
              Fordeck
varnish heavily crackled

               Centerboard
trunk and frames
              Large
aft cockpit and thwarts
                              Lapstrake
hull with excellent age patination    
 

SHIPPING & PACKING: The
cost of shipping, packing, handling, and insurance to your destination is an additional charge. We price
our shipping honestly, but we expect to be reimbursed for the nominal cost of packaging materials and handling.

OUR UNCONDITIONAL NO NONSENSE GUARANTEE: If
not completely satisfied with your purchase it may be returned, if without damage, within three days of receipt in its original
packaging. Return items must be insured for their full value. Only a prior email authorization by us for the return is required. Shipping
charges within the continental United States are  included in this offer if the error is due to our fault.