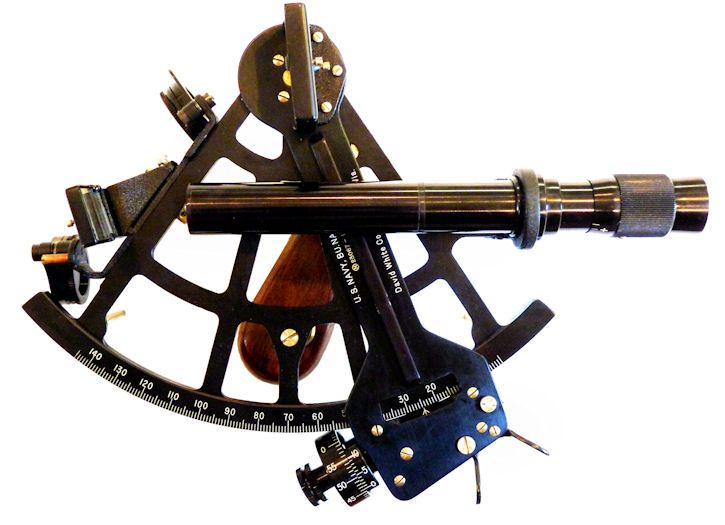 Presented is one of the finest U.S. Navy MK II sextants that we have ever seen. It compares favorably to the MK II that we sold in 2007 that was modified by Scientific Instruments in 1975, with a larger scope of greater light gathering power for night sights. This one has the rarely seen adjustable Polaroid shades that cover the entire range from dark Grey to light filtration. Like all MK II's, the arc reads to 145 degrees, which was standard for this design, making it more properly a quintant. The long serving design of the Navy MK II follows closely that of the Brandis instruments which date back to the Civil War period. See https://landandseacollection.com/id858.html
Both instruments were made by David White Company of Milwaukee. This instrument was made in 1944, and bears Serial Number 23067 adjacent to the Naval Observatory cartouche of acceptance. Both sextants have the more expensive machined index arm rather than the stamped arm found on many MK II's. See https://landandseacollection.com/id334.html
Listed are one of a kind design features, that are not present in the standard U.S. Navy MK II:
Two adjustable Polaroid shades (filters)
Polished stainless steel hardware and fittings
Polished and varnished bronze legs, arc, rising piece knob, and more
Non adjustable instrument error of less than 20 arc seconds
Custom Plywood case with hidden tongue grove corners
Micrometer and Vernier
Rising piece, tangent screw, thumb screw
CONDITION: The sextant is in exceptional condition for its age. It shows very little evidence of use with that being some loss of varnish on the rising piece knob, and the same in the central leg on its flange. About 98% of the original varnish remains. The paint is near perfect and the screws bright. Both fitted mirrors are in excellent condition with only one tiny Grey dot on the index mirror adjacent to the frame's holder. The certificate is dated February 22, 1945 and shows a range of errors between 5 and 22 degrees which is pretty much what you might find in a contemporary Plath or Tamaya.
The case is made of marine grade plywood with unusual hidden tongue and groove construction. It is in like new condition except for the normal scuff marks to the wood and the minor imperfections noted which show the instrument saw service at sea. Almost all its accessories which include two screw drivers and a large mirror adjustment wrench are present, but it is missing a spare
index mirror and key.
U.S. NAVY MK II SPECIFICATIONS:
Measuring Range: -5 to 145 degrees
Accuracy:
Tested to +/- 20 arc seconds
Telescope: 3 x 26 mm Coated optics
Frame: Aluminum with black enamel paint and white numbers
Arc: Bronze Micrometer Drum and Vernier Scale: reads to 6 arc seconds
Index Mirror: 44 x 34 mm
Horizon Mirror: 28 x 21 mm
Shades:
Adjustable Polaroid for index
mirror from light to dark Grey
Adjustable Polaroid for horizon mirror from light to dark Grey
Illumination: None fitted
Weight sextant: 2 Lbs 10 3/4 Oz's
Case 11 1/2″ X 11″ X 5 1/2″   Weight in case 7 Lbs 4 oz.
INCLUDED ARE:
1 Sextant frame
1 3 x 26 mm telescope
2 screw drivers
1 adjustment wrench
1 Certificate of inspection
Varnished brass fittings
Adjustable Polaroid filter
One Grey dot on horizon mirror
Near perfect index mirror
BRIEF HISTORY OF DAVID WHITE: David White did a lot of military work during WW2 and was one of the principal manufacturers of Navy MK II  sextants along with the Pioneer Division of Bendix Aviation and Ajax Engineering Co. After the War, David White was not able to adjust to a normal business economy and did not develop substitute products. Consequently, they were forced to down size as the markets changed to peace time production.  Their work force was a ready pool of talent available to SII. In 1958 or earlier, Scientific Instruments, also of Milwaukee, purchased the inventory of MK II parts, as well as
several pieces of machinery including a collimator from David White, and hired some of their employees. Scientific Instruments never built the Mk II, but did manufacture various spare parts and did repairs over the years. They picked up on the heritage of their neighbor, and became a government contractor on the Navy's successor sextant the MK III. See our example of a 1916 Navy Brandis which is for sale. https://landandseacollection.com/id833.html