Vintage Creole
Queen Paddle-wheel
River Boat Model
Ship
Not Quite
Transmitter Ready Radio Control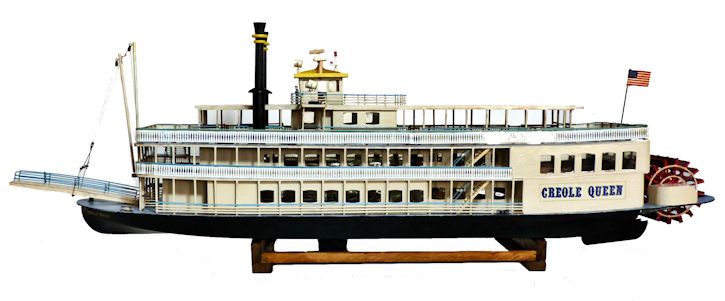 LOA 51″  LOD 48″ BEAM  9
1/2″    DRAFT 1 3/4″  HEIGHT  18″   WEIGHT
10 Lbs
Presented is a vintage, handcrafted wood model of the Creole Queen. The real Creole Queen
was built to replicate a fictitious riverboat design to celebrate the 1983 New Orleans World Fair. Following the real
paddle wheeler, the model's super structure is painted in white with blue trim bands  and yellow accents
on the twin smoke stacks and pilot house. The hull is painted black and the paddle wheel fire engine red.
THE REAL QUEEN: The Creole Queen is a 1,000 passenger riverboat operating
out of the Port Of New Orleans. She is operated by New Orleans Paddlewheels, Inc. She was built by Halter Marine at Moss Point,
Mississippi along the lines of a turn-of-the-century stern wheeler and was christened into service in September 1983 to a
design dating from the Mid 1800's. She is 190 feet long and 40 feet wide. She has three decks, two of which house three
dining and banquet rooms and a third top deck for covered outside seating. Her gross tonnage is 397. She is powered by
a 24 ft diameter paddle-wheel. The company, along with its sister company New Orleans Tours Inc., filed for voluntary Chapter
11 bankruptcy reorganization in May 2006 after a Hurricane Katrina-induced downturn. In its bankruptcy petition, the steamboat
operator listed $1 million to $10 million in assets and $1 million to $10 million in debt. New Orleans Tours emerged from
bankruptcy in June 2007. Both firms are subsidiaries of Hospitality Enterprises Inc., one of the largest locally owned tourism
companies. Creole Queen has 3 private dining rooms giving her the "largest indoor capacity" on excursion vessels
in New Orleans. She is docked at the Poydras Street dock adjacent to the Riverwalk and New Orleans Hilton Riverside and Towers. 
MODEL'S DESIGN: The model looks like it was made from
a very early Dumas Kit. 
The Kit in updated form is available today from various hobby shops for about $400.00 without
the required RC accessories. This model was made around 1986 and is fitted with a 12 V high torque electric motor and 72.2 MHZ radio controls of that era, but is missing
the required AM transmitter. It would be an easy job to upgrade the system to the current state-of-the-art 2.4 GHZ.
The pilot house and upper
deck is removable. Beneath them are the ship's skeletal construction which includes frames, stringers and wood sheathing.
The central section has the electric 12 V motor that is dated 3-27-86, two 73 MHZ servos and battery area for up to a compact
12 volt power source.
Fore and Aft views of this 48
inch transmitter ready radio control vintage model
Engine
room with 12 V Motor, 2 Channel Receiver and two Servos 
EQUIPMENT: The model is equipped with a belt driven paddle wheel, 12 V electric
motor dated 3-27-86, and two servos operated from a Cox/Sanwat Series 38 72 Megahertz receiver which
is not working. Missing is the required 2 channel AM transmitter compatible with the 72.3 MHZ receiver to complete the
Radio Controls.

It would
be an easy job to upgrade the RC system to the state of the art 24 GHZ. There is no visible ballast in the
engine compartment. Based on its equipment, we estimate the model was built around 1986 from a kit by an experienced model
maker.
Pilothouse with miniature
captain
CONDITION: The model is in exceptional condition for its
age, and has recently been cleaned, and minor repairs made. All the electronic parts have been tested and the electric
motor works, but the receiver does not work. The necessary two channel AM 72 MHZ transmitter is missing. The model has
been tested in the water for a short time and did not appear to be leaking. However, after being out of the water for so long,
it is expected that it would take some time for the wood to soak up water and become fully watertight. Expect to find
some of the normal marks of age consisting of dents, minor scratches, and missing paint that, because of the model's size, don't
show in the pictures.
BECAUSE OF ITS AGE, THIS MODEL IS BEING SOLD
FOR DISPLAY ONLY.
Removable bridge and deck assembly