FULL
DRESS UNIFORM & COCKED HAT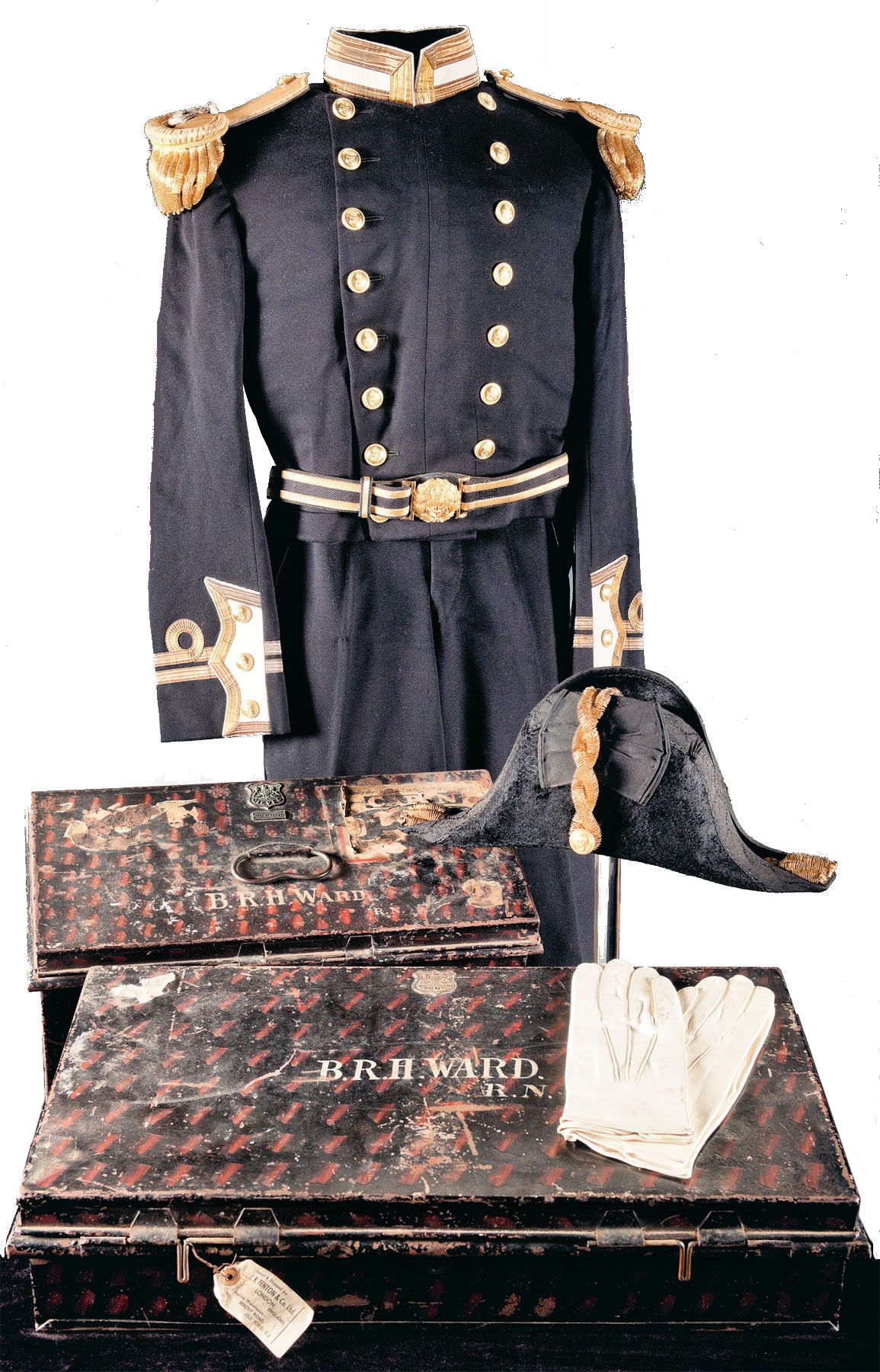 Full
Dress Winter Blue                        Undated  

Made
by Gieve's Ltd.                           Approx. Size  38 Long

Label B.R.H.
Ward
Cocked Hat by Gieve's

Presented is a British Royal Navy, full dress, winter blue uniform owned by Bernard
Ralph Henry Ward, RN (1911-2000), dating from when he was a lieutenant in 1932. He is the son of Capt. Bernard
John Hamilton Ward, RD, OBE. Young Ward first retired from the Royal Navy in 1935, but was called back into service during
WW II, and was promoted to LCDR in 1942. While serving in HMS Braganza in 1946, he was invested in the Order of the British
Empire. After discharge, he served in the Civil Service, and is listed in the Peerages. He died in Tunbridge
Wells, Kent, England on 16 February 2000.

The uniform comes
with a Victorian style tin case for the cocked hat and sword belt, and another tin case for the uniform. The hand stitched
tailor's label inside the jacket is from Gieve;s Ltd, the premier purveyor of British uniforms and accoutrement's, and is
imprinted with his name.

    Cocked
hat, epaulets and sword belt in upper case. Uniform case below

Uniforms of this
quality from Gieve's Ltd from a Royal Navy officer are rare. They are wonderful display items, and in that era were similar
to the Royal Navy Uniforms that date back to Lord Horatio Nelson as is shown in the print directly below. They serve
to establish a historic connection with the past as is shown by this lithograph of British Royal Navy Uniforms dated
1834. This surviving example of a lieutenant's uniform of this style is in its original "fine" condition.
    Royal
Navy Officer Uniforms from 1834

         Captain
Lieutenant                Midshipman
Marine

       

Front and Back of LT Ward's full dress uniform

CONDITION:
The coat is very good with some minor wear, some loose stitching on the collar and the gold lace has developed a patina
of age. The named case for the uniform is good with scattered scratches, dents and minor surface oxidation. One epaulet
is missing the anchor of rank, and the other's anchor is loose. Otherwise in good embroidered condition except for some torn
fabric in the undersides. The cocked hat is very good with some wear and aging with the sweat band and liner showing some
stains. The sword belt is very good with some cracked and worn leather. The named case for the hat is good, but expect to
find scratches, minor surface rust and a stained lining. It has various P&O stickers affixed.




   Cocked
hat on tin box that holds it and the epaulets and belt


SCROLL DOWN TO GALLERY PHOTOGRAPHS

UNIFORM SIZE:

JACKET:
TROUSERS:

Neck 15 1/2"
Waist 34"
Shoulders 18 1/2" across                       Inseam
32 3/4"
Waist 34"
Hat 6 3/4"
Sleeves 25"
Sword Belt 34″