VICE ADMIRAL Then
LT D.B. WILDISH, RN, CB
FULL
DRESS BICORN HAT, EPAULETS & SWORD BELT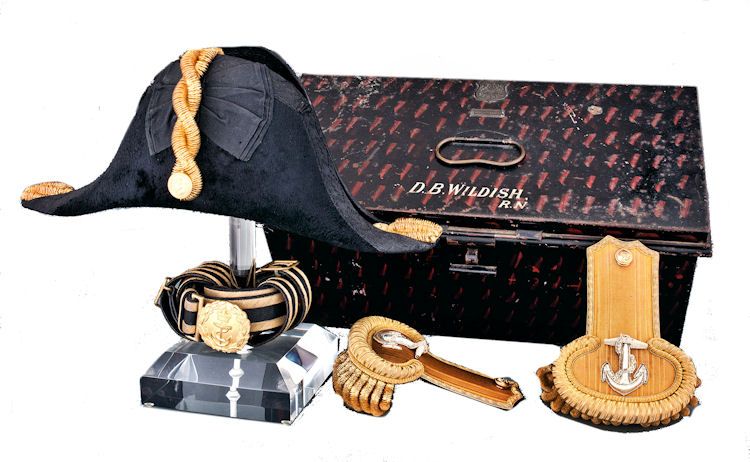 Like
New Condition!

Bicorn
Cocked Hat                     
Undated  

Made
by Gieve's Ltd.                                Size   9

Sword
belt 33″ expandable + 3″            
Case 18 1/2″ L x 9 1/2″ H x 8 1/2″ W

Presented is a British Royal Navy, full dress, bicorn hat or chapeau formerly owned
by Dennis Brian Harvey Wildish, RN, CB (1914-2010), dating from when he served as a lieutenant from
1937 to 1943. It is in "Like New" condition, likely because it was never worn during the years of WW II. Dennis
Wilish was the son of Rear Admiral, Sir Henry William
Wilish, KBE, CB . Young Wilish entered the Royal Navy as a cadet in 1932 and retired as a Vice Admiral in 1972,
a forty year career which is unusual in its length. In 1968 he was inducted into the Order of Bath as a Companion Commander.
His entire Naval service is in the detailed table below.

The bicorn
hat comes with a Victorian style tin case for the hat, epaulets and sword belt. and was made by Gieve's Ltd, the
premier purveyor of British uniforms and accoutrement's. A photograph of Wilish accompanies these items.

    Cocked hat, epaulets
and sword belt in under hat. Crazed mirror

Uniforms of this
quality from Gieve's Ltd owned by a named Royal Navy officer are rare. They are wonderful display items, and
in that era were similar to the Royal Navy Uniforms that date back to Lord Horatio Nelson as is shown in the print near the
bottom of this page. They serve to establish a historic connection with the past as is shown by this lithograph
of British Royal Navy Uniforms dated 1834. This surviving example of a lieutenants uniform of this style is in its original "excellent"
condition.
       Royal
Navy Officer Uniforms from 1829

     Captain
Lieutenant               Midshipman
Marine

       

Front and Back of LT Wildish's full dress uniform

bicorn,
cocked hat

CONDITION:
The hat is in excellent condition and may be considered "Like New". The named case for the kit has 95% of its original
finish remaining with some minor scattered scratches, dents and minor surface oxidation. It's mirror is crazed. The container
in the case for the belt is loose on the left bottom. The cover is removed by using the hole in the top and pulling up. The
epaulets and gold bullion hat trim are generally bright.
The sword belt is very good with some cracked and worn leather. 

Naval Career of VADM Denis Bryan Wildish, RN,
CB

Wildish,
Denis Bryan
Harvey
"Dick"

Only son of Engr Rear­Adm. Sir Henry William Wildish, KBE, CB (1884-1973), and Elfrida Phyllis Bryant, of Formby House, Formby, Lancashire.
Married (11.06.1941,
St Hildeburgh's Church, Hoylake) Leslie Henrietta Jacob (died 12.01.2009, aged 88), second daughter of Capt. C.W. Jacob, and
Mrs Jacob, of Merle Dene, Bidston; two daughters.

24.12.1914
Milton district, Kent
–
01.2009
still alive

| | |
| --- | --- |
| Cadet | 01.05.1932 |
| Midsh. (E) | 01.01.1933 |
| S.Lt. (E) | 01.11.1935 |
| Lt. (E) | 01.08.1937 |
| A/Lt.Cdr. (E) | 01.11.1944 |
| Lt.Cdr. (E) | 01.08.1945 |
| Cdr. (E) | 30.06.1948 |
| Capt. (E) | 31.12.1957 |
| R.Adm. | 07.07.1966 |
| V.Adm. | 06.04.1970 (retd 14.09.1972) |

| | | | |
| --- | --- | --- | --- |
| | CB | 08.06.1968 | HM's birthday 68 [investiture 26.11.68] |
| | MID | 01.01.1944 | New Year 44 |

Education: RN College, Dartmouth (1928-1931); RN Engineering College, Keyham.

1932

–

1932

HMS Ramillies (battleship) (Mediterranean)

06.1932

–

(09.1932)

HMS Revenge (battleship) (Mediterranean)

12.01.1933

–

(02.)1936

transferred to Engineering Branch & study
at RN Engineering College, Keyham

01.09.1936

–

(06.)1938

HMS Nelson (battleship) (Home Fleet)

24.06.1938

–

(08.)1939

RN Mechanical Training Establishment [HMS Pembroke
(RN base, Chatham)]

14.05.1940

–

(12.)1941

Damage Control Officer, HMS Prince of Wales (battleship)
(10.12.1941 wounded in action)

1941?

–

1942?

HMS Kedah (base, Singapore)

1942

Staff of Fleet Engineer Officer, Far East Fleet

02.1942

–

02.1944

Engineer Officer, HMS Isis (destroyer)

29.02.1944

–

09.1946

RN Engineering College, Keyham

11.09.1946

–

1948

Senior Engineer, HMS Implacable (aircraft carrier)

(07.1948)

no appointment listed

1948

–

1949

Planning Staff, Exercise Trident

05.08.1949

–

1951

Staff of Engineer Officers' Administrative Course,
RN Engineering College, Manadon, Plymouth [HMS Thunderer]

15.10.1951

–

1954

Assistant Naval Attaché (Technical), British Embassy,
Rome, Italy (to Italy, Czechoslovakia & Switzerland)

18.01.1954

–

(01.)1956

Engineer Officer, HMS Eagle and Staff Engineer
Officer to Flag Officer Heavy Squadron

1956

–

1958

Admiralty, Officer Planning Section, 2nd Sea Lord's
Department

1958

–

1960

Admiralty Engineer Overseer, Southern District

19.04.1960

–

26.11.1962

Deputy Director, Fleet Maintenance (Organization),
Fleet Maintenance Division, Department of Dockyards and Maintenance, Admiralty [HMS President]

26.11.1962

–

1964

Director of Fleet Maintenance, Fleet Maintenance
Division, Department of Dockyards and Maintenance, Admiralty [HMS President]

1964

senior officers' war course

1964

–

1966

Commodore, Naval Drafting

26.10.1966

–

1970

Admiral Superintendent HM Dockyard, Devonport

06.1970

–

1972

Director General of Personal Services and Training
(Naval) and Deputy Second Sea Lord

Rep. RN at cricket, also RN, Combined Services, Devon, and W of England at hockey