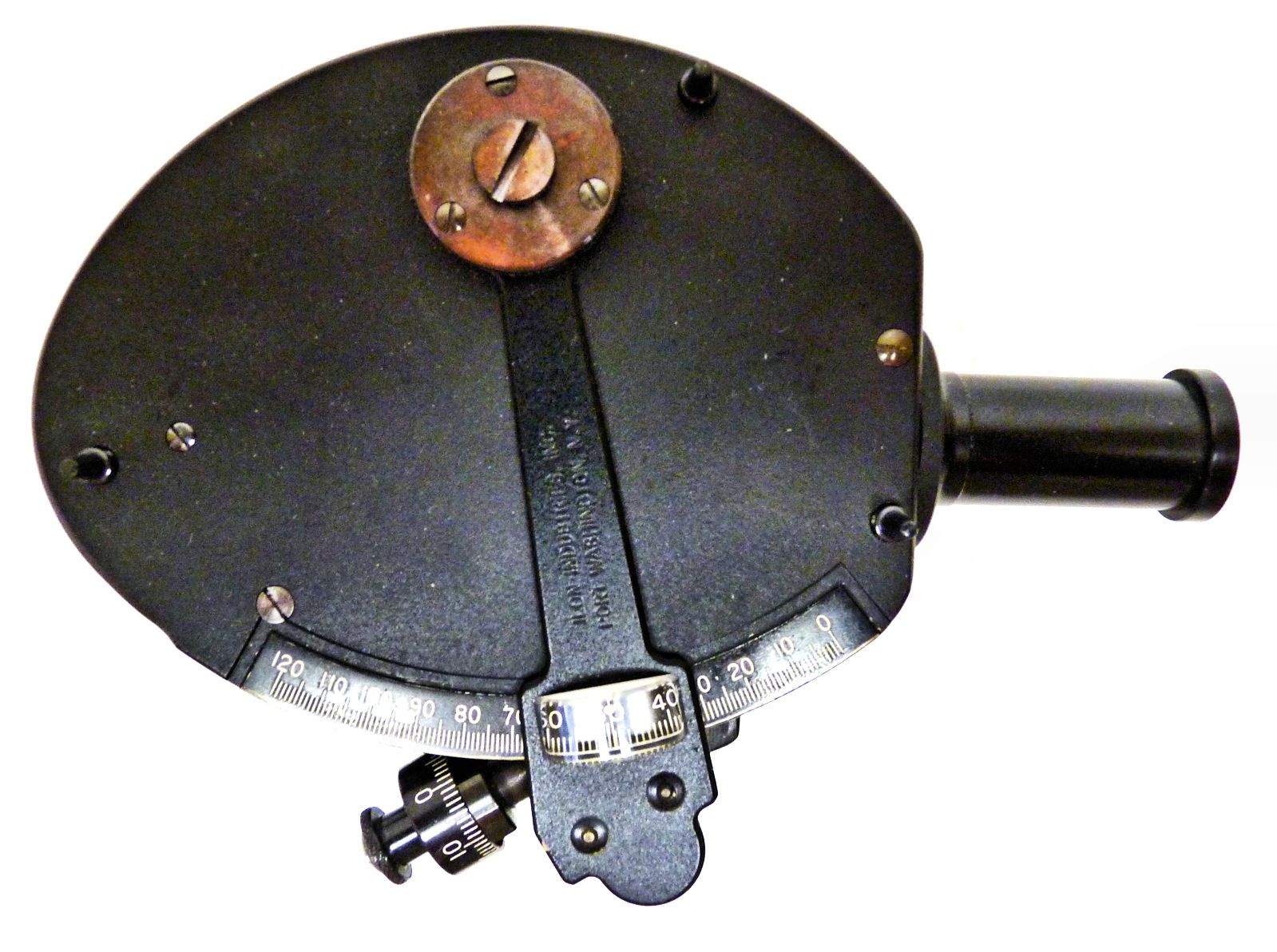 Of the miniature sextants, it is said to be the outright Best by an experienced navigator!
PRICE: SEXTANT DIMENSIONS  4″ W x 4 " L x 1 1/2" D"
LEATHER CASE 5 1/2″ W x 6 1/2″ L x 2 1/2" D
Shipping Weight 2 lb
The maker's mark, is imprinted on the index arm and reads: Ilon Industries, Inc. Port Washington, NY on two lines
USER'S REPORT:   Robert XXXX an experienced celestial navigator has this to say about the Ilon sextant which is posted on a website devoted to the science of the topic.
"The best "box" sextant I come across was manufactured by Ilon Industries out of New York. My late friend John Luck owned
one, and for years, I tried, without success to get him to sell it to me. I have not since seen  another example of this item, but you can find a photo of one in Ifland's "Taking the Stars", on page 49, Fig 55. I have been scanning e-bay every once in a while in search of an Ilon, but always come up with zilch. Could be that very few were manufactured in the first place. I would dearly love to get my hands on one of these sextants. Robert XXXX"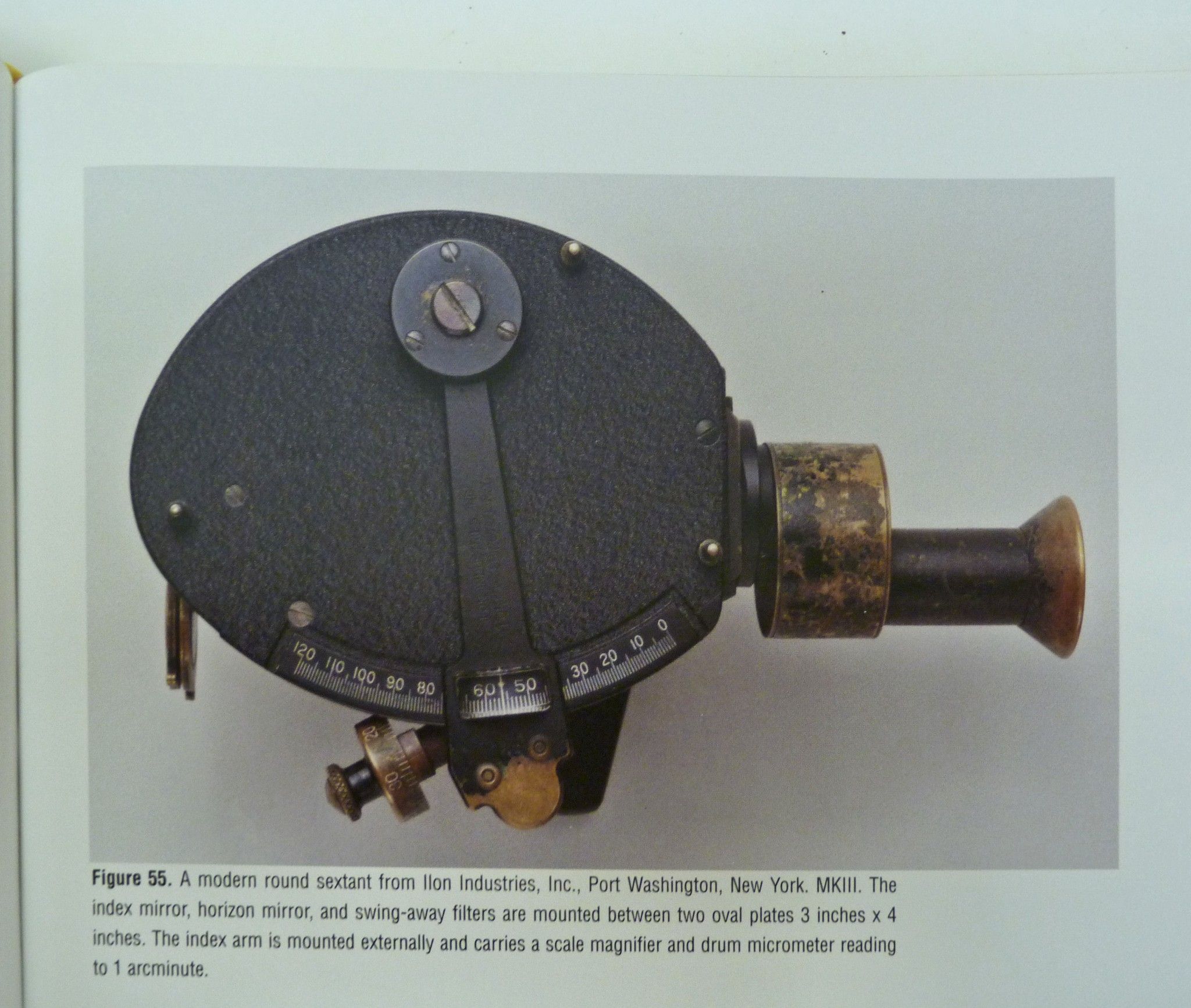 As illustrated in Peter Ifland's "Taking the Stars"
We know Robert to be an experienced navigator and takes his sights mostly at sea rather than from an armchair. We value his opinion. However, we don't agree with him here. Many users will find this sextant too small for comfort and our recommendation as to the Best Miniature, would be the British WW II Air Ministry sextant. See
https://landandseacollection.com/id777.html
THE CASE BELOW: 6 1/2″ L x 5 1/2″ W x 2 1/2″ H  WEIGHT 1 lb 13 oz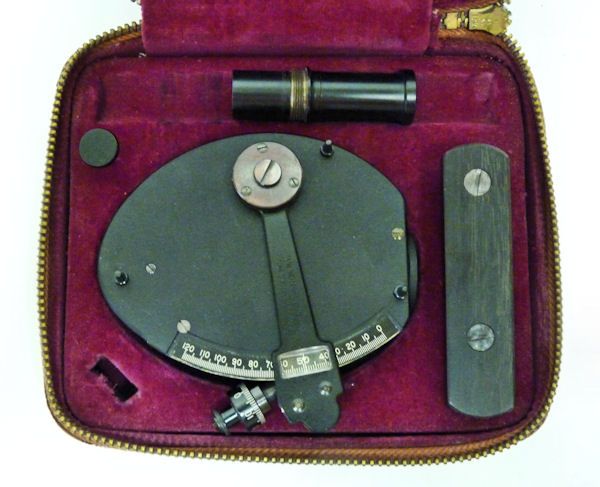 That said, if you are a collector or student of celestial navigation, this interesting instrument will make a worthwhile addition to your collection, and also will add immeasurably as a conversation piece. PROVENANCE: None known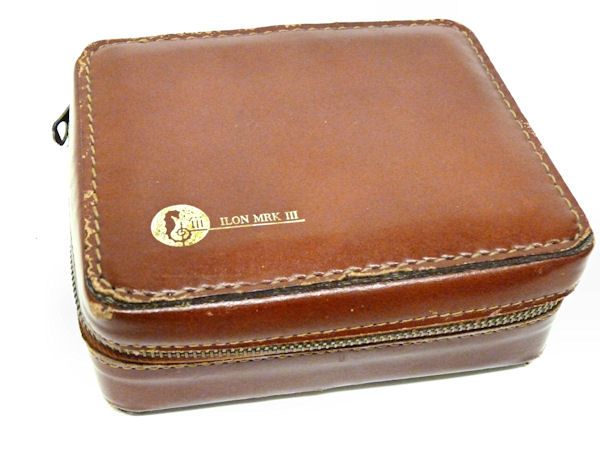 INSTRUMENT CONDITION: The very well made sextant is in excellent condition considering its age and use. The handle attaches though a hole in the frame and the paint has been scratched off by its rotation. This is very minor. There are some tiny spots on both of the mirrors. They do not interfere with taking sights. The tube shown in the photos is a sighting tube with no optics. Most small sextants have low powered telescopes so this may be satisfactory The index arm is complete and in good working order. The frame and all the machinery are in good working order. It comes with its original adjustment wrench for the mirrors. All the screws and fittings show their original gun metal bluing and the slots are sharp.

CASE: The real leather case is generally in excellent condition with just a few small areas of loss. The interior velvet lining has some stains. The stitching is tight and the zipper works. There is one empty pocket in the case.

The Index mirror, scale, micrometer drum, horizon shade and magnifier
Looking from bottom. The micrometer drum, horizon shade and tube
Looking up from the top down. The two index shades are to the bottom

THERE IS NO CERTIFICATE: But these type instruments had minor manufacturing errors over their usable range which for all practical purposes could be ignored.

DIMENSIONS:

Length of index arm 5 3/4″
Width of frame at arc 3 3/4″
Radius of Arc 3 1/2"
Telescope none – sighting tube
Index error 5 arc minutes "On"
Side error 1 arc minute
Index mirror 33 x 16 mm
Horizon mirror 27 x 13 mm
Weight sextant 12 oz 1 lbs 13 oz total

BRIEF HISTORY OF MAKER: None known.