British
Naval General Service
Arctic
Medal 1818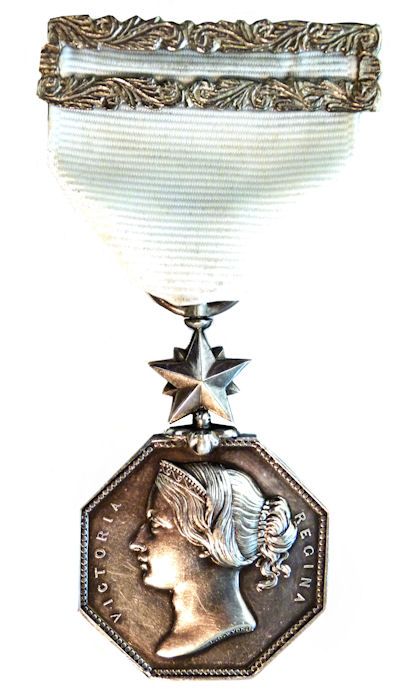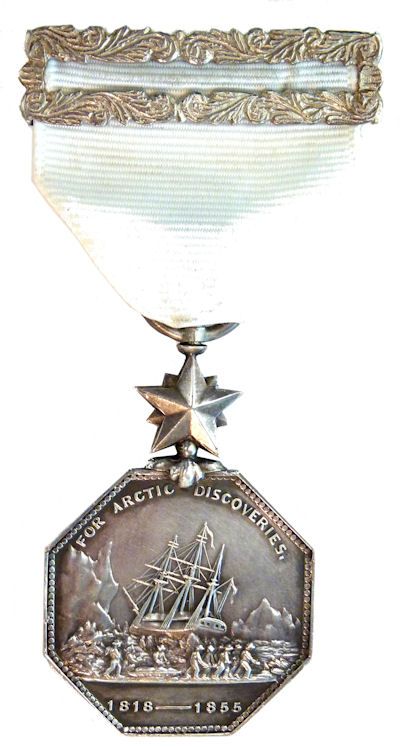 One
of only 1486 issued

Date
Instituted: 1857.

CAMPAIGN:
Polar expeditions 1818-1855.

DESCRIPTION
of this MEDAL: Octagonal shaped medal bearing the head of Queen Victoria on the obverse with the inscription
'VICTORIA REGINA' while the reverse depicts a three masted ice bound sailing ship within the polar region with a sledge party
in the foreground. Above the ship are the words 'FOR ARCTIC DISCOVERIES' while the dates '1818-1855' appear in the exergue
below. The suspender takes the form of a polar star with a metal ring attached on top to take the ribbon.

Metal:
Silver.          Size: 46mm high and 33mm wide.
Clasps: Non authorized for this medal.

Ribbon:
White.

Naming: Issued
un-named but many were privately engraved.

NAVAL GENERAL
SERVICE MEDAL – ARCTIC:   Instituted in 1857, this medal was awarded
to some 1,486 recipients who took part in the various polar expeditions between 1818-56. Recipients included civilians, scientists,
French and US naval personnel as well as 1,106 members of the Royal Navy.

   Reverse of Arctic Service
Medal

CONDITION:  The
back of the ribbon has been glued to paper board and then to purple cloth, the remnants of which are present. These medals
were issued without a hanging device and unnamed. The medal is in fine condition with a few tiny nicks front and back which
are not of consequence.  Otherwise the medal is in Very Fine condition showing handeling and has a nice patina of age.

The British Arctic Medal
is very rare and was unnamed when issued. It was awarded
to all officers and men engaged in expeditions to the Polar Regions from 1818 to 1855. This included men involved in the on-going
search for the ill-fated Franklin Expedition of 1845-48. The medal
was awarded to civilians, scientists, and personnel of the French and U.S. Navies and employees of The Hudson's Bay
Company who took part in a number of abortive search parties for Sir John Franklin and his crew.  Only 1,106 medals
out of 1,486 in all were awarded to Officers and ratings of The Royal Navy.