RARE BRITISH NAVAL GENERAL SERVICE MEDAL
1793-
1840 ~ SYRIA CLASP
Earned aboard HMS REVENGE or HMS PHOENIX!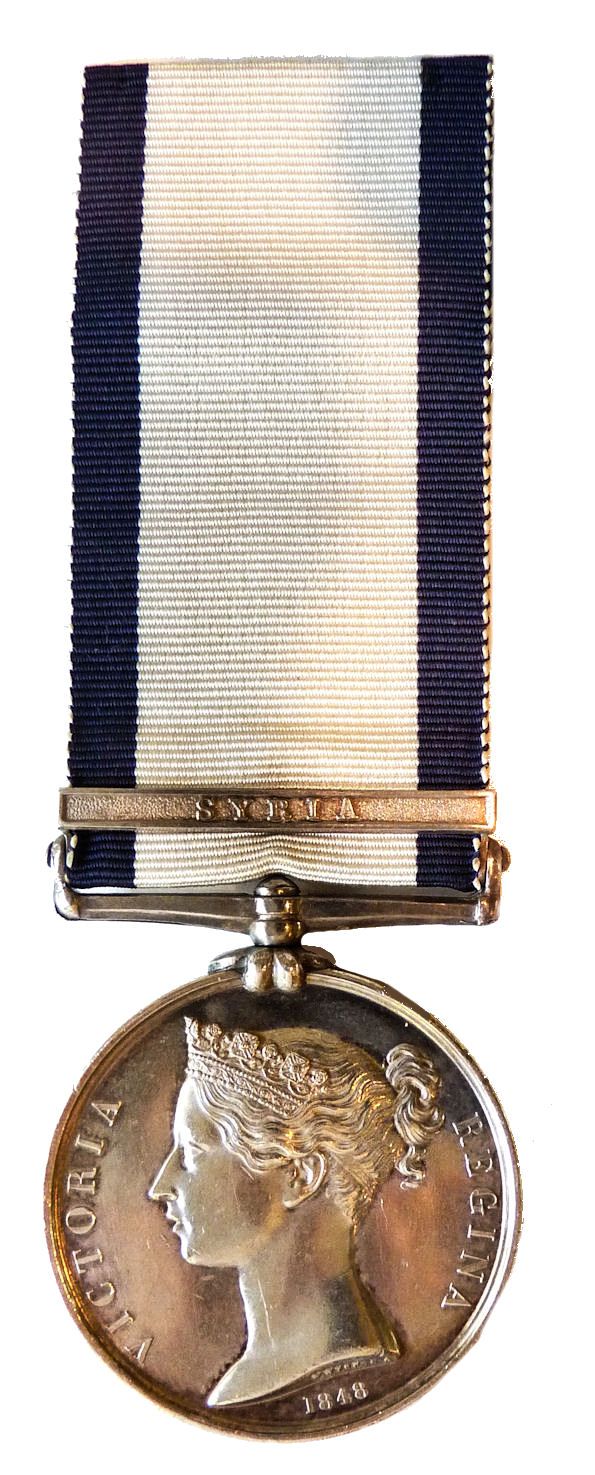 Presented

is a very rare example
of the British Naval General Service Medal (NGSM) with the SYRIA CLASP of which only 675
were known to have been issued. It is in extremely fine condition. This makes this one of the rarest of medals of this type.
The Second Syrian War is the name given to the short war of 1839-40 fought in the Middle East on territory that
is now Lebanon. An unusual alliance between the United Kingdom, the Austrian Empire, and others to thwart the expansionist
designs of Muhammad Ali of Egypt, who was supported by Spain and to a lesser extent the July Monarchy France.

AWARD: This medal was awarded to a George Scott of which
there are two listed on page 380 of the book, "The Naval General Service Roll 1793-1840" as recipients.
One served as an able bodied seaman in HMS REVENGE and the other was a quartermaster in HMS PHOENIX.  The medal is complete
with its white ribbon with with blue boarders.

This HMS Revenge

was the ninth of thirteen ships of this name in the Royal Navy. She was a third rate ship armed with
74 guns and of 1954 tons. She was launched in 1805 and served until 1849. Revenge was actively engaged in the Syrian
War of 1840 from its inception, and was involved in all the major sea battles of that war.

HMS PHOENIX was a 6-gun steam paddle vessel of the Royal Navy, built in a
dry dock at Chatham in 1832. She was reclassified as a second-class paddle sloop before being rebuilt as a 10-gun screw
sloop in 1844-45. She was fitted as an Arctic store ship in 1851 and sold for breaking in 1864. From 1 March 1840, under
Commander Robert Fanshawe Stopford. Stopford was in command when she took part in the Bombardment of Acre on 3 November
1840. Subsequently she was commanded from 26 December 1840 by Commander John Richardson until she paid off on 1 January 1842.

MEDAL'S DESCRIPTION: The Naval General Service Medal was approved
in 1847 for issue to officers and men of the Royal Navy retroactively. The obverse has a portrait of Queen Victoria who was
not the reigning monarch during any of this period. The reverse has the symbol of Britannia holding a trident astride a seahorse
with a fish tail.

It was awarded for service in various naval actions from 1793 to 1840, many years
after the event. This period included the French Revolutionary Wars, the Napoleonic Wars and the American English
War of 1812. Each of the 231 actions were represented by a clasp which, in the case of Guadeloupe, is for its capture
on 6 February 1810.

See more in MEDAL'S DESCRIPTION continued (below).

            REVERSE – sculpture W. Wyon,
RA

SPECIFICATIONS: Silver disk 36mm in diameter with clasp and white
ribbon with blue edges 32mm in length. The ribbon suspender swivels.

MARKINGS: GEORGE SCOTT on edge. W.Wyon, RA (Royal Academy)
on the obverse and reverse in very small bas relief under the seahorses tail.

CONDITION: The name is officially impressed. This medal is as near to scratch free as imaginable. The detail is of near mint quality
with crisp details and high relief, rates it as extremely fine. It carries it ribbon which is also in exceptional condition.


THE SECOND SYRIAN WAR OF 1840: The Second Egyptian–Ottoman
War or Second Turko–Egyptian War lasted from 1839 until 1841 and was fought mainly in Syria, whence it is sometimes
referred as the (Second) Syrian War.

In 1839, the Ottoman Empire moved to reoccupy lands lost to Muhammad Ali in the First
Turko-Egyptian War. After suffering a defeat at the Battle of Nezib, the Ottoman Empire appeared on the verge of collapse.
Britain, Austria and other European nations, rushed to intervene and force Egypt into accepting a peace treaty. The Ottoman
Empire invaded Syria, and Hafiz Pasha, accompanied by Moltke, marched an army into Syria. Battle of Nezib: Hafiz Pasha's army
was routed by the Egyptian army under the command of Ibrahim Pasha. On July 1, the Ottoman fleet sailed to Alexandria and
surrendered to Muhammad Ali. From September to November 1840, a combined naval fleet, made up of British and Austrian vessels,
cut off Ibrahim's sea communications with Egypt. This is followed by the occupation of Beirut and Acre by the British. On
November 27, 1840, the Convention of Alexandria took place. British Admiral Charles Napier reached an agreement with the Egyptian
government, thereby abandoning claims to Syria and returned the Ottoman fleet. In February 1841, Ibrahim left Syria and returned
to Egypt. Credit Wikipedia. Further reference: Kevin Asplin of http://www.britishmedals.us/index.html
MEDAL'S DESCRIPTION Continued:The medal covered a variety of
types of actions, from ship to ship skirmishes all the way to major fleet battles. The medal was never issued without a clasp.

It was only awarded to surviving veterans who were alive in 1847 and had applied.
Because of poor communication and lack of reading ability, most of those eligible failed to apply. Consequently, only 20,933
medals were issued, most with a single clasp. This is far less then the number of men who served in the action and
accounts for the limited supply.

The final date for submitting applications was May 1, 1851. None were awarded posthumously
unless applied for before death. This medal and the Army equivalent were the first British campaign medals.

SYNOPSIS: No fewer than 230 different clasps for major battles, minor engagements, cutting-out
operations and boat service from 1793 to 1840 were authorized for this medal. This is one of an estimated 675 Naval
General Service Medals with the SYRIA CLASP that the British Royal Navy awarded. Hence, it is one of the rarest. The
rim of the silver medal is marked "GEORGE SCOTT". The white ribbon has dark blue edges. According to the Rolls, there
were two George Scott's that earned this medal

SHIPPING & PACKING: The cost of shipping, packing, handling, and
insurance to your destination, is an additional charge. You may email us to get these costs. We price our shipping
honestly, but we expect to be reimbursed for the nominal cost of packaging materials and handling.