Placed on loan to the
Martha's Vineyard Preservation Trust
AMERICAN SHIP'S FIGUREHEAD
From a Small Sailing Yacht, Ca 1865

Classic
American
Folk Art
31″ H x 22″ L x 13″ W   45 pounds            Carver Unknown
Markings none
Provenance – Private New England
Collection
Period Ca 1865 Presented is a
charming female ship's figurehead of an appealing small size that is
suitable for display in almost any setting. Small figureheads are rarely
discovered because they come from moderate size yachts, which were far
fewer in number than from sailing ships, which were in abundance. You
will be hard pressed to find anything similar in size that is so
pleasing to the eye.
This figurehead has
features and dress that are
decidedly American, and the Cornucopia, painted in
gold symbolizing prosperity, is a unique feature.  The figure
is dressed in an off the shoulder period costume consisting of a sleeveless
grey, possibly silk, blouse in somewhat of a
risqué pose. Her well quaffed blond hair is carefully incised. Her blue eyes
contrast nicely with the blouse and her golden hair. Over the years,
the face and skin tones have taken on an accumulation of grime which we
have been hesitant to clean. When mounted aboard ship, figureheads were
painted every couple of years. The paint on face, torso and blouse is very old and may be original, and
that on the cornucopia has been refreshed sometime in the past.

A pleasing serene
expression


Some minor paint loss on the
skin We have not seen many of these
small size figureheads even in museums.
The few we know of went for very high prices from
some of the better nautical galleries in this country. PROVENANCE: From a private New England
Collection of nautical antiques where it has resided for the past 15-20
years. The owners are in the process of
downsizing.

                       Front, Back and 3/4 Rear View
CONDITION: This figurehead is approximately
150 years old. There is some evidence of
old repairs
including at the rear of the top of the head and near the base of the cornucopia.
There is also paint losses on the skin, scratches on the base, and most unusually two
3″ x 3/8″ strips of clear tape on
the left shoulder which has been there for many years, apparently serving
no purpose. The surface paint of the face, torso and blouse seems to be original. The
rest has been refreshed, but has age. Some of these conditions add to the look of age,
and others are so muted they are not readily apparent. For the
most part, everything is in good condition.

Age crack
or shrinkage at joint on the
lower right


Old repair to crown of
head We estimate the
figurehead to
be about 150 years old.  Its small 31
inch size makes it ideal for display in a home or
office.
a Living room Setting
Figureheads
as an art form are long past, having gone
the way of the sailing ships upon which they
graced the bow. American figurehead carvers were renown for their work,
which flourished from colonial times until the late nineteenth
century. Most every class of ship, from steamboats to whalers to
clipper ships, came to be ornamented with carving which would include trailboards,
stern boards and various types of figureheads. As was fitting,
large ships generally had full length figures of generous proportions while
smaller ships had busts, heads, and half and three-quarter-length figures
with scroll and leaf carving fitted or as is the
case of this example, a horn of plenty.During the 18th and 19th
cent. a highly developed and original art of figurehead wood carving
flourished in the United States at a time when little other sculpture
was practiced. Few authentic examples survive.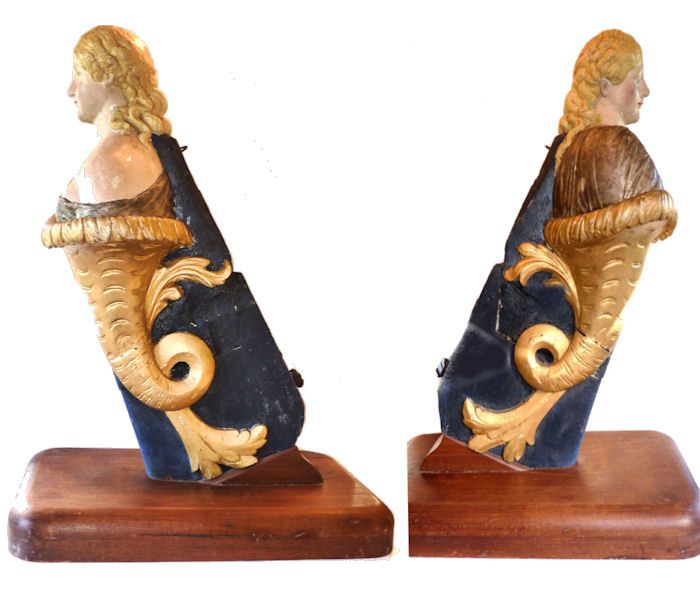 Showing
obverse and reverse
sides
Figurehead art
became
practically extinct with
the disappearance of the sailing vessel, and today
may only be found in maritime museums. This is a great opportunity to
acquire an apartment size one for your personal enjoyment.