RARE VINTAGE CHELSEA HINGED BEZEL SHIP'S BELL CLOCK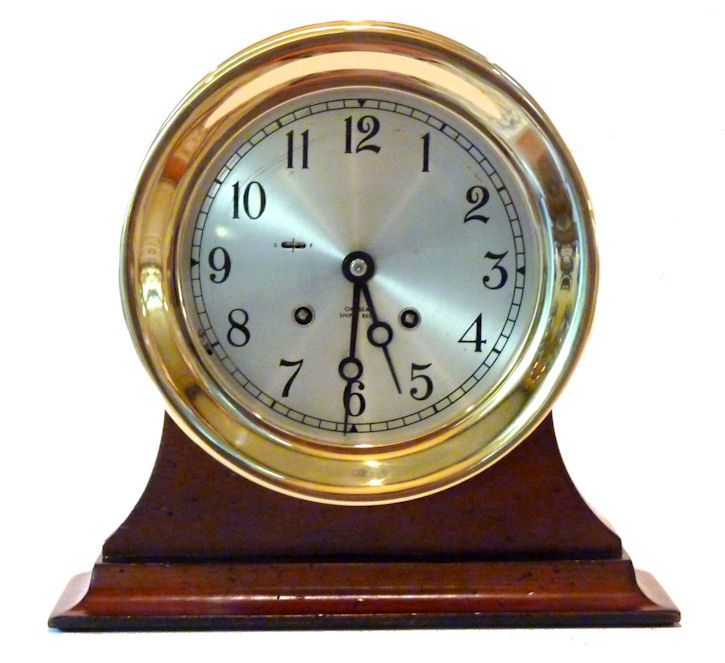 STAND
INCLUDED A $75.00  VALUE
A full
6 inch size ship's bell clock which strikes the hour and half

hour
in a lacquered brass case. Immaculate, near
new condition.


Presented is an outstanding example of the finest striking bell clock made. The design, named
the CHELSEA, was originally introduced by the maker in 1897. This fine working clock
was designed to offer superior
quality in a convenient moderate size package with a 6″ face and weighing 11 pounds. With 364 precision machined
brass parts, many of which are gold plated, and its eleven jewel movement, it personifies Chelsea's reputation for engineering
and manufacturing excellence is borne out by its very heavy 11 pound weight and hinged bezel.It has a forged case with hinged bezel and runs perfectly, and strikes the bell's in proper sequence.
There is a 5 1/2″ silver dial in near perfect condition with acid etched Arabic numerals, and black moon hands.
The clock is in "Superior" condition with a few small, muted, circular blemishes on its face. The Chelsea name appears
in black upper case letters below the hands arbor with Ships Bell under. A fast-slow dial adjustment is to the left at the
9:30 o'clock position.




The former model "CHELSEA" now called the "Ship's Bell" clock

 is the longest continuous production of any Chelsea model with only improvements
to its movement since 1897. This clock was made in the mid 1970's. It is an authentic vintage example with serial number 818202
stamped on it case and movement indicating production almost 43 years ago. A current make Chelsea Ship's Bell clock sells
for over $2600.00 today.

Serial
Number 818202
Viewable Diameter of face 5 1/2″
Diameter of
bezel 7 1/4″                                Diameter
of dial 6″
Depth 3 3/4″
Weight 11 pounds
Near immaculate face
shown over bell mechanism and hinge

The forged brass case is in perfect
condition

The round back port allows the hammer
to be adjusted

The metal case of the original Chelsea model is forged from thick brass. On this model,
the forged bezel is hinged. The lacquered polished finish is majestic in its presentation. The clock's face is deeply
etched brass, silvered, enameled and lacquered.

Inside, the famous Chelsea Ship's Bell precision wind-up mechanical timekeeping movement chimes
the ship's bells on the hour and half hour. This is no ordinary timekeeping movement. Designed over one hundred years ago,
the Chelsea movement has achieved a reputation for accuracy and reliability of a fine Swiss watch.


CONDITION: Considering it age, and years of use it
is hard to tell this clock from new except for a few muted circular blemishes on the face just above the numbers.
And the heart of the clock, works in perfect unison with a quartz watch used for comparison. There is nothing like the resonant
ringing of a ship's bell from this design.