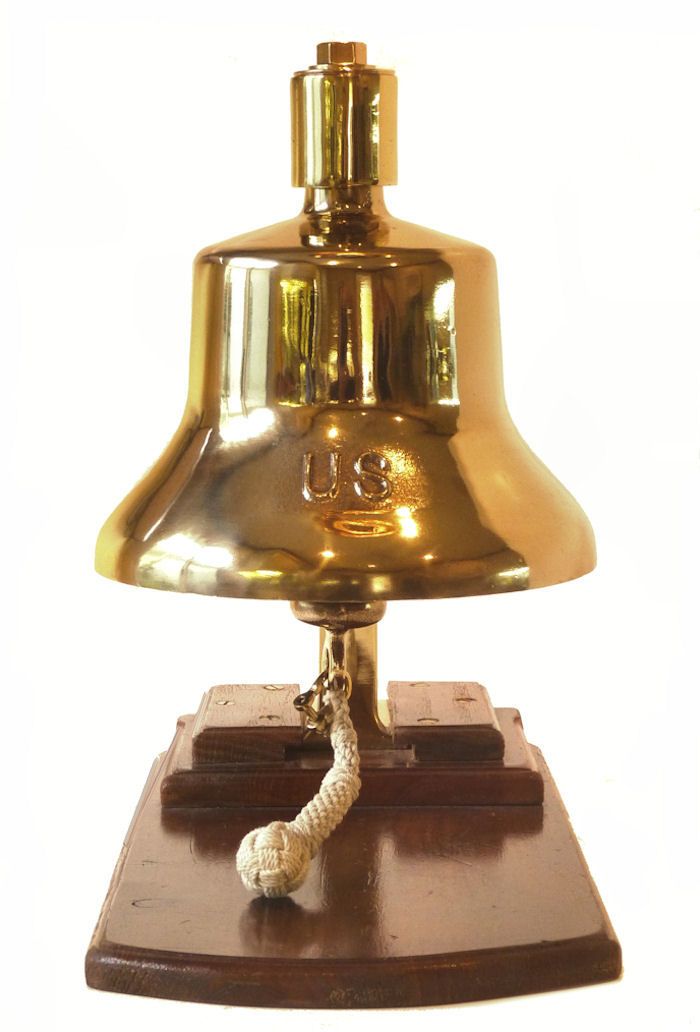 Presented is a post WW II
military bell that is mounted to a classic WW II inverted "J" foredeck
bracket. The bracket is brass plated aluminum that was cast by J.M.
Loeffler of Philadelphia, a Vietnam era contractor. The shape and the
raised letters make this bell distinctive and worthy of inclusion in any
US Military collection. It has been mounted on a custom made hard wood
stand for display, and a proper white macramé bell rope of the period is
attached. It comes complete with all its original parts which sets it
apart from other bells of this genre. These
include:

Clapper
Bell
Vietnam Era brass plated aluminum
bracket

HARD TO
FIND:U.S. Navy bells a
re becoming near impossible to find, and increasingly difficult to keep
in stock. The vertical bracket allows them only to be mounted on a
pedestal or deck, hence they are known as anchor or foredeck
bells.

SPECIAL NAVY
FORMULA BELL METAL: The tone of an authentic Navy bell, made
using a special "bell metal" formula is not easily forgotten. It has a
strong resonance and vibration that rings sharp and clear with a
distinctive sound. Do not expect cheap imitations to have this special
characteristic ringing because "bell metal" is a specially formulated
bronze alloy, unique to the Navy for their specialized
use.

THIS BELL HAS BEEN RECENTLY POLISHED AND
LACQUERED FOR  

YOUR LASTING ENJOYMENT



3/4 right front side
view
Side view of this classy
bell
DIMENSIONS:



BELL:

Diameter of crown
5 1/2″

Diameter of mouth
10″ Height to crown 6″ Neck add 3 1/2″ Height on stand 17″

WOOD
STAND:17" L x 9″ W x 2 1/2 H
Total Weight: 26 !/2 pounds




CONDITION: Its
inside shows the marks of the original clapper hitting the edge and
flattening it which indicates that this bell has served at sea. There
casting roughness surrounding the letters, but most of the bell is
smooth and free of imperfections. The bracket was cast by J.M. Loeffler
of Philadelphia, a Vietnam era contractor, and is brass plated aluminum.
Outstanding resonate ring and strong vibration signifies it is a
mil-spec bell.
This outstanding and rare US Navy bell is a great find for a
gift, presentation piece or for a collection that includes only the
finest.

The stand
makes it ideal for display!