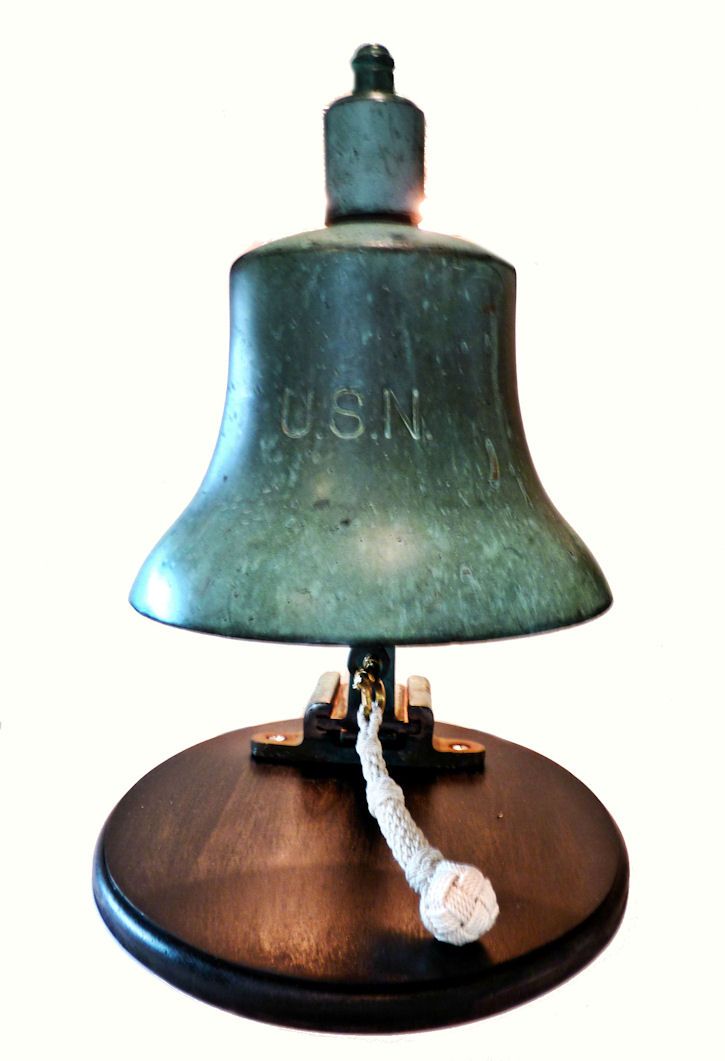 From
the Family of a WW II US Naval Aviator since 1945

Presented is as interesting a Naval bell as you
will ever see. It has a sixty seven year old patina in vary shades of Green that make an unusual and dramatic appearance that
can not be duplicated. It also has its original mounting shoe which adds to its completeness and its authenticity. It has
been mounted on a hard wood stand for display and a proper white macramé bell rope of the period is included. It comes complete
with all its original parts which sets it a part from other bells that have survived, but are missing them such as:


Original Clapper
Original Mounting Shoe
Original special one piece brass nut

CRACK AT NECK: It is unusual for a bell of this
type to have survived the years with all these parts present. And in this case, there is an untold story in how the clapper's
shaft became twisted which may have been the cause of a crack in the neck of the inverted "J" bracket. We considered having
the crack brazed, but then the very special patina would be lost so we tested the strength of the bracket at its neck and
feel the crack is stable and that the bell will not fall off. In the highly unlikely chance it does, we will have it fixed,
replaced with a like bell, or issue a refund. The price has been reduced $400.00 to take this into account.

HARD TO FIND:U.S. Navy bells of this unique design are becoming
very scarce, and those of this era are scarcer still. The vertical bracket allows them only to be mounted on a pedestal or
deck, hence they are known as anchor or foredeck bells.

SPECIAL
NAVY FORMULA BELL METAL: The tone of an authentic Navy bell, made using a special "bell metal" formula is not easily
forgotten. It has a strong resonance and vibration that rings sharp and clear with a distinctive sound. Do not expect cheap
imitations to have this special characteristic ringing because "bell metal" is a specially formulated bronze alloy, unique
to the Navy for their specialized use.

IN ALL OUR YEARS OF SELLING BELLS THIS
IS THE FIRST WE'VE SEEN WITH THIS UNUSUAL PATINATION
| | |
| --- | --- |
| 3/4 right front side view | |
| | |
| --- | --- |
| Side view of this magnificent bell | |
Crack at neck and
one piece nut and washer

DIMENSIONS:

 

Diameter at crown
6″

Diameter at mouth
9 1/2″ Height to crown 17″ Height overall 17″

WOOD STAND: 16" L x 12″ W x 5/8″ T Weight:
34 1/2 pounds

CONDITION: The bracket
has a crack at the neck as discussed above which we feel is stable. The inside of the bell shows flattening where the clapper
hit the edge showing this bell has served at sea. There few if any foundry casting imperfections on the bell. The shaft of
the clapper is twisted from some unknown occurrence likely due to the same reason the crack occurred. Outstanding resonate
ring and strong vibration.

This unique and rare US Navy bell is will make a wonderful
gift, presentation piece or for a collection that includes only the finest. The stand makes it ideal for display!