ANTONIO JACOBSEN
(1850-1921)
"SS Brazos" Oil on Board 1913
Oil
on board
Early 20th Century
Signed A. Jacobsen, 1913 LR
Viewing area 20″ H x 36″ W x 2-5/8″ D"
Framed 26″ H x 42″ W x 2-5/8″ D
Presented is a painting of the SS BRAZOS in an interesting
three quarter view which is unusual for Jacobsen. The ship is dressed in the livery of
the New York and Puerto Rico Steamship Company as under the ownership of the Bull Lines. She is displaying the house flag
and stack colors of Archibald H. Bull with an American 42 star flag from its stern. However, Bull's stake in the company was
bought out by his partners in 1900 in a hostile takeover, and Bull was forced to give up running steamers to Puerto Rico for
10 years. So in 1902 he set up the Bull Line to serve the US Atlantic coast-wise trade to operating sail vessels to Puerto
Rico. At the end of this period, he may have reacquired ownership of Brazos
and this painting was commissioned in 1913 by either Bull himself or perhaps the captain of the ship again under Bull's flag.
BRAZOS was built by Newport News Shipbuilding Co., Newport,
Virginia in 1907. She displaced 6,576 gross tons; and was 401 feet long between perpendiculars; her beam was 54 feet and propulsion
was by twin steam quadruple expansion engines.

COMPARABLE WORKS: Harold Sniffen's "The Checklist- Paintings and Sketches by Antonio N.G.Jacobsen"
lists 14 paintings of this vessel by the artist, and since being published in 1984, a few more have surfaced. However, none
show this interesting perspective except a twin which is at the Louisiana State Museum in Baton Rouge, Louisiana. The
museum's painting and this are identical except for the date which is 1914 and the livery is of the Mallory Lines.
Ref. Brazos, Antonio Nicolo Gasparo Jacobsen,
1850 – 1921, 1913, Oil on canvas, 20 x 36 inches, Louisiana State Museum, T0419.1967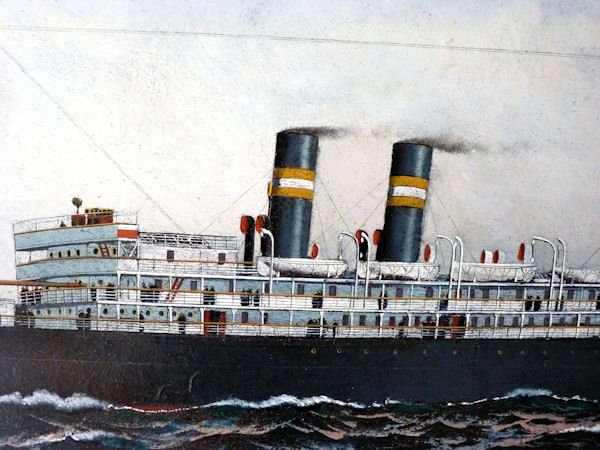 Closeups
of bow, midships and stern sections of the ship

CONDITION OF PAINTING AND FRAME: The carved wood gilted
frame is original. It is exquisitely made with hidden miters all gilded. The painting has unobtrusive light craquelure over
much of the work. There are two unobtrusive wrinkles in the board from beneath the bridge to the frame which is only visible
when viewed from certain angles on either side and under certain lighting. The paint over it indicates it has been there from
the beginning. There is small in-painting here and there, which is hard to discern, and a small loss of paint right under
the signature at the frame.

Miter-less
corners, gilt frame

A. Jacobsen
/ 1913 lower left

PROVENANCE Last 20 years:Ca 1993: Purchased by Louis J Dianni, dealer in fine marine art
from Clearing House Auctions in Connecticut for $7100.00 including buyer's premium. Ca 1993: Sold directly to Charles Schif of Stratford, CT, a collector
of marine art with an extensive collection of the works of this artist. Sold at auction to a collector of marine
art who was the consignor
This work is an exact twin, except for the markings of ownership to the paining in
the Louisiana State Museum. T0419.1967
It is now one of the known additions to the 14 indexed paintings of this artist of Brazosand is one of of two showing a
three dimensional view instead of Jacobsen's familiar profile renderings.


JACOBSEN
BIOGRAPHY:Antonio Jacobsen (1850-1921) Born in Copenhagen, Denmark in 1850 to a family of violin makers, Jacobsen
emigrated to the United States in 1871. By 1880, he was living in West Hoboken, New Jersey, on the Palisades above the "City
of Ships". It was here that he established himself as a successful ship portraitist.
Jacobsen is recognized as the American artist who most successfully
recorded the important transitional era of sailing vessels as they evolved from sail to steam. This in large part was due
to the timely placement of his studio at the mouth of the New York Harbor.
Jacobsen was born in Copenhagen, Denmark where he attended
the Royal Academy of Design before heading across the Atlantic Ocean. He arrived in the United States in August of 1873. He
settled in West Hoboken, New Jersey (now Union City, New Jersey), across the Hudson River from Manhattan and New York Harbor,
its port filled with ships from America and around the world. Jacobsen got his start painting pictures of ships on safes,
and as his reputation grew, he was asked to do portraits of ships by their owners, captains and crew members, with many of
his works sold for five dollars.
Jacobsen painted more than 6,000 portraits of sail and steam vessels,
making him "the most prolific of marine artists". Many of his commissions came from sea captains, and Jacobsen was chosen
both for the accuracy of his work and his low fee. Exhibitions of Jacobsen's work include a 1996 showing of 45 of his paintings at the
National Museum of American History. In 1995, the Mariners' Museum in Newport News, Virginia held an exhibition that included
80 paintings by Jacobsen. In conjunction with the exhibition, the museum published a volume by Harold S. Sniffen, the museum's
curator emeritus, whose biography titled Antonio Jacobsen's Painted Ships on Painted Oceans, includes some 100 color pictures
of the artist's ship paintings.
The public rooms of The Griswold Inn in Essex, Connecticut,
the oldest continuously run tavern in the United States, features the largest privately held collection of Jacobsen's paintings.
John McMullen, a naval architect and marine engineer (and former owner of the New Jersey Devils), had a collection that included
75 paintings by Jacobsen, the first two of which were found in the 1940s in the offices of the family ship repair business.
On February 19, 2006, 'Fetching The Mark', an
unsigned painting of the racing yacht Dreadnought attributed to Jacobsen, was sold at auction for $281,000, more than triple
the highest price previously paid for one of Jacobsen's works. The piece had been brought to an Antiques Road Show event in
Tampa, Florida, and had originally been thought to be a work of Jacobsen's contemporary James E. Buttersworth, until further
research led to a conclusion that it was by Jacobsen. Credit wikipedia