THE LORD NELSON BATTLE OF TRAFALGAR SILVER TANKARD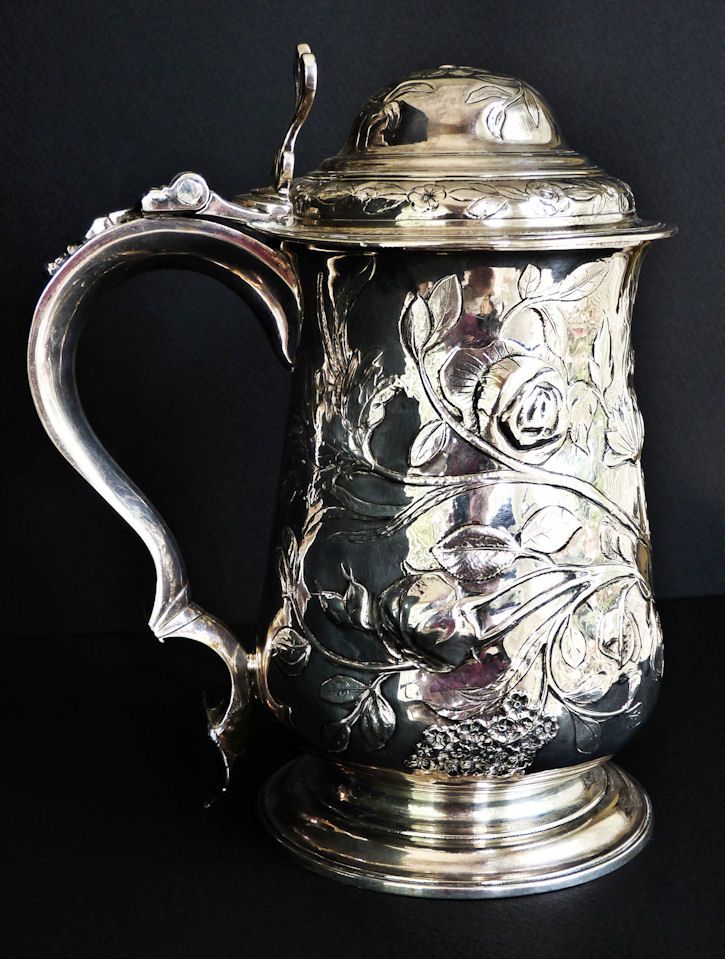 ">
A George IV Commemorative Silver
Tankard Memorializing Over 200 Years of Lord Nelson's Trafalgar Victory in 1805 
Presented
is a beautifully made English silver tankard made by William Bateman I (1774-1850). Wm. Bateman I was the grandson of the
famous English female silversmith, Hester Bateman (1708-1794), who was the matriarch of what was to become a large family
working in this trade.  The design of this tankard closely
follows one of Hester's with the distinctive handle, and a floral arrangement with vines, and with a pierced
lifting handle for the cover. The outer rim is inscribed "This to the memory of the Immortal
Nelson Trafalgar 21st Oct 1805" and on the front the initials, "JMR" in script.
It has a few small dents and signs of handling, but nothing noteworthy.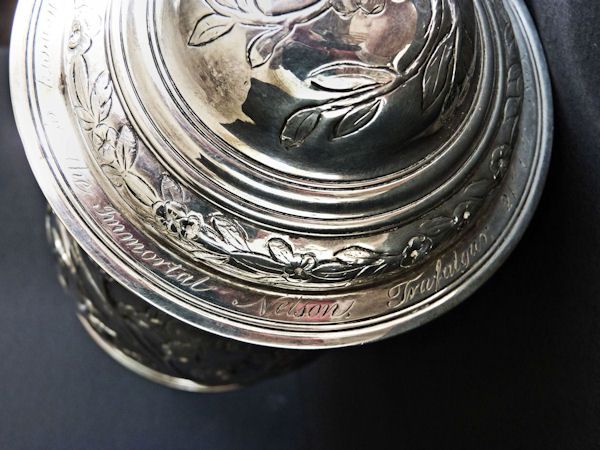 SIGNIFICANCE
OF INSCRIPTION: This tankard and others were used at the annual Trafalgar Night dinners that were held around the
world to make the traditional toast, "The Immortal Memory". The toast was first given in 1811, and Emma Hamilton used the
expression at a dinner to commemorate the Battle of the Nile in 1813. The full version, "To the immortal Memory of Nelson
and those who fell with him" was delivered by Captain Pasco, Captain of the HMS Victory, and flag lieutenant to Nelson at
Trafalgar. Given at the Trafalgar Night dinner on board the Victory at Portsmouth in 1846.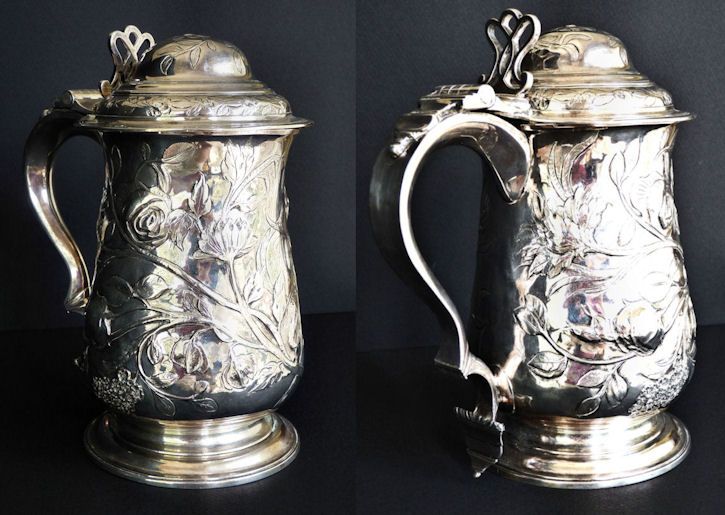 MAKER'S MARKS: On the front lip of the cover; WB,
Lion Passant, Tax Stamp, London year "e" 1820.
On the bottom;
Lion Passant, WB, Tax Stamp, London year "e" 1820. Also informally G-E and some scratched notations.
RECENT PROVENANCE:
From the estate of an old line American antique dealer who personally collected fine English silver.
SPECIFICATIONS: 8 1/2" tall by 7″ wide 5″ deep. It is made
from 840 grams or 27 Troy ounces or 1 3/4 pounds of Sterling Silver.


CONDITION:
Expect to find the usual age in marks of handling and the lightly scratched notations mentioned under Markings.
THE
WILLIAM BATEMAN FAMILY:
=LEFT>
Hester Bateman brought her children and their spouses
into the business she created which, continued long after her death. Hester was first joined by her sons, Jonathan (1747-1791)
and Peter Bateman (1740-1825). After Jonathan's untimely death in 1791, Peter joined with Jonathan's wife Ann and eventually
William Bateman I (1774-1850), who was the second son of Jonathan and Ann Bateman, and Hester's grandson.
Together they produced silver pieces well into 1815,
at which point William I registered his mark 'WB". William was eventually followed by his son William Bateman II who continued
the family tradition and it appears to have stopped at his death sometime between 1874 and 1877.
William I is considered by many silver collectors to
be the most talented of the family and is known to have produced many fine pieces during his long career. The attention to
detail and overall design of William's antique silver pieces are notable and reflect an element of design that is sometimes
lacking in his relatives work.
Bateman pieces can be viewed at the Victoria and Albert
Museum in London, and certainly one additional fine collection of Bateman and many other fine makers is the Huntington Library
in San Marino, California. Lion Passant in London specializes in their pieces.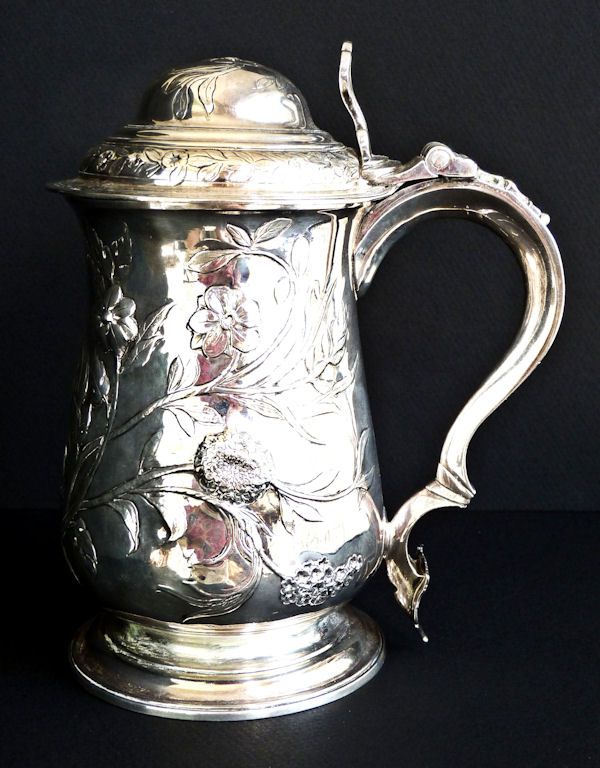 Hallmarks on lip of cover