RARE CANADIAN ANTIQUE
OCTANT/SEXTANT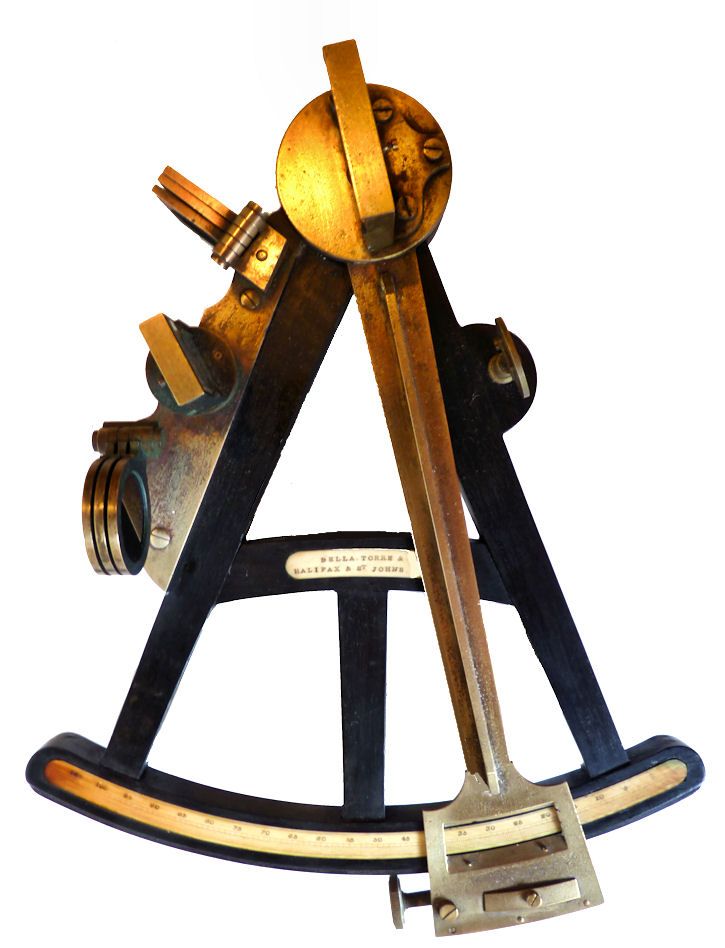 Della Torre
& Co., Halifax & St. Johns, N.B.
Copyright
2012 by Land And Sea Collection™, All Rights Reserved
PRESENTED is a Mid 19th ebony frame octant which
was made in Canada by the firm of Della Torre & Co. Heretofore, the only instrument known to be made by them was a single
draw marine telescope of 16 inches that was recorded in Webster's Registry of Instrument Makers. There are a few references
to this company on the Internet including that their Halifax office was affected by the Great 1877 fire. Checking further,
the most comprehensive reference work on antique nautical instruments is "Sextants at Greenwhich" by W.F.J. Moser Buyrns which
catalogues the navigation instruments at Britan's National Maritime Museum. The company is not listed in it and we know of
no mention of this or other Canadian makers of this type instruments.

This example is mostly
in excellent condition with all it brass machinery and filters intact. However, the silvering on the mirrors are well worn
and the inscribed ivory vernier is missing. The Ivory graduated arc reads from – 5 to 105 degrees.


Imprinted on the Ivory plate on the cross beam is the company's name and its two locations.
The octant uses an old style peep sight, and is housed in an early style
"Fan shaped" Mahogany box, which helps date it to 1860 or earlier.
 

INSTRUMENT CONDITION: The mirrors are in poor condition as might be expected for something that
has not been used. The ivory vernier is missing. All the machinery is present and in working condition, The index arm clamp
has its spring clamp and is in good working order. Both sets of shades, i.e., filters, four for the index mirror and three
for the horizon mirror are complete without imperfections.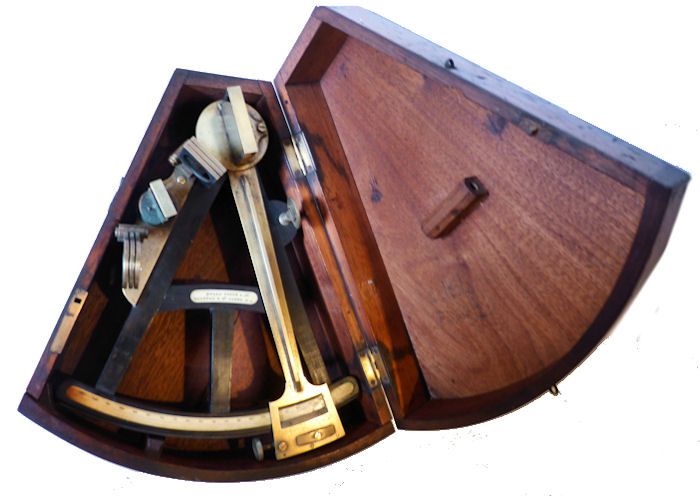 CASE: The Fan shaped case is sound, but has some age cracks and
there is a small piece missing on the top lower left. There are two latches and a lock, but no key, and no handle. It has
an old patina and the normal nicks and scrapes of age and is a great looking case.


The instrument is complete with:
One
original peep sight

Adjustable horizon mirror on turntable

Set
of 4 index mirrors

Set
of 3 horizon mirrors
Notation Local
Apparent Noon Sight

Maker's name and
locations

The small Ivory
vernier is missing

CERTIFICATE: There is no certificate which is customary with antique
instruments.

DIMENSIONS:

Length of index arm 11″
Radius
of index arm 10 1/8″
Width of frame at
arc 9″
Index mirror 42 x 35 mm
Horizon mirror 28 x 20 mm
Weight octant 2 Lbs 3 oz In case 3 lbs 15 oz