RARE SETH THOMAS WW II U.S. NAVY POLISHED BRASS MARK I BOAT
CLOCK
Naval Observatory
Cartouche 1940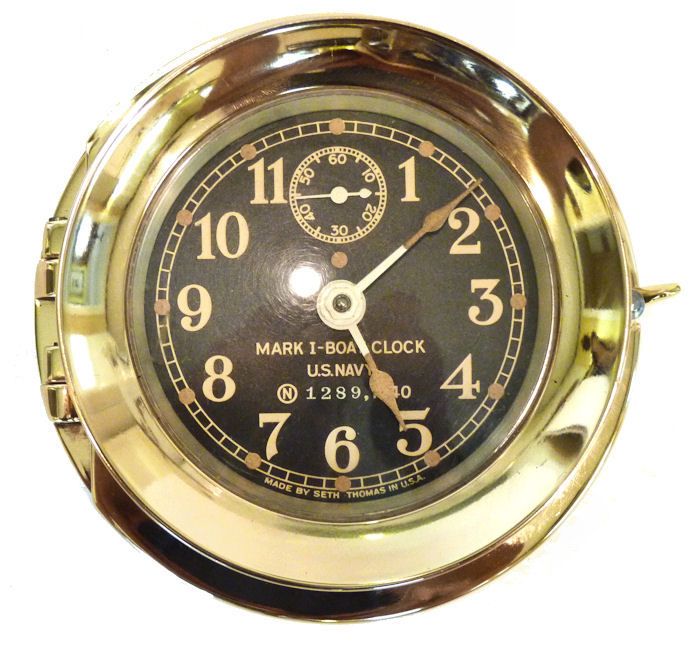 Presentation
Quality

A WW II Seth Thomas MK
I Boat Clock In a Forged Polished Brass Three Piece
Case.
DIMENSIONS: 3
1/2″ Diameter of face 4
1/4″ Deep 5″ Full Diameter Weight 7 lbs 6
oz

Presented
is
an outstanding example of a Seth Thomas, back winding, Navy MK
I Boat Clock. It has a hinged
front that is complete with the backing plate
and a shock absorbing mounting plate. One of these plates acts
as a water tight cover and shock absorber and the other mounts
it to a bulkead. Navy boat and deck clocks are rarely
found with their back cover plate, and even more infrequently
with the original mounting plate. After 1942, most of these
clocks were housed in phenolic cases, and this is the first Seth
Thomas version we've seen in a forged case since the 1911 version
we sold in 2012. (See https://landandseacollection.com/id887.html) The

metal cases were chrome plated. This one is polished brass with

a freshly lacquered coating to maintain its polish. Seth

Thomas did not number its clocks, but it has the Naval

Observatory cartouche and serial number on its face. It is keeping

good time compared to a quartz comparison watch.
The Seth Thomas Navy MK I DECK
clocks of
WW II were manufactured in accordance
with military specifications 18C-5 D and 18C-13 dated September 1, 1938.  The
design called for an 8 day movement
housed in a dust proof, moisture proof case equipped with a
cushion bulkhead mounting plate. The black 12 hour dial
had luminous hands and dots over the numerals. They are wound,
set and regulated through a dust cover at the back
of the case. The markings on the dial are "acid etched".


This clock has the movement's case, mounting plate and
the

 

shock
absorbing
damper plate. 3 pieces total

Marvin Whitney in his encyclopedic
work, "MILITARY TIMEPIECES" say that these clocks were chromium plated up to 1941 when
cases were switched to Bakelite, a phenolic.
Comparative size Navy Boat clock
vs Deck
clock="center">




Back
dust cover with controls


Seth Thomas
11 jewel, 8 day
movement

 

 

 

Beneath the hand arbor is
etched:

MARK
I DECK CLOCK


U.S. NAVY


(NO) 1289, 1940
(NO)
represents the Naval Observatory which
means the clock not only met the military specifications, but
also met the stringent standards of this institution which
maintains the Nation's Time Standard. At the bottom of
the dial it is marked "Made by Seth Thomas in USA".

The following controls are accessed on the
back:
Fast – Slow adjustment. To
regulate turn towards S to Slow and vice versa

Stop – allows to precision
setting with master clock
It has a Seth Thomas Model 5160 series, 11
jewel 8 day movement that is wound, set and adjusted through a
slotted dust cover at its rear which closes. A separate start/stop
mechanism allows it to be synchronized with a master time
piece.
The removable vibration dampener
backing plate is attached to the bulkhead plate by six screws and
holds the front case secure by a wing nut dog.
Near blemish free Face of this special Seth Thomas
MK I Boat
clock="center">
=left>
CONDITION:
This example has seen about 73 years of service, much of it at sea,
and gives the appearance of being new. The face is in very
good condition, and shows little evidence of aging when viewed
close-up. The dots over the numbers once were painted with
irradium for night viewing, but this has been removed because it
was radio active.
The lens under most light conditions
shows clear. The movement has been recently serviced and is
keeping good time. A  key is included. The case has been recently
polished and lacquered.